It's crazy how the world has turned upside down and inside out since I returned from NYC. A month ago, I wasn't worried about traveling and Coronavirus was barely talked about. Now, there is world-wide panic, countries are quarantining their residents and people are stockpiling toilet paper and disinfectant. In fact, I was supposed to be traveling to Dallas this week for a conference but it's been postponed with part of it happening virtually.
Life at home has taken a toll as well. You may or may not know I have two small pups: a pug-chihuahua mix and queen, Kiki, and a long hair dachshund of pure joy, Chibi. They are in their latter years, 14 and 13, respectively. Before I left to NYC, I asked KK to stay with them because Kiki, especially, has been feeling the effects of old age. Partially blind and with nervous system issues, she had been having problems walking. Since I've returned, she's become completely immobile. I've only slept in my bed a handful of times the past month and a full-night, uninterrupted sleep, less than that. I have opted to sleep on the couch with a make shift bed for her right underneath me. Chibi usually joins us and typically right on top of her. She seems to know when I have important days scheduled the next day and makes sure I'm only functioning on 3 or if I'm lucky, 4 hours of sleep (the days I'm off she tends to give me a full 6 hours only waking up two or three times).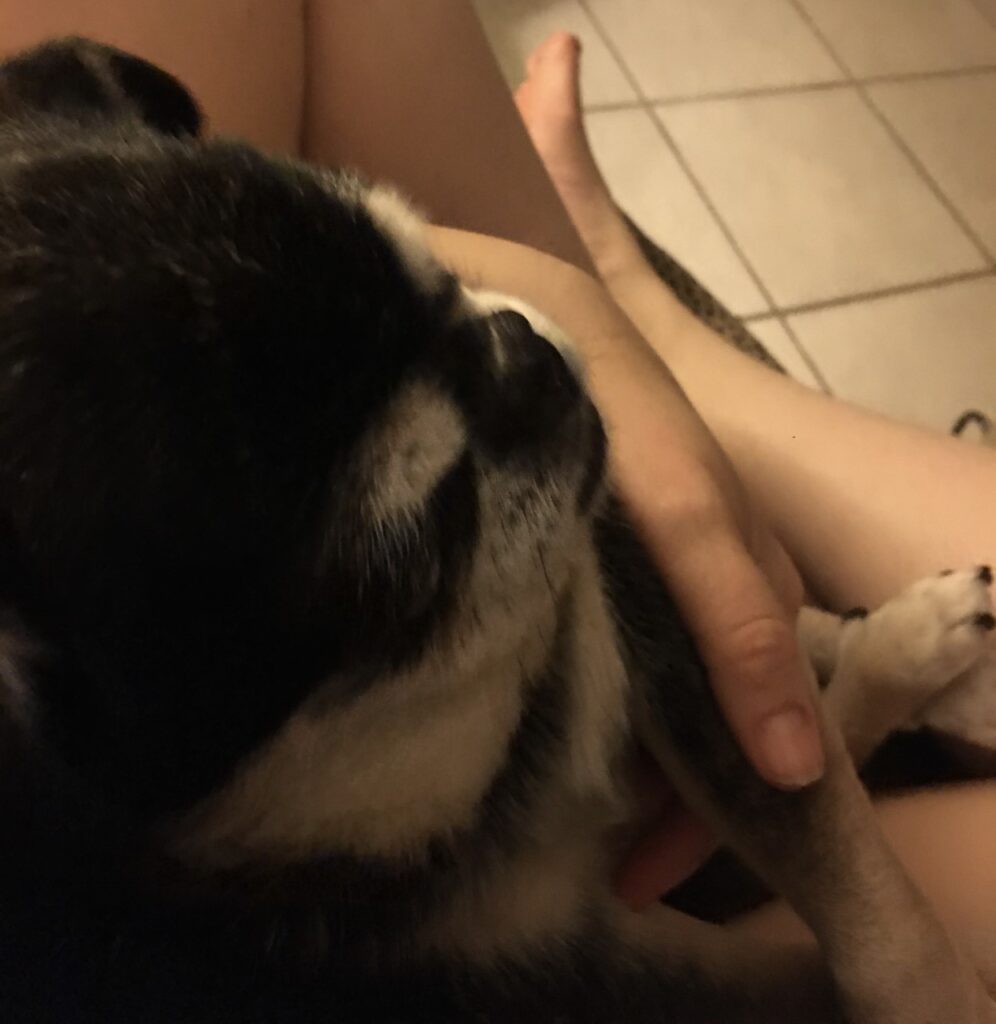 She also has major anxiety if she can't hear or see me. For example, right now I'm sitting on my cheetah chair typing this with her at my feet (or in my lap) with my music playlist going. She vocalizes this anxiety and it isn't a quiet yelp. She makes sure everyone including the neighbors know that she's displeased I'm not with her. I no longer go to the bathroom, take a shower or make dinner in peace. I do yoga with her make shift bed next to me. I have found that the only other things that appease her are her CBD treats and putting on PBS in her bedroom when I leave for work. We go for walks almost every morning (except those night's I didn't get sleep and have an early appointment). She rests in my arms and I squat on the side of the road when I feel her hips open to relieve herself. Chibi is just happy to explore and I smile that I have these moments with them. It is the purest form of love and I try not to think about the day I won't have these moments with them, but I also know that I don't want her to live in pain so that moment that I can no longer comfort her easily…well, we won't think about that. You do what you need to for who and what you love, right?
Because of this self-absorption, and honestly because I don't watch the news, I haven't been completely up-to-date on global events. I thought this virus was so far away from me. I had finally set aside time to focus on Hopeless + Cause Atelier again and started sketching and while Paris Fashion Week is 7 months away, I knew it would be here sooner than expected. Then this week, something extraordinary happened.
Those who have been following my design story from the beginning know that I was encouraged to apply to Project Runway five years ago…and I did. I had this professional and beautiful video created. There were so many people excited by it…almost as much as I was.
I didn't have a lot of experience under my belt, but I had gumption. I didn't make it past the application phase. I tried a few more times. But honestly, didn't think I had the drama that the show seemed to warrant, so I focused on the things I could accomplish…NYFW, London Fashion Week and Paris Fashion Week.
As I've said before, I love to create. And if my creations give me the opportunity to travel the world and write about it, then I have lived a full life. I would love and not pass up the opportunity to have a world renowned brand, but I really want to create for those individuals that value what I have to offer. I also want to create in a sustainable way and we all know how the fashion industry adds to the environment and not always in a positive way. Hopeless + Cause Atelier is my passion project and if you don't know the origins, here is the LINK to find out the story behind it.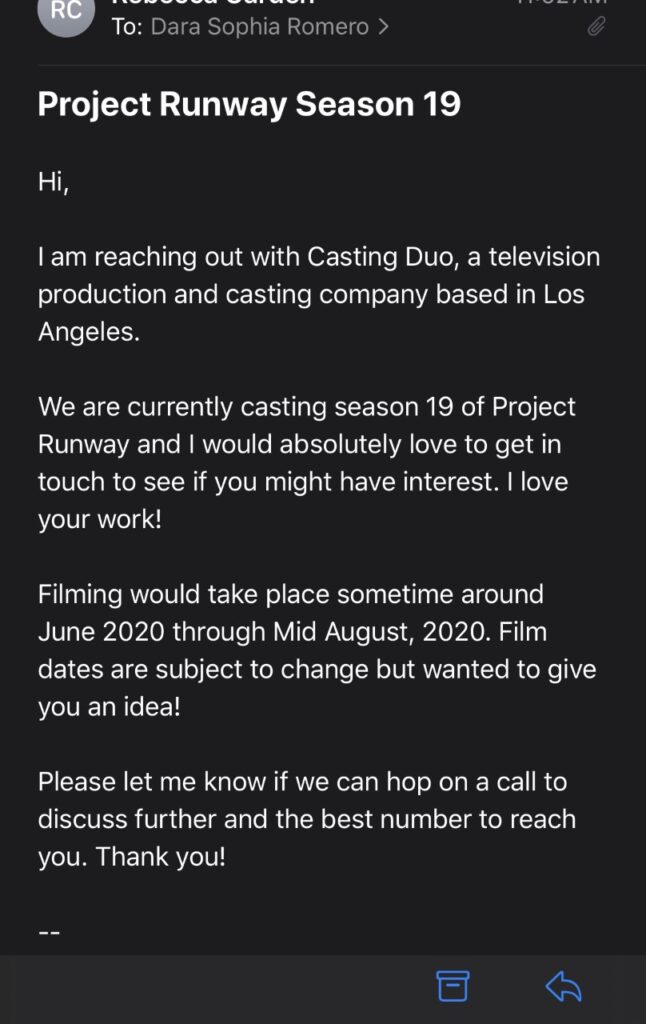 Tuesday, I was walking the floor at work and happened to check my email. I had a message from casting with Project Runway. The woman said she found my brand and loved my work. She asked if I'd like to learn more. I went over to my Instagram account and found messages there as well. I knew this wasn't a fluke so I responded saying I'd be on my lunch for the next half hour and I would love to talk to her if she had the time. I gave her my number, within minutes she was calling. We spent the next 15-20 minutes on the phone. She asked me about my design story, my aesthetic and other bits about me. I mentioned to her that I had applied before but didn't feel like I brought the drama. She laughed and said, I had the personality for the show. She gave me instructions to submit my video and look book that evening. She then asked what the closest city would be for me if I made it on to the interview portion. I bluntly replied, "New York". Confused by this answer and proximity to where I live, she asked about New York restating that I was from New Mexico. I told her I could get there via red-eye and for less than many of the other cities they were interviewing in. She pushed Austin and I finally, begrudgingly obliged. LOL.
That day was filled with meetings, clients and after work planning sessions. The first meeting after work, I met with two incredible chefs, Tristan and Bryan, my fabulous, event planner extraordinaire, George and right hand for Macy's events, Lee. Sofi showed up early for our Paris Fashion Week discussion and joined in the conversation. This meeting was to plan an awesome event raising funds for hunger issues utilizing Macy's products and support and tapping into the talents of our local culinary geniuses. Within the hour, we had the chefs in place, judges, venue and theme, 86ing Hunger. I love people that aren't just idea people but also get shit done. Sofi, Lee and I continued our conversation into Paris Fashion Week and again the Coronavirus came into question. I reinstated that no matter what happens, if the airlines are flying and the production company is hosting, I will be showing my work in September. I had also shared what had happened earlier in the day. Although, Lee had witnessed my conversation and the smile on my face throughout that phone discussion. I had asked Sofi if she would take the video for that portion of the application. The casting director told me not to spend money on having a professional video done…that an iPhone video of me and my personality and some of my work would suffice. By the end of the conversation, and because it was a Tuesday night, I told her not to worry about it.
I got home and decided there wouldn't be a better time than now to do the video. I went into my dinning room, aka Atelier, and started filming with my iPhone….and of course, Kiki started whining in the back ground. Because I didn't want my video to sound like I was beating babies in the background, I moved her to my bathroom just for the video. I had originally tried holding her and holding my phone to video, but I couldn't do both. After take twenty-nine, I finally got a few segments to work with. Exhausted I went to bed, thinking I'd get up early to edit the video and finish my look book.
That didn't happen. Kiki had a rough night and that meant me too. I had three hours of sleep, a radio interview for a prom event I'm co-hosting with Locker #505 and Macy's district VP visiting. Project Runway would have to be put aside until my next day off, Thursday.
Refreshed the next morning, I got to work on editing the video, creating my look book and completing the application. There was so much thought put into the images for the look book. It made me contemplate where I've been, where I'm at, and the possibilities of where I can go. Yes, I am a fashion designer (and as someone once told me to quiet that mind fuck called impostor syndrome, "Fuck yeah, I'm a fashion icon bitches." STILL HARD FOR ME TO REPEAT). Yet, I am humbled because I KNOW I could not have accomplished what I have all on my own. I need the models, beauty teams, photographers, event producers, right hand production managers, but most importantly patrons, to bring my creations to life…to breathe individuality, beauty, empowerment and to live a dream into reality. And that was heavy…but in a powerfully good way!
I went on to complete the application. It was different this time around. No questions were found asking about restraining orders. The question about what those closest to you would say is your best and worst quality was found again (I'm interested to learn what you think…you can comment below). I completed the entire package within two hours and sent the casting director the link for my video and the look book.
Here's the look book…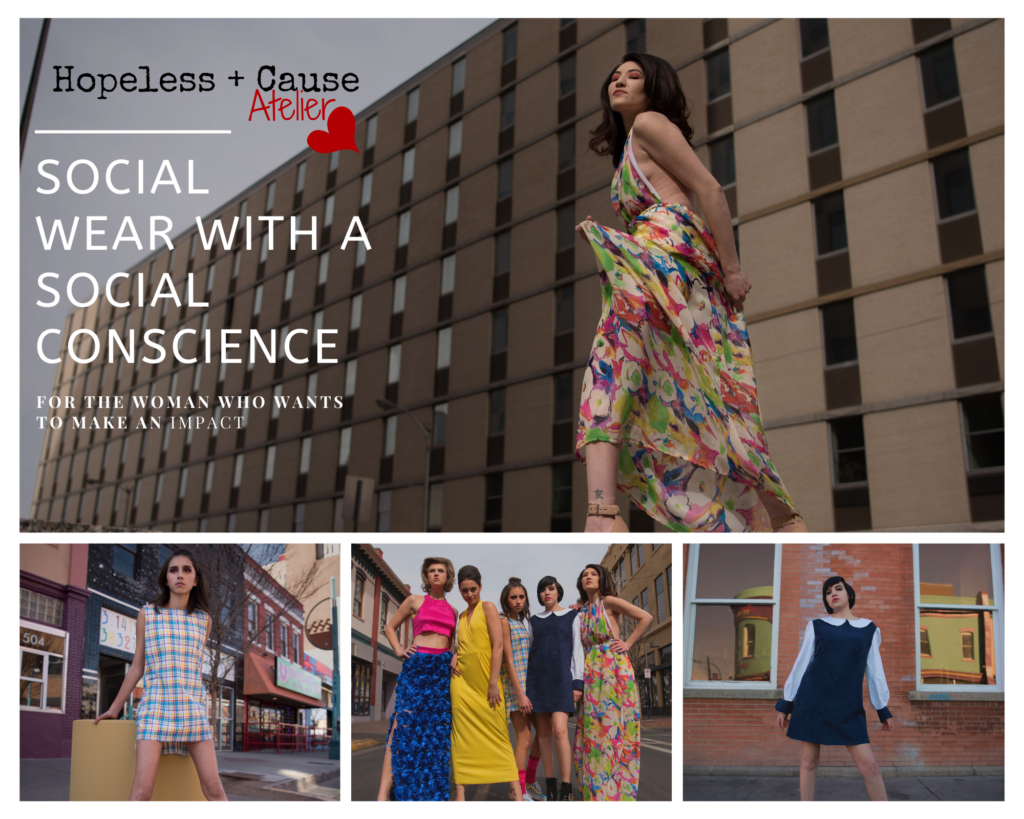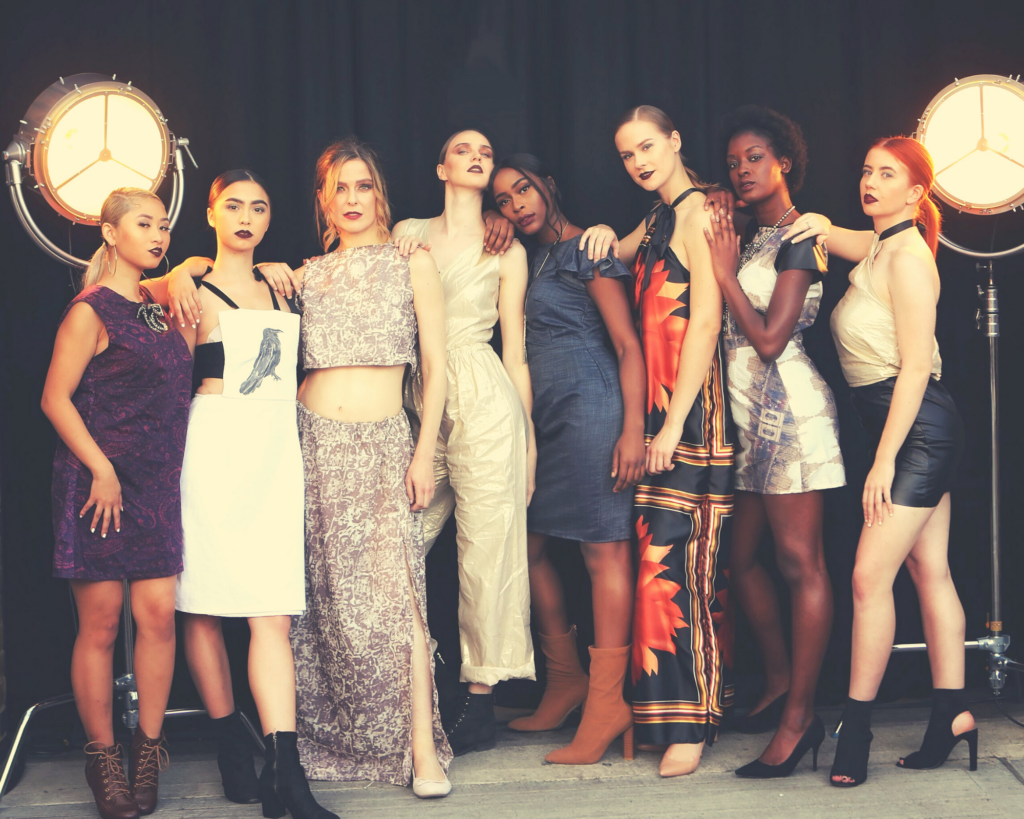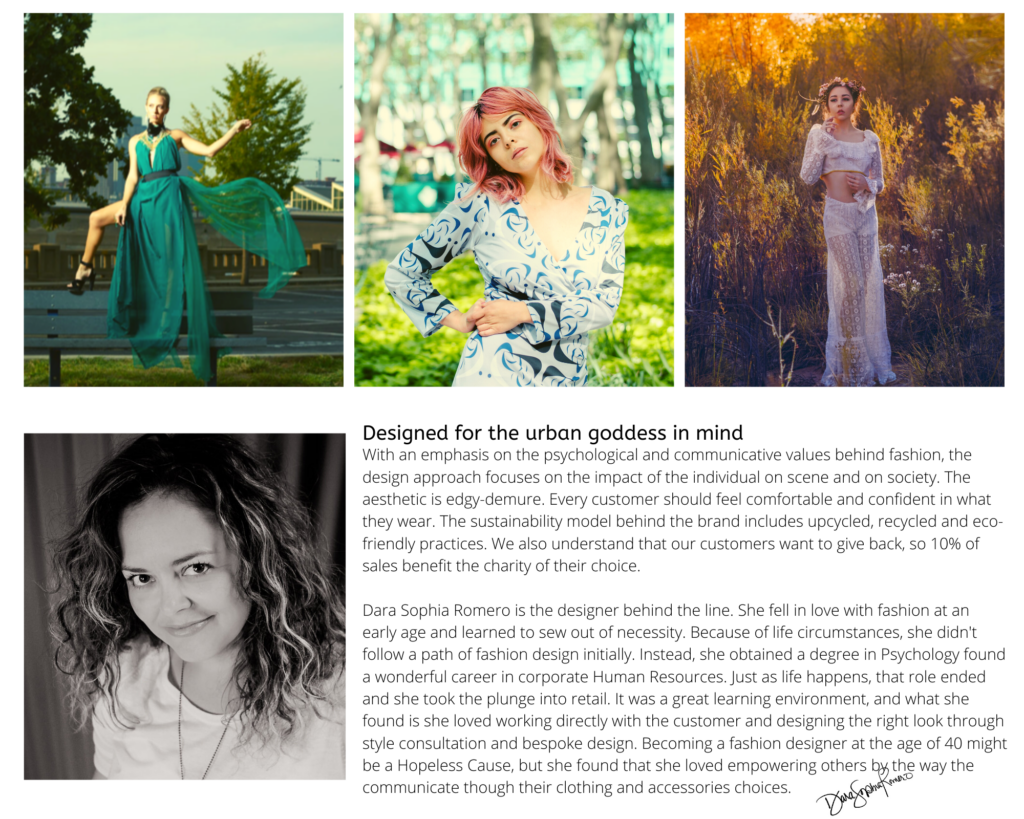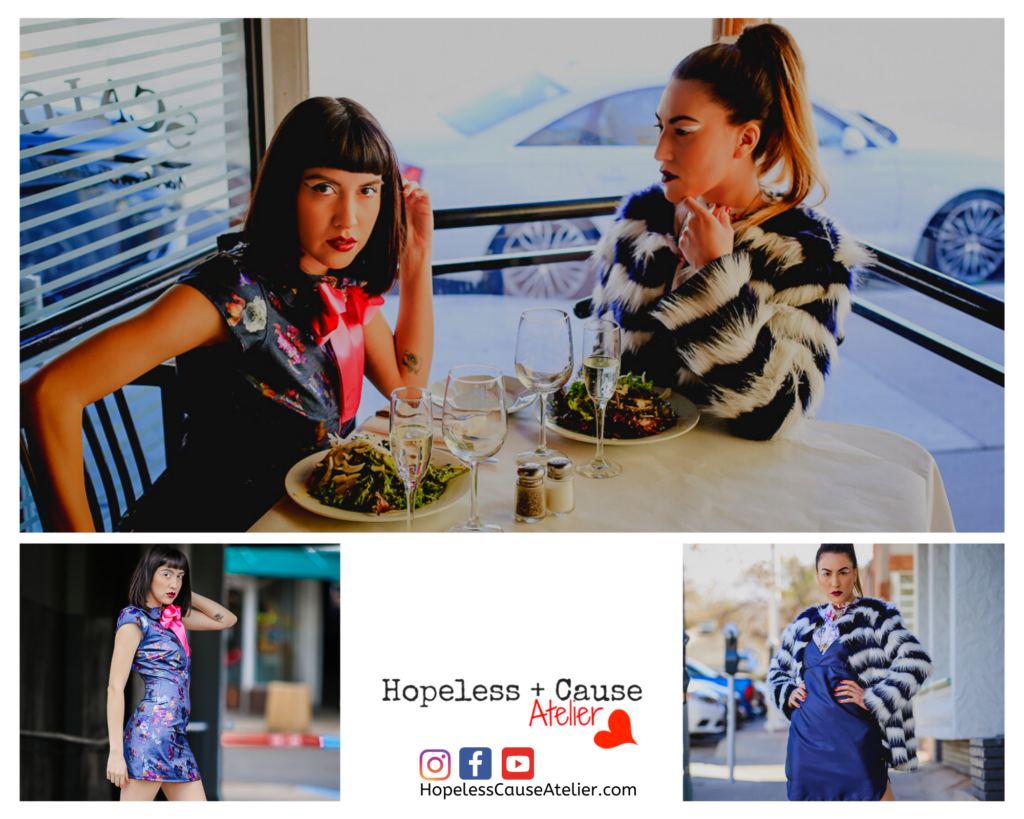 I had been posting the turn of events on social media with wonderful support. I went out to Facebook and a memory from 5 years ago appeared. It was the first time I had applied.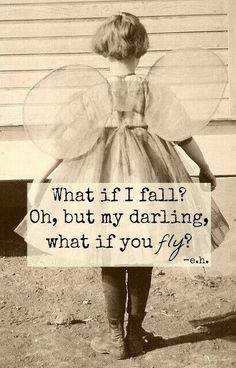 I shared the memory and added, "Wow, this memory just popped up…5 years ago today, I applied to Project Runway for the first time. It wasn't under Hopeless + Cause Atelier. I almost gave up on this dream only a few months later until my 💜 wouldn't let me quit. Since then, I've accomplished more than I could have ever dreamed. I've stumbled. I've gotten my ass kicked more than once. But, I've also achieved new heights and now, I'm soaring because I've followed my deep pigeon red, lopsided heart. ♥️ Who knew?!?" It was now in the casting team's hands.
I went on to contacting clients, planning events and enjoying life. Friday came and as I went to take the pups for their morning walk, I dropped my phone. Completely cracked, I couldn't use it. Grrr! I returned to work to find out that my much anticipated trip to Dallas to learn more tips for succeeding in my role and seeing all my incredible colleagues, was postponed due to the Coronavirus. What the heck?!? Was someone going to come in and kick me in the shins next. That morning, I talked with a model friend about an event she is producing and wanted to know if I would outfit DV survivors. Honored, I jumped at the opportunity. I ran over to the phone "fix it" store in the mall. Ran back and met with one of my favorite couples in getting some items they needed. I went on and worked on other appointments when again that afternoon I was stopped in my tracks.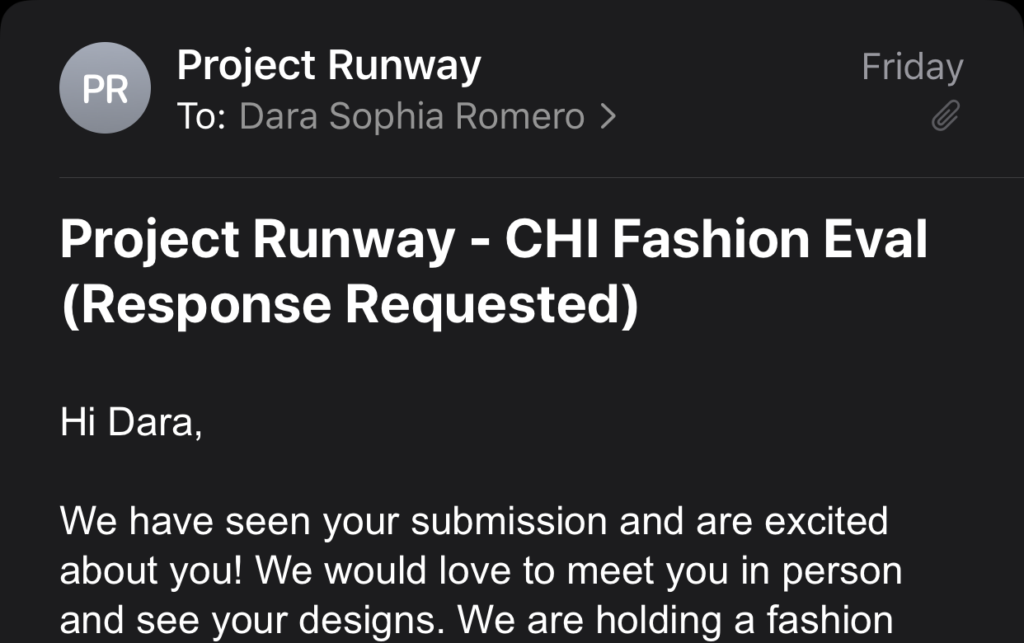 I received notification that I was moving on to the next round. I tried not to scream as I was suiting a gentleman for Kentucky Derby. While he was in the fitting room, I sent a text to those closest to me. Then at the register, I blurted it out to this complete stranger. He thought it was incredible…I just couldn't help it. I posted later that evening…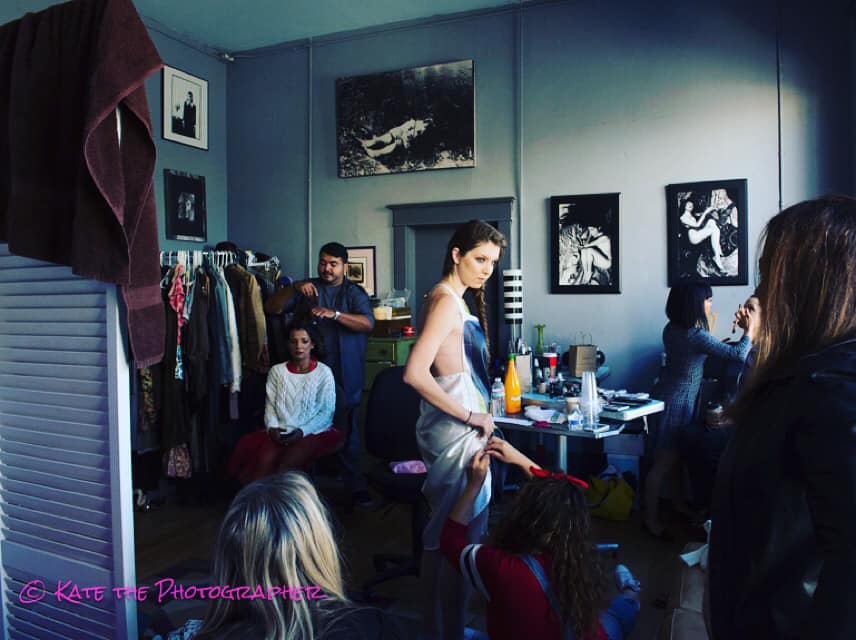 "I had no idea where I'd be in 5 years but I had a dream, the work ethic and the tenacity to believe I deserve it. I'M MOVING ON TO THE NEXT ROUND #projectrunway. Thank you for all the love and belief. Keep the positive energy coming please. There's still a long way to go. More to come!! 😘"
I am moving on to the next round and it's almost unbelievable. I've learned to so appreciate those who support me and tune out those that I thought would, yet are silent in moments like this. I've started the planning process and have found that I have an incredible leg up with one of my favorite models nearby and available to showcase my work (plus recruiting others). I can't share the inner dealings of the process, but I will be journaling my adventures and will share more soon. I just REALLY hope the Coronavirus doesn't ground flights. And since my pug is sleeping, I think I'm going to take a nap.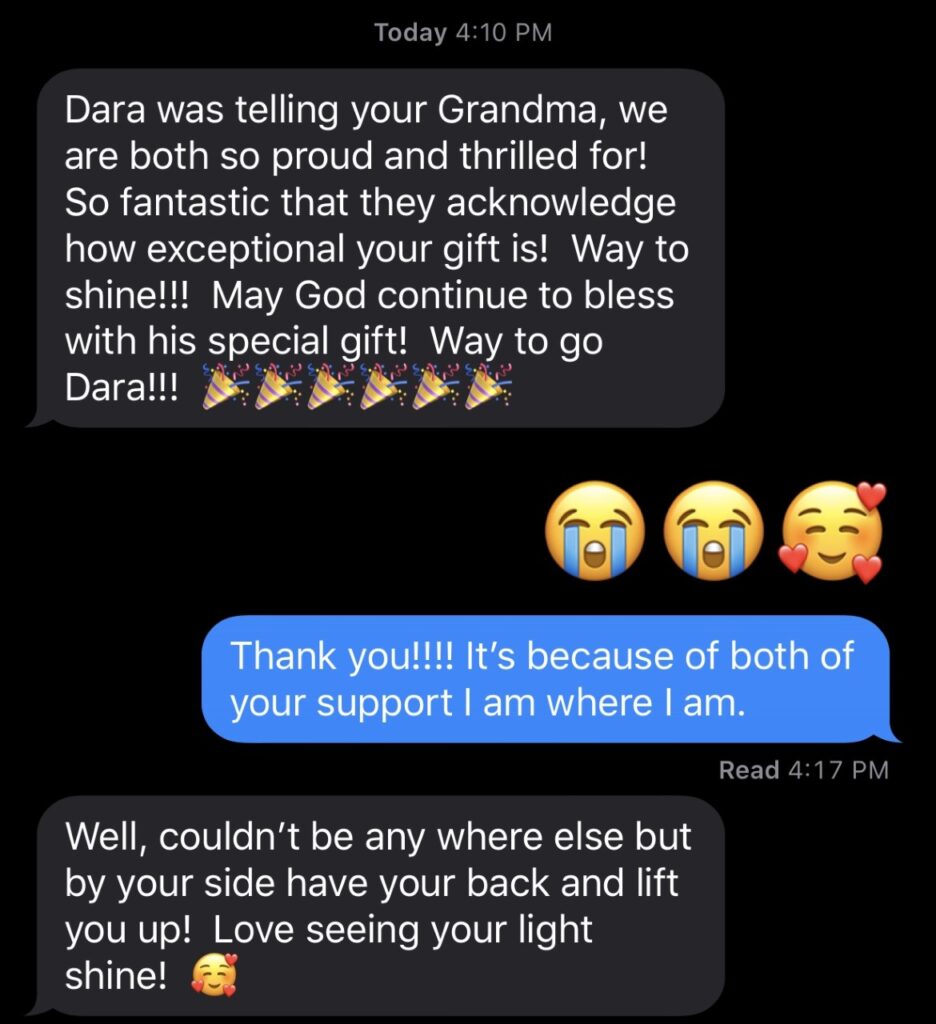 Thank YOU for the love and support…and if it's not too much to ask, please keep sending those prayers, love, support and good juju. It helps immensely.
With light and love,
Dara Sophia Romero