——————————————————————–
——————————————————————–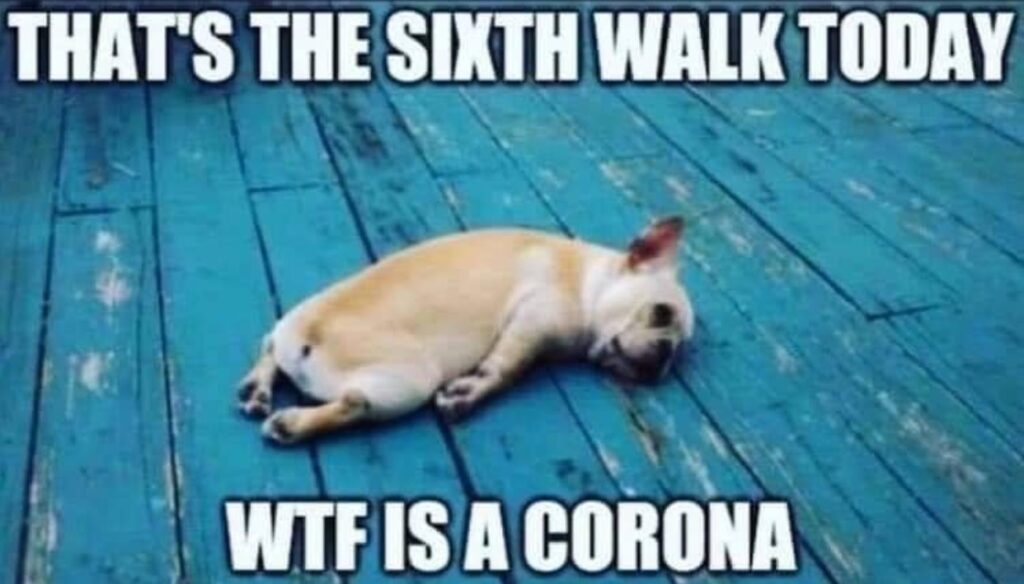 I am on Day 6 of social distancing. Macy's made the brave decision to close its stores on Tuesday, March 17th. I was actually home that morning because I had chemically burned my cornea the day before and wore my contact throughout the day and was in pain and couldn't quite see out of my right eye (only me right?!?). I've passed the time prepping for my Project Runway interview, taking lots of walks with the pups, baking (and trying not to eat it all), cleaning, working on projects that I have put off because I didn't have time, and dancing around my house while drinking wine (what?!? times like this call for measures like that!!)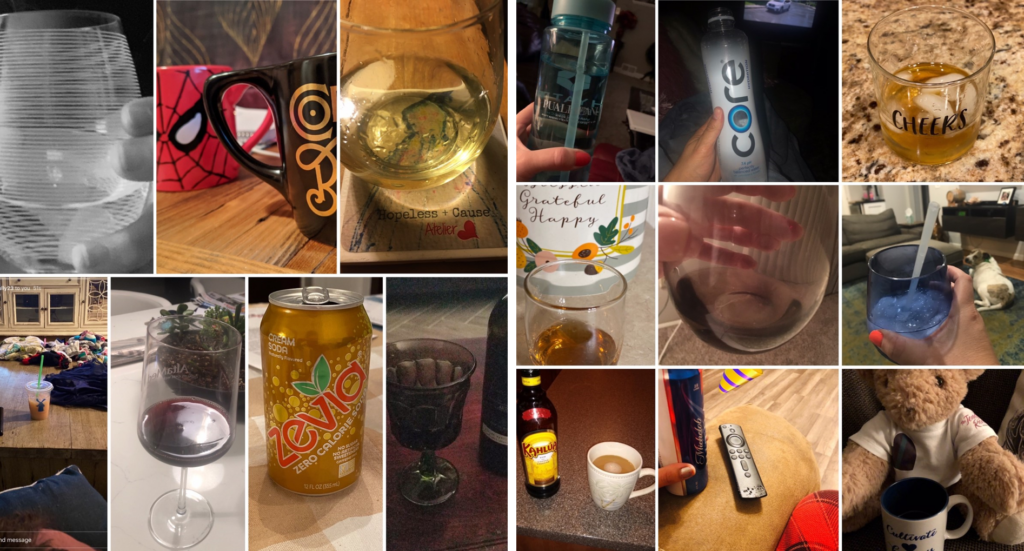 How are you all doing? Are you still working? Do you have all you need to get through this time of flattening the curve? I'd love to hear from you (you can comment below or text or DM me). And I'm sending you a big virtual hug until I can again, and a big cheers to your health, your safety and your sanity.
Since so many have asked, I thought I'd provide an update on my Project Runway path. If you've been reading along, you know my application was accepted to move forward in the second round, an in-person interview. It was scheduled for Wednesday, March 18th in Austin, TX. I reached out to my friend and incredible model, Carmen Powers, to see if she would model for me and if she could round up another 3-4 models to join her. She graciously accepted and got to work recruiting. Looking at flights it was going to easily cost $600 and upwards to $850. I figured I'd fly in on Tuesday, March 17th and fly out the evening of March 18th. There was an 8PM flight that would get me in just before 11PM on Wednesday which would give me the day to prepare for the interview. My plan was to fit the models on Tuesday and that would give me time to tailor my creations to make sure the looks would work for the next day. I asked for a 3PM CST interview on the the 18th. I was set and ready to go. However because of the cost of airfare, I wasn't going to be able to purchase my ticket until Friday (the next pay date).
I went on to focus on the work that I loved at Macy's. I met with so many friends that were still braving shopping in person (I AM SO GRATEFUL TO YOU FOR THAT). Evenings, I spent trying to determine which looks would best represent me as a designer and would provide a range of my work. I paused for a moment and thought about adjectives that best described my design aesthetic:
sustainable
edgy-demure
community
simple beauty
I thought I had the perfect cohesive, capsule collection of who I am and how I design. Now, I needed to get through the week, where life was changing day-by-day. And on Thursday, it changed to pivot to what was happening around the world.
Early that evening I received a call, not being at a place I could answer, a few minutes later I received a text to call asap. I realized it was the casting person, Rebecca, I had spoken with prior. After work, I returned the call. All in-person interviews had been canceled. I was to be interviewed via Skype by the casting director and the fashion director. After the call, in which it seems was multiple calls by my host, I reached out immediately to Carmen and informed her what had happened. I thanked her and told her this wasn't the end…more to come! I sent texts to my go to models locally, first with the wrong date and when I snapped updated with the actual date – March 18th. I then went out to Facebook and Instagram.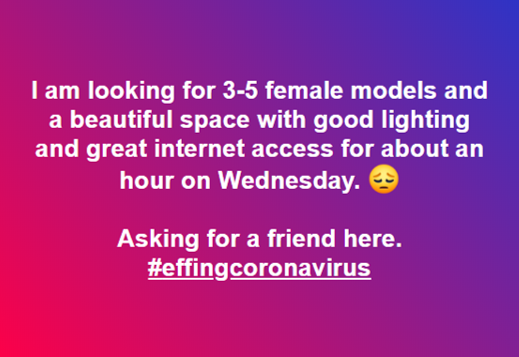 I received a response from my friend, George, who is the director of events for the Hyatt downtown that he might have a space for me. I also received responses from other models I had worked with and Facebook connections that suggested others. I asked for comp cards to be emailed to me so I could see measurements, looks and find the appropriate model for my collection pieces.
Saturday, at work, was like a ghost town. Still, I wasl so grateful for those that came in specifically wanting to work with me but I ended up spending more than I made that day….anxiety shopping.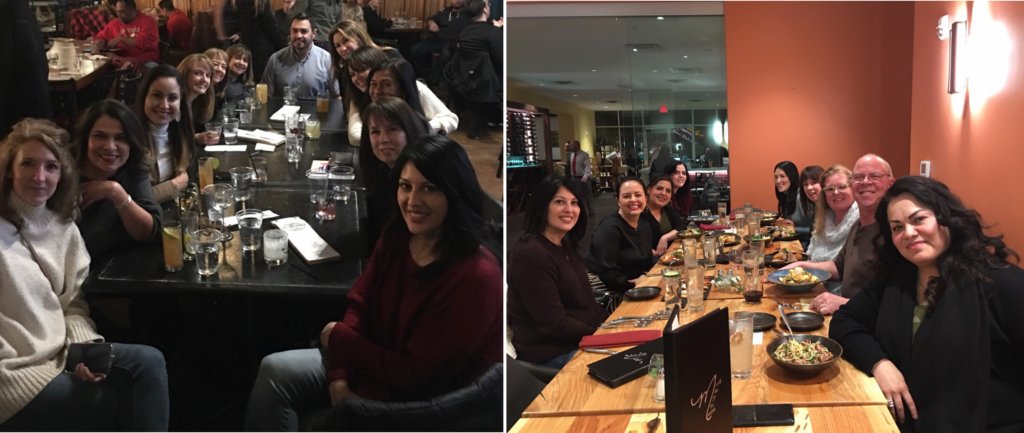 A few months ago, I invited a group of friends to join me at Hollow Spirits for their bartender challenge. What I found from overhearing the conversations and people from different aspects of my life coming together, is that there isn't much that separates us, but something so easy as a family-style dinner is a great way to spend an evening. I continued it in February at M'Tucci's new restaurant with plans to do a Sunday Supper once a month at a local establishment. Knowing the road ahead of us all, I reached out to them and said I was going to postpone the engagement until it was safer for a large group to be together. Instead, I asked that they spend their $25 that they may have spent on that dinner, supporting a local organization.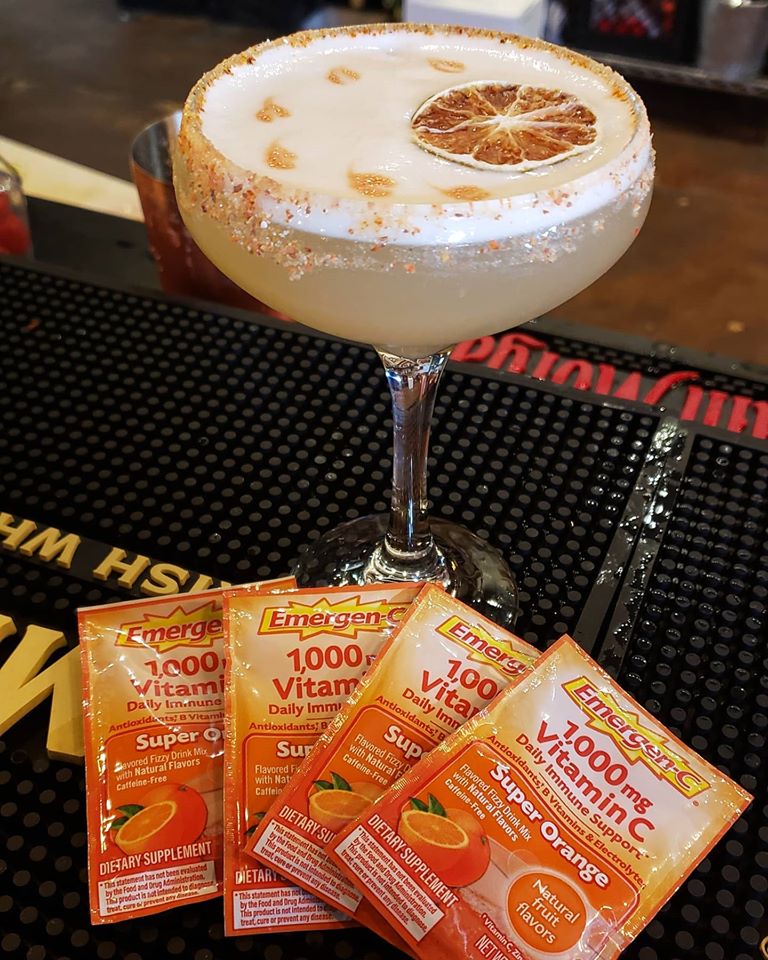 At the end of my day, I reached out to my friend, Lee, and asked if she wanted to meet up after work somewhere local following my own advice. We met up at the Copper Lounge for a cocktail and nachos. I don't know how I had never been to this swanky bar. We talked about what we thought would happen at Macy's…everything was still so unknown. The appointments I had scheduled for Sunday canceled, so I offered my services virtually. Luckily, I had an appointment for Monday, so I opted to take Sunday off and work Monday. We went on to Hollow Spirits another one of my favorite local places. Tried their Quarantini, noshed on their carne asada (absolutely love Chef Rogers' menu) fries and bought bottles of their spirits. I convinced her to join me in Nob Hill the next day….knowing this area would probably be most impacted.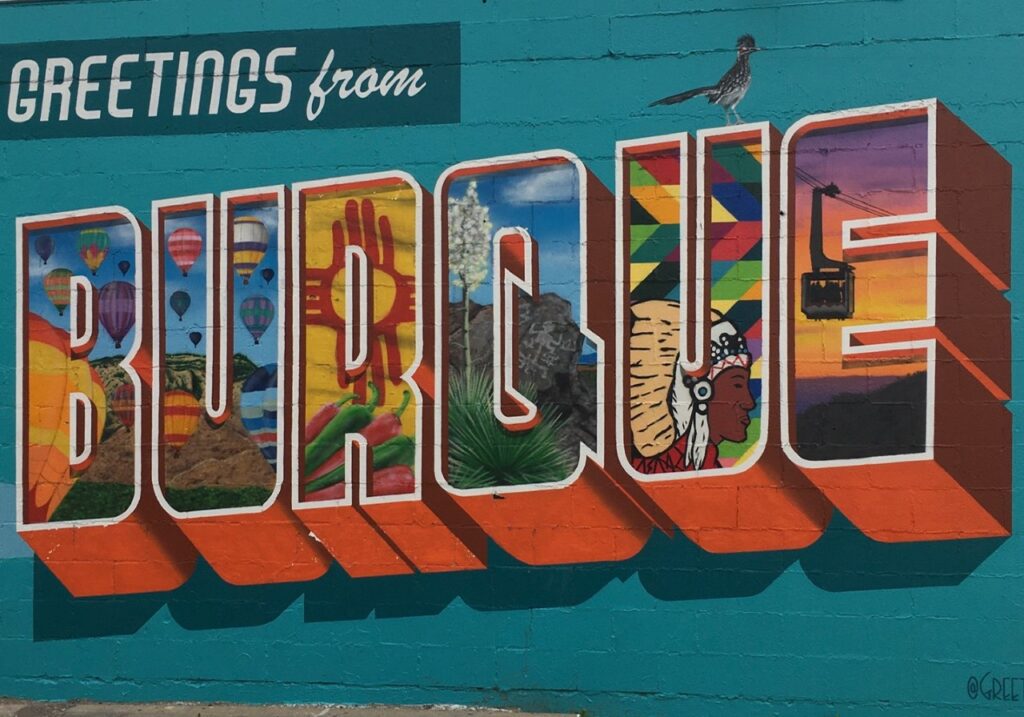 I picked her up from Macy's and made our way to Central, parked behind the Nob Hill Business Center and made our way to the shops. We stopped in first to see my friend, Lyndsay, at Retail Therapy. It had been sooooo long since I had be able to stop by. We caught up on life and we purchased a few fun goods. We moved on to Gertrude Zachary but the mood on Central as apocalyptic. The streets were so quiet not the bustle on a Sunday that I had been accustomed to over the years of loving this area. Many shops and restaurants were closed. We moved on to Andy and Edie and I found a Paris barrette and Mermaid tee. We moved on to the new local shopping complex at Little Bear and bought sunflower seeds because I knew I could use them come spring. We purchased freshly made chocolate at the Chocolate Dude and popped in to Toad Road. We crossed the street and found a new lovely bath and body shop, LaVon Blu, owned by a mother and son duo. I stocked up on bath products. By that time we were famished, and I thought we could go support AMAZING chef, Bryan Romero, with Rancher's Club. Arriving at the Crowne Plaza, again the parking lot was sparsely dotted with cars. It was even more haunting as we walked through the halls toward the restaurant. Sadly it wasn't open but we found a space at the nearby lounge and ordered a bottle of Rose and lunch (and it gives me a reason to come back for a Sunday Supper). We sat by the windows and looked out at the patio. We talked about how fun it would be during the summertime. Headed home, I felt like I had done my part. I had also supported my other friends with online orders: the best beef jerky from Hunter Jaymes Meat Co and Clarity Pages (I figured if I'd be homebound I could work on my goals for the next 13 weeks) and later, 21 Flowers.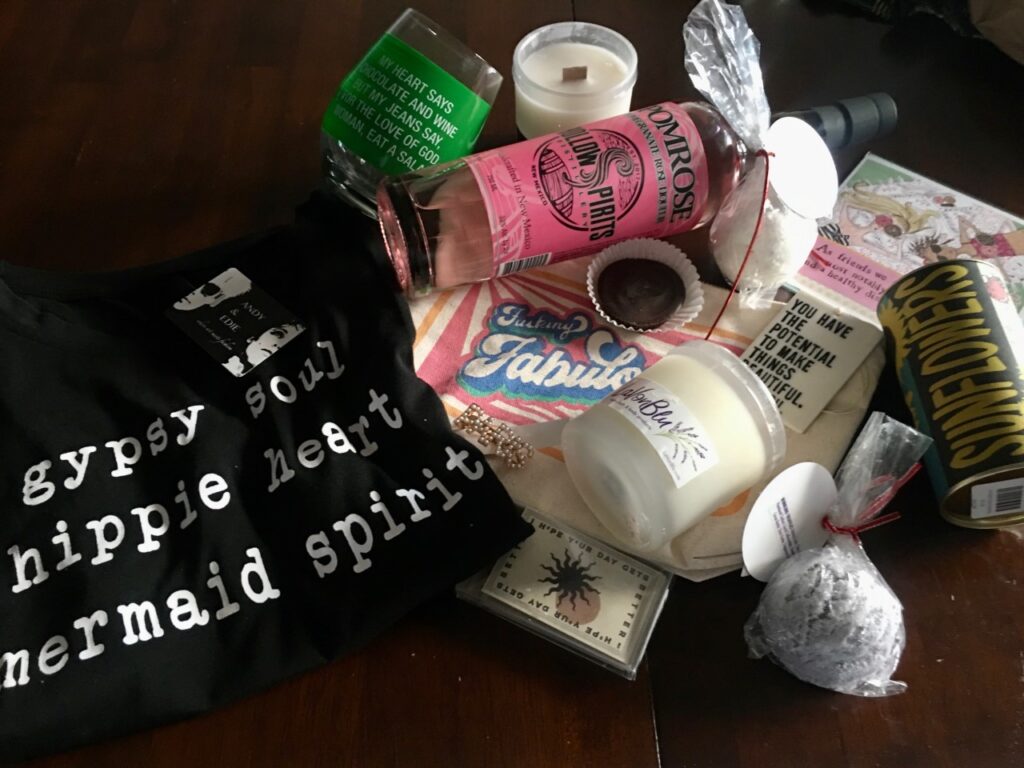 I know I got off track from Project Runway…but I think it is important for me to share this. I COULD NOT BE WHERE I AM WITHOUT THE SUPPORT OF MY LOCAL COMMUNITY SO IT IS EXTREMELY IMPORTANT TO SUPPORT THEM. I went on to work on Monday. I reached out to George about the room. He asked that we take a look at it after work. I was in. I had also posted to my dear friends in the beauty industry if they would be available to help with hair and make-up and they responded in full force. That morning I sent out an email to my models and beauty team with the basic details, stating I would have the final location pinned down that evening and the look book on Tuesday night. Within an hour, I found out that one of my make up artists may have been exposed to COVID19 and was in for testing. She was so disappointed that she wouldn't be able to help me–I told her not to worry but to take care of herself. We'd have many more opportunities to work together.
The day was again slow with not much traffic in the store. A change in our operational hours was set and we were going to have a leadership meeting that afternoon to discuss further. I had one scheduled appointment and was definitely going all out for this appointment. I was grateful she didn't cancel and boy did we put together an incredible wardrobe for her (Thanks S, xoxo). I left work just before 5pm and met with George. We looked at a couple of spaces within the hotel. I mentioned that the most important components were good lighting (natural if possible) and good wifi access. We found both on the 19th floor. I was set and EXTREMELY grateful. I headed home driving along Rio Grande as I do when I want to decompress. It had been lightly raining and it felt and smelt wonderful. The rain made the landscape so vibrant and fed my senses….I had been feeling a little nervous about doing a Skype interview. I LOATHE Facetime and Skype meetings because I can see myself and fixate on the dopey facial expression I make. I wanted the directors to see and feel my creations and you really can't do through the virtual experience.
I got home and peeled out the contact that was burning my eye. I couldn't believe I had gone through the day with it in there. I didn't have my glasses with me nor my contact solution or eye drops at work. My eye was bright red so I rinsed it out several times and put a cold compress on it. During that time, a couple of things happened. George informed me he had been furloughed and would let me know who my contact would be at the hotel. FUCK! Here we go. I asked him if there was anything he needed. Next, I saw that a post was circulating about supporting local while knocking corporate entities. It bothered because: 1. Do you remember Sears and Kmart? and 2. People I had supported personally were sharing it. I couldn't let it go, so I posted my own response.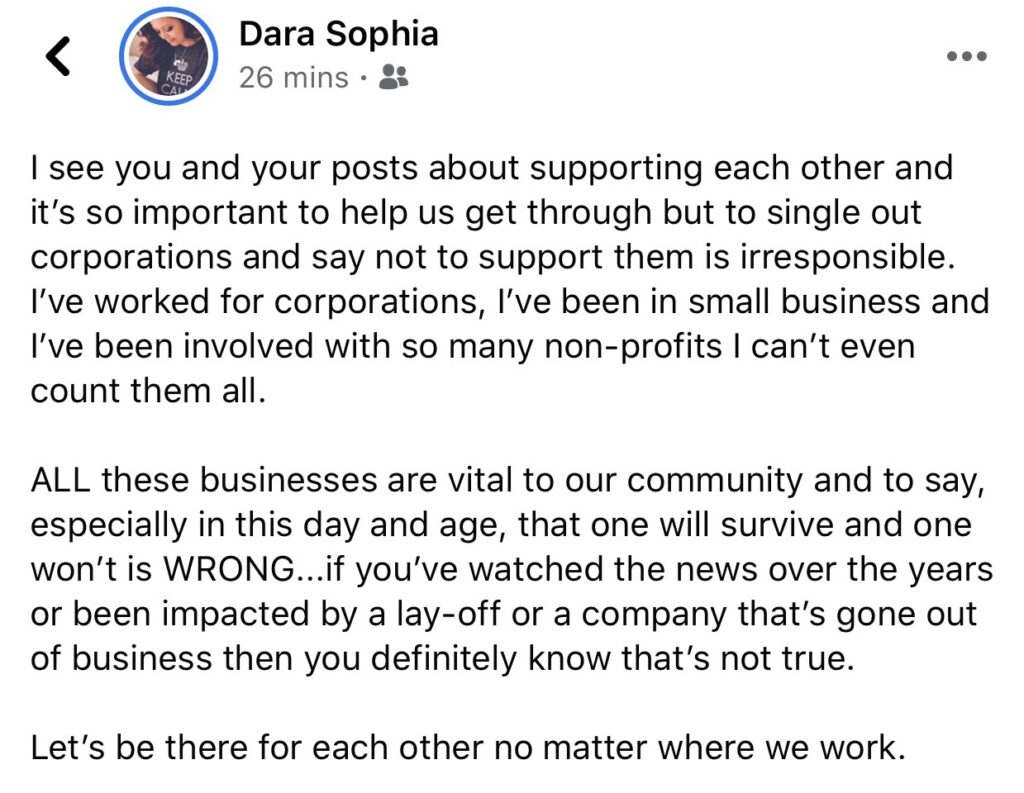 Out of that came a really good discussion with my hair stylist and friend, Amanda. We are all living in this crazy time. We need to be looking out for each other and not creating division. I was in so much pain and in the back of my head thinking how am I going to get to a doctor and would this red eye be present for my interview. However, we had such an incredible conversation that I couldn't hang up (we were on for an hour and a half…those that know me know I am rarely on that long). I went to sleep and woke up in the morning feeling a little better but my eye was still horribly red. Since I didn't have any appointments, I opted not to go in. I laid on the couch for a little while longer with my cold compress and bandana on my eye. It was around 10:30AM when I heard from Lee. Macy's had made the decision to close the stores through March 31st. Once again, FUCK! It was the right thing to do for the safety of their employees and customers but it definitely got in my head for the next couple of hours.
Once I snapped out of it and realized I can make it work, I reached out to my friend Melissa, the stylist and owner of Scissorhands Hair Studio. I asked if we could move the whole production to her studio. She graciously said, "YES!". I reached out to my stylist Amanda, with Mark Pardo, and asked if I could get in to have my bangs trimmed. She offered to come by my casita after she got off work (if you saw my PR video then you saw how much I was messing with them and I didn't want to do that for the interview). Now that Macy's was closed, I reached out to the woman who has beautified my look for several occasions and MAC boss, Stephanie, to see if she could help. She was in. Finally, I got to work on the lookbook.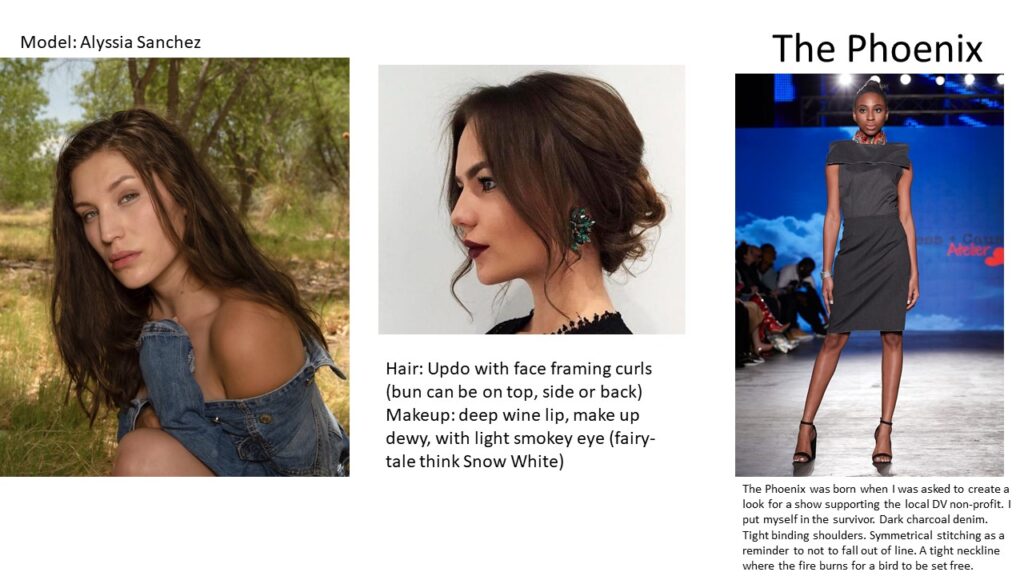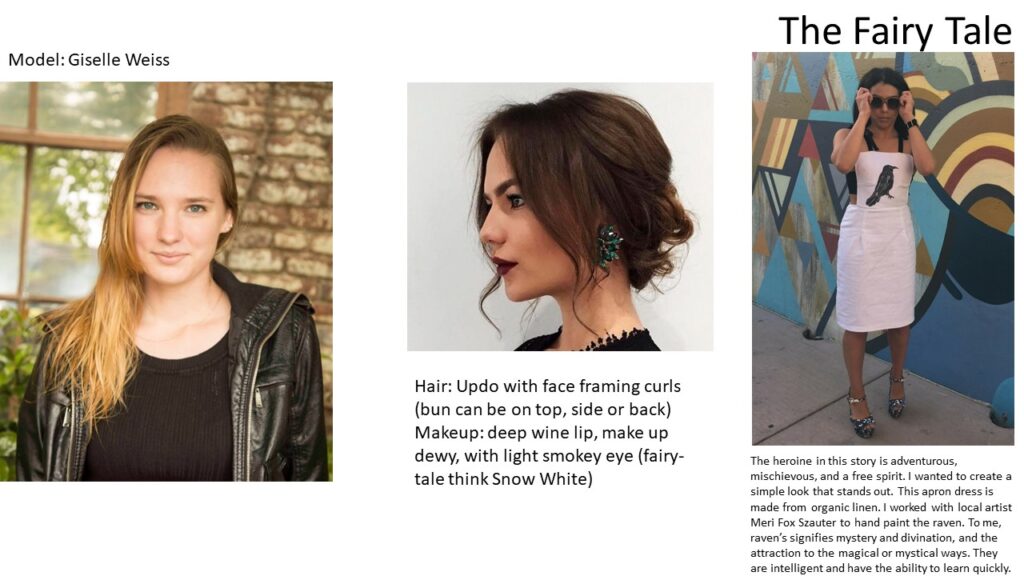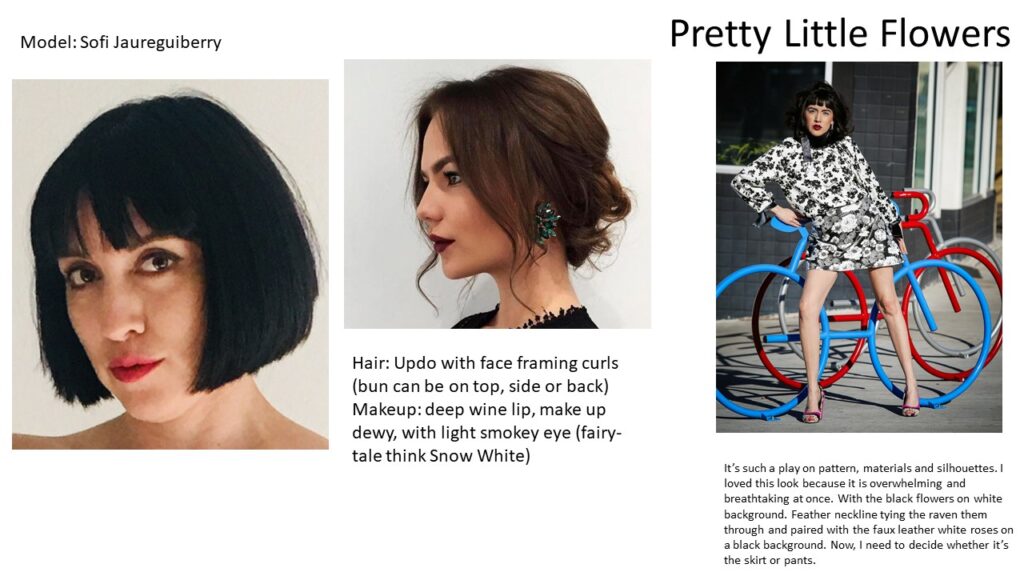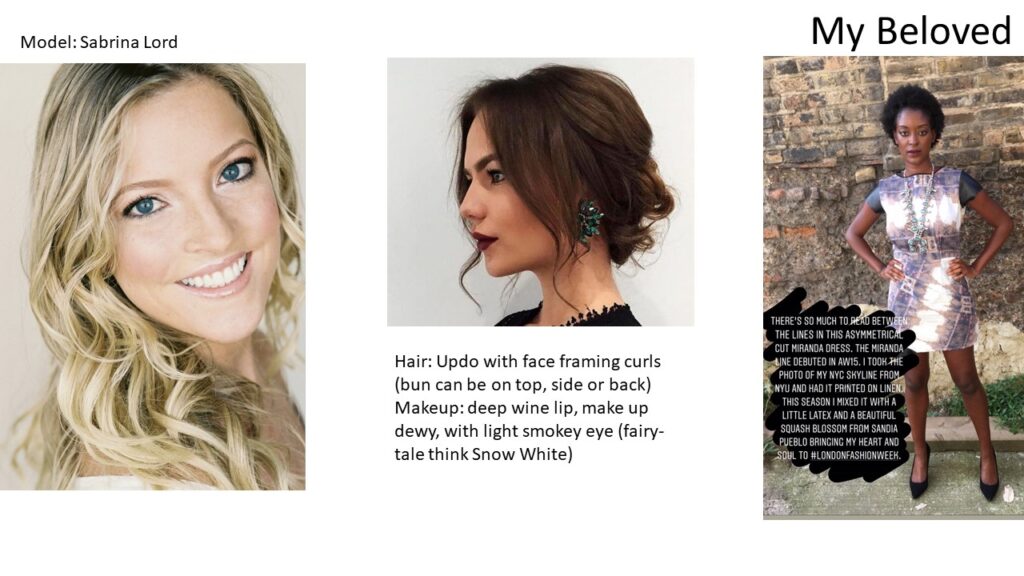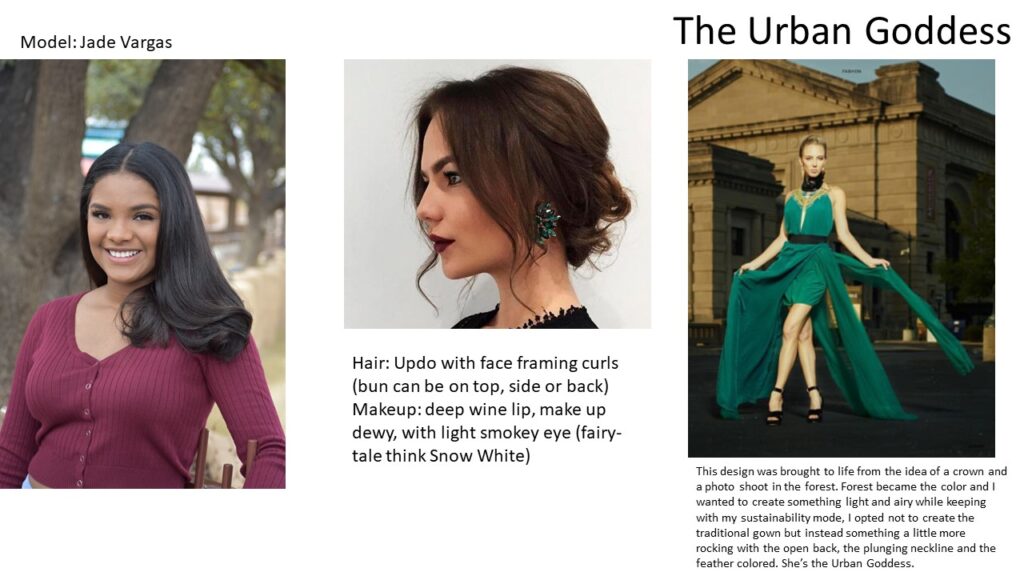 I went on to schedule appointment times, staggering them as much as I could to ensure proper social distancing. I did not take this lightly and informed everyone that if for any reason they did not feel comfortable about taking part, I completely understood. Since Sofi works in the health field and with vulnerable patients she opted to do her own hair and make up. I was totally fine with that. Melissa asked if I could join her early to talk through the looks. When I arrived, the salon smelt like medical grade disinfectant. I asked if I can help with anything. She wanted to ensure everyone was safe and we made sure that everyone washed their hands thoroughly and that the beauty team wiped down their tools with alcohol after each use. Stephanie arrived about 10:30am and set up her station. Giselle and Jade arrived about 11AM and Melissa and Stephanie got to work.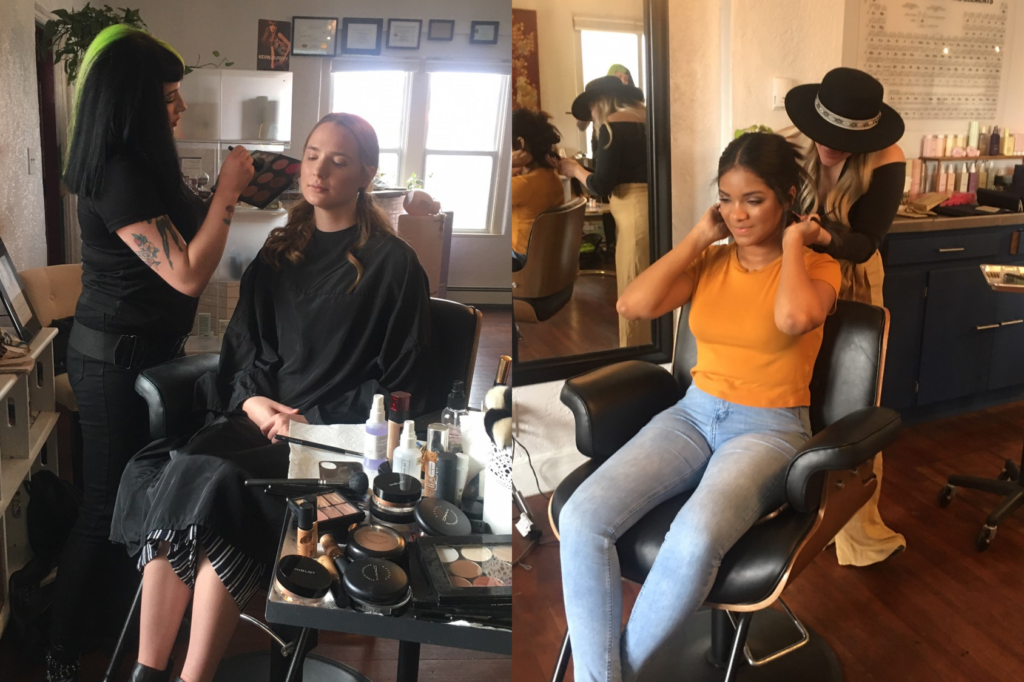 About noon, Alyssia arrived and shortly thereafter, Sabrina joined us. As hair and make up was being done. I was the countdown clock. Kim and Krystina hadn't arrived yet. Kim was trying to track down dog food and Krystina got busy packing and lost track of time. I had asked that I too have mine done, nothing too much. I just wanted to make sure I didn't look like the walking dead. As the team was busy working, the governor had called a press conference to talk through closures, beginning March 18th, for the service industry: bars, restaurants, salons, movie theaters and malls….any large gathering place. My heart sank knowing how much this would impact our economy and the livelihood of the team I had in the room. Melissa had already informed me that she had made the difficult decision to close the salon for two weeks but the governor's announcement extended for another week.
Kim and Krystina arrived just before 1PM and they immediately got to work. Sofi arrived around the same time. The contact from the casting company informed me that I would be on at 2PM, but that I should be on standby in the case they were running behind. I made sure we were ready by that time. Just before 2PM I received a message they were, were running about 35-45 minutes late. Up until that point, I was focused even though everyone was asking if I was nervous. Now that we had the down time, I started to focus on that energy. I asked the ladies to do a run through and thought about what I'd say. I worked through where I'd stand and where the models would come in and in what order.
Wearing my tall, chunky heels, and standing on an uneven surface, I almost fell through the glass door as I grabbed a hold of the wall to steady myself and not go crashing down, I noticed Skype line was ringing, but I couldn't answer it. I think I hung up and it rang again but I couldn't answer it. I asked someone who knew technology to help. Alyssia came over and said it was ringing. I realized I was the one calling. SMH! I got a message they needed another 15 minutes. ARGH!!!! We got it all figured out and I realized I would not stand on the textured surface for the interview.
At about 3PM, the line rang and the casting director, Noelle, came on. It was a gloomy, rainy day so I was in a spot that I could pull as much light as possible. As we spoke, she asked about turning my phone horizontally so they could get the best look possible. She also mentioned turning because the sun behind me was acting as a back light and she couldn't see my face very well. I could not get my phone to work properly so asked if I could use a computer. Both Alyssia and Sabrina brought theirs, as they tried to download the Microsoft Skype App on their Mac computers (not easy at all), Sofi got it up on her phone, horizontally as asked. We got back online. Again because of the sun and the fact that I would have to go back and forth between me and the models, Noelle asked if I could have someone hold the phone and I stand with the models. Adriana, Jade's mom, jumped in. It took a few more minutes to get the fashion director on the line, but once he was we were on our way. Except Sofi's phone notified us that it was at 20% charge. We ran and got Sabrina's computer and my charging cord and plugged it in (I swear technology does not like me and I'm sure there was some remnant Mercury in retrograde energy here).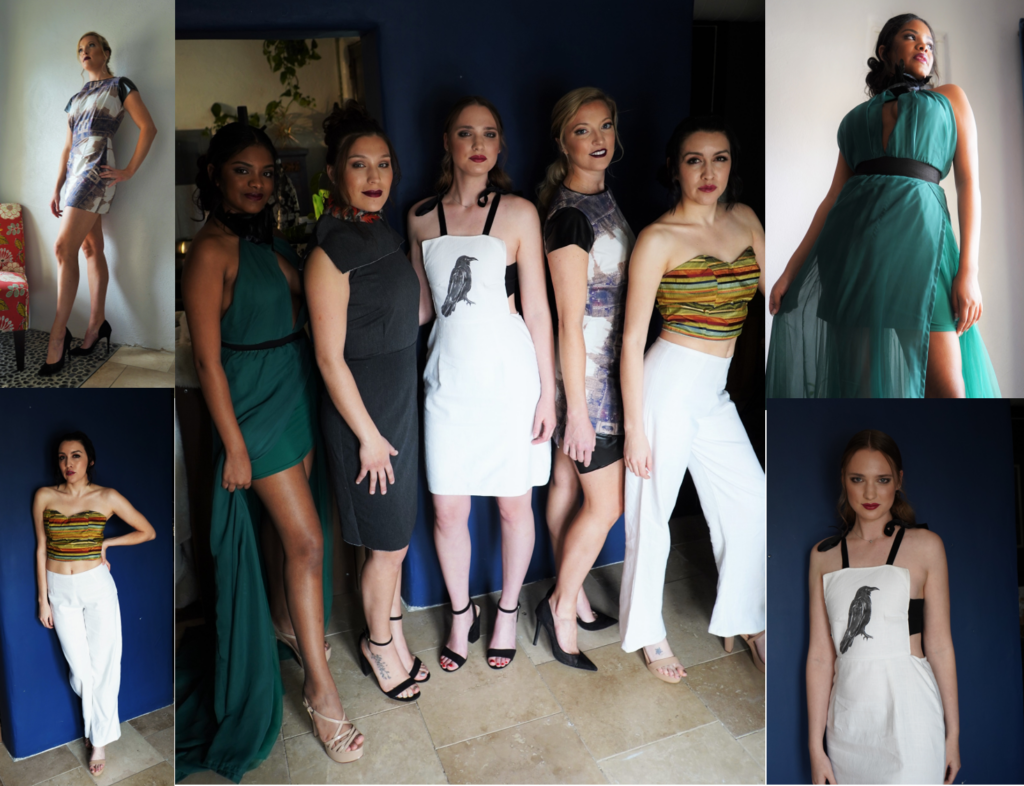 I introduced myself and brought in the first model, Giselle. I talked about the sustainability of my line, how with my community of creatives to bring effortless beauty to women who appreciate it. I went on to bring in Alyssia to talk about how I'm inspired and utilize unconventional materials like the cockatiel feathers in the neckline. What I create has a story behind it. Like the dress on Sabrina, the image is my NYC photograph printed on poplin. It is lightweight but still makes a statement. I next brought on Sofi and talked about her look using organic linen and remnants from an upholstery scrap book but the devil is in the details with the clock buttons. I switch out her look last minute because I realized, I had no pants in my looks and again wanted to show the sustainability and use of unconventional materials in my creations. I ended the segment with my Carmen dress. I teased that while I like glam I'm not Christian Dior who would design with yards and yards of material to make a point during the rationing period of the 1940's (it garnered a laugh from the director).
I was asked about my education in this space and I told him my story and how this is my passion project. The session concluded with a recap of what he felt I did well and opportunities (just like a Project Runway episode). He said from our conversation that I knew my customer and my design aesthetic. He like the sustainability and story behind my line. He said my technical skills, specifically fit, were my biggest opportunity. And I knew it. If I had made more time I would have done a fitting and edits before hand. The call ended with Noelle stating I needed to send photos of the looks and I would hear one way or another for the next two weeks…back to the waiting game.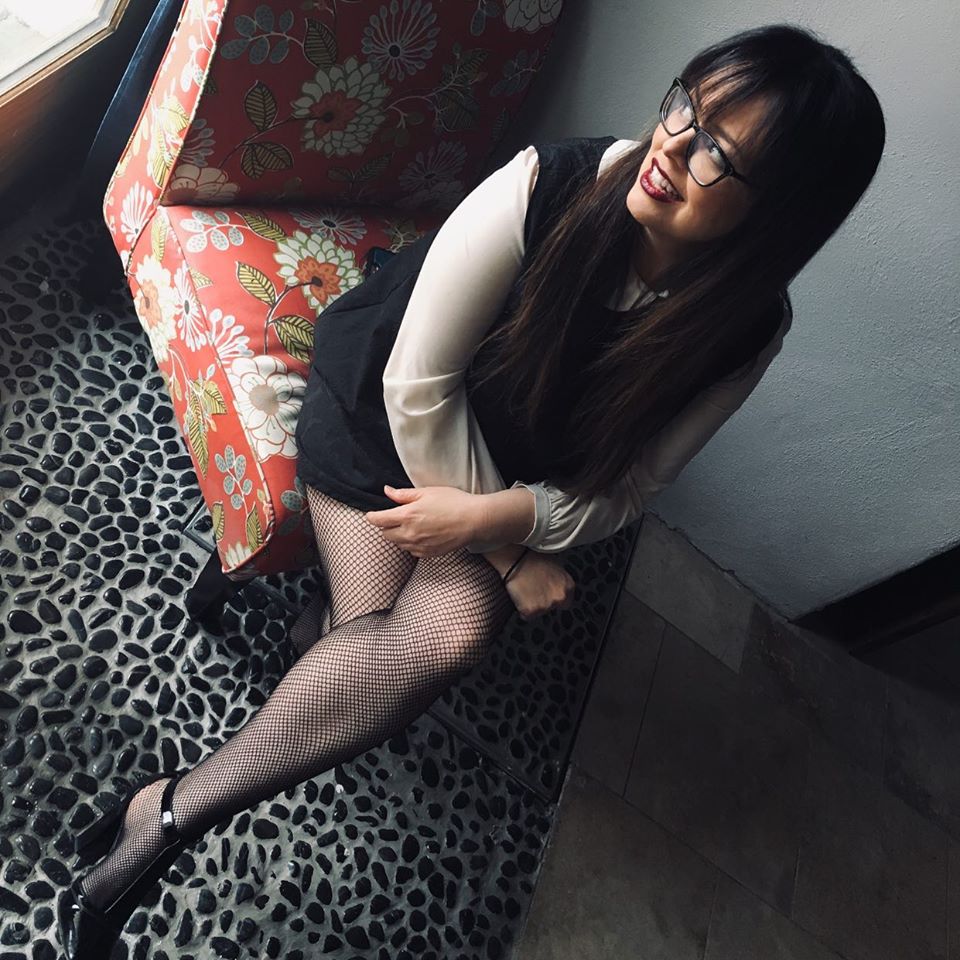 Yesterday, my grandma and aunt Lisa called to check in. I told them I was hanging in there. My aunt said my grandma was praying to see me on Thursdays. "Thursdays?", I asked. "Yeah, on Project Runway, but only if it is safe." I almost cried. We really are a community and when we support each other, we are unstoppable. So many of you have asked me how it's gone…and believe it or not, I kind of black out in these instances. But I feel I was true to me. We'll see if they see that too….
And if I can't be on Project Runway, maybe I can be a "hermit star"?!?
Thank you for all the positive energy and prayers. There is definitely more to come in this Ms. Adventure. In the meantime, if you are blessed to have disposable income during this period, please consider supporting your local businesses and non-profits. I have provided links to the ones I've noted above. I know I could not do what I do without their support and please feel free to share your favorites in the comments. I believe in the power of positivity, so until I can give you a big hug, laugh with you hysterically and loud where you can hear it across Macy's or where ever we may be, and travel to see you, know that I am thinking of you and will probably send you a text or DM checking on you.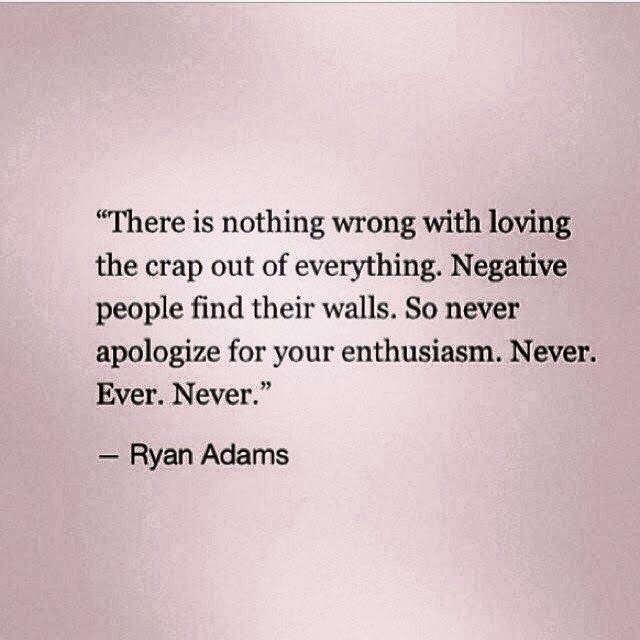 With SOOOO MUCH light and love,
Dara Sophia Romero