Oh, when my heart go b-boom b-boom
B-b-boom, b-b-boom boom
My heart go b-boom b-boom
But I like, my eyes already like you
Baby, you

Sade, Love is Found
For the past seven years, I have visited NYC in February during New York Fashion Week. I have spent more time in this city, during this month, than any other time of the year. My friend, Amanda, who lives in New Jersey always teases me that I visit during the coldest time of year and typically around the Valentine's Day (which I always forget, and makes for difficulties in meeting up for dinner without making reservations). I was there for the "Blizzard of 2013" and the "lowest temperatures on record" in 2016. Yet, when it calls, I'm there. As I told a friend, "like a junkie and I need a NYC fix."
Because it's the heart of my work, sourcing and inspiration, I planned a quick weekend trip for the start of Autumn/Winter 2019 Fashion Week. I had been approached by Vancouver Fashion Week to show with them so I wanted to see how their production played out for the Global Fashion Collaborative (it's an opportunity to show in Tokyo…read my lips "Toe-KEY-oh"). I also received a press pass for Art Hearts Fashion and an invite to ACS Productions industry party. I also wanted to see friends. It had been 3 years, since I last saw Amanda and had overcome my repulsion of GINORMOUS subway rats in order to travel to NJ. I also was excited to catch up with a childhood friend, Lucas, who was now living in the city. As someone who plans to live in NYC, I so wanted to hear about his journey. I also needed to shop for fabric and embellishments for a Bat Mitzvah dress, a gala dress, a wedding dress, and a rock star worthy jacket. I also wanted to use this time to source materials for the inspired drawings I had received Through Your Eyes and if I had time to fit in some people watching, saying a prayer, museum cruising and sketching (oh and maybe a blog or two).
So with all this crammed into my wintry weekend, it looked like this (Before you read, you may want to get a cup of coffee, set your phone to the side with DND in effect. I hope you find moments of laughter, thought, and at least a smile.):
Thursday – the Ms. Adventure begins
I was packed and ready to go for my 11:57pm Jet Blue flight at 8:23pm (okay so I packed and unpacked–I was taking a small carry-on bag for 4 days, but packed like I was staying for a week and a half, with all the winter accessories). And yes, I did have to sit on my suitcase to zip it up.
I was mentally ready to go about three weeks before, but the excitement really set in on Wednesday night when I was catching up with one of my BFFs, Jamie, at her home. I hadn't seen her for months, so we played catch up on each others lives, and she asked about my plans for NYC. As I was about to head out, she and her husband gifted me with much love (I bawled like a baby of course). It was an incredible blessing for NYC.
Isaiah dropped me off at the airport about 10:45pm. I went through security quickly and took a seat at the gate. I love the Jet Blue flight this time of year, I can typically get a round trip ticket for less than $200. It's non-stop and the red-eye flight out doesn't really bother me (especially, if I'm lucky enough to check into my room early). This time, I opted for a seat in the very back. I didn't have anyone sitting in the middle seat, which would provide the extra room for me to catch a couple of hours of sleep. I took my seat and set up my coat as a pillow; the flight attendant passed out sleeping masks and ear plugs, but I tucked them away thinking I didn't need them. I easily drifted off to sleep until the baby sitting in front of me couldn't get comfortable, so in and out of consciousness I went, finally putting in the ear plugs.
The man that was sitting in the aisle seat moved into the middle seat to make room for his friend sitting next to the couple with the baby…there went the extra room, but I made the best of it in my contorted Innovasana pose for sleeping (not really it just felt like it). When all of a sudden, a hand landed on my knee. I jolted ready to punch someone in the neck, when I realized the guy next to me was asleep and I believe his arm just accidentally fell on me. I lifted and put the dead weight back on his torso. I tried to go back to sleep, putting my tray down to use as a resting space and providing an additional barrier in case the hand slipped again.
PSA time here for you….don't get the back row seats for a red-eye flight. This is where the flight attendants sit and where the snacks are kept. The team is bright-eyed and chatty in the wee hours of the night and doesn't care about the noise they make. So when I finally fell asleep, I was catapulted awake by the captain announcing we were on the descent into JFK a half an hour early. Like a zombie, I attempted to rub the non-sleep out of my eyes, and popped Altoids into my mouth. I gathered my items and headed out to grab a shuttle. Typically my commute into NYC, with the shuttle stops along the way, is about 1 and a half hours, so I thought I could grab another nap. This time I was the first stop. Still dark, I said a little prayer that the hotel would have a room for me to check into. I walked up to the front desk, with my sad, tired puppy dog eyes and kindly pleaded (okay, begged) for a room…the representative took pity on me, and HALLELUJAH was granted one. I gratefully entered my room, I threw off my clothes, and climbed under the sheets.
Friday – notice the beauty in everything

Noise is always loud
There are sirens all around
And the streets are mean
If I could make it here
I could make it anywhere
That's what they say
Seeing my face in lights
Or my name in marquees
Found down on Broadway
Even if it ain't all it seems
I got a pocketful of dreams
Baby, I'm from
New York, concrete jungle where dreams are made of
There's nothing you can't do
Now you're in New York
These streets will make you feel brand new
The big lights will inspire you

Alicia Keys, Empire State of Mind
I woke about 11:00am, checked email, did yoga, set my IG posts, journaled and read (Daring Greatly, Brene Brown…more to come soon). I looked at my calendar and the first round of shows with Art Hearts Fashion Show weren't to begin until 6:00pm. Knowing they might start later and I had made a commitment to meet Amanda in Hoboken, NJ at 7:10pm, I opted to stay nearby instead of heading to the East Village. I had wanted to see the latest exhibits at the Museum at FIT, which was a block away, so after I showered and dressed, I decided to walk on over. Walking over to 7th, a.k.a. Fashion Avenue, you can't help to notice the landmarks at every turn.
I had Alicia Keys playing in my ears, my head held high and my stride fierce…because baby, I'm in New York. I quickly arrived at FIT and was happy to see it was open (wasn't sure if they'd have "Fashion Week" hours). Stepping in and taking of my layers I opted to walk through the Fabrics in Fashion exhibit first.
I went on to peruse the Exhibitionism: 50 Years of The Museum at FIT exhibit. So many pieces in this collection were garments I was already familiar with. Incredible looks from Alexander McQueen to Versace's playful ode to Marilyn Monroe. I loved how my camera pulled the metallic gowns…which created radiated prismatic light.
I spent about an hour absorbing every minute in the exhibits, so it was fun to step outside to see the street fashion in full force. Because it's difficult to not be invasive when photographing on the street, I opted for mental images as I walked along Fashion Avenue. I think a big reason I love NYC so much is because I perfectly fit in as an introvert. I can blend in and play the role as the observer in an energy intensive environment. As I walked along the garment and whole seller shops, I went into a few thrift shops and looked for a sweater or two. As much as I packed, I packed for fashion week, carefully crafted Hopeless + Cause Atelier with boots and accessories, but not for the cold weather moments outside of the shows.
After an afternoon of exploring, I got back to the hotel about 5pm and decided I'd take my time getting ready for my excursion to New Jersey. I had planned to meet my friend, Amanda, and her husband, Andy, at the Hoboken train station at 7:10pm so we had plenty of time to get to our 7:30pm reservation (I think Amanda did this to accommodate me). Last time we met, I had issues: the first being the mutant rat, then going to a pay station that only took cash (and not having cash), which lead to trying to find an ATM for said cash (and having issues opening the vestibule)…finally, getting on the train and arriving 20 minutes late (reservations during V-D weekends are the worst). I'm a mess, but a fun mess (and I just gave you something to make you shake your head or laugh, so you're welcome).
To avoid a repeat, I decided to head out a little early. However, the train station was only two blocks from my hotel and my train arrived right as I walked up to the platform. I jumped on and took my seat. I was 20 minutes early this time. I texted Amanda and told her due to the cold, I'd wait for her in the train station waiting area.
Let me tell you, there are some INTERESTING humans that hang out in the waiting area. As soon as I got her text she was there, I jumped up and embraced her with a hug (because I was happy to see her and because I was happy to escape the crazy sitting next to me). Amanda, Andy and I decided to walk to dinner. It was cold but it was great to walk through the town. All along the way she and Andy, provided commentary and history of Hoboken. Even though I was frozen like a Popsicle, I enjoyed it thoroughly. I just meant more wine to warm me up, right?!?
When we arrived Elysian Cafe, I was immediately attracted to the historic building, etched glass windows and an oversized double-door that welcomed you in. As you pulled away the velvet curtains, the bar area was revealed. It was filled to capacity with after-work patrons crowded around the bar and a few televisions on the wall reminding you it was the 21st century and not the turn of the 20th as the decor indicated. We were seated immediately and I continued to look all around. The ceiling particularly caught my eye with the ornate detail and painted angels (of course after leaving that evening I had to find out the history: opened originally as Dillenger & Jeffson's in 1895, it continued through prohibition as an ice cream parlor and as a hair salon–link above provided so you can do your own exploring, SO COOL).
After receiving our drinks we spent the next few hours catching up from 2016….and boy, so many changes! I talked about my life and fashion and this passion project called, Hopeless + Cause Atelier. She gave me an update on her kids and informed me that her daughter was getting married in December. She began to ask more in depth questions about the process of my bespoke work and the costs. She started to softly say she thought she needed a custom outfit for the wedding. It kept getting more and more confirming until at the end of the night, she commissioned me. Oh shoot dang–another reason to come back to NYC/NJ soon…the life of a designer is rough.
We walked back to the train station and said our good-byes. I was happy that my work was going to give me the opportunity to see her sooner than three years (like the spread in our last dinner date). As I sat on the train, replaying the evening in my mind it made me think about the subway photo I had been inspired by a few weeks before.
I thought about the people on the train and what they had just experienced: where they were coming from, where they were going to, what was on their minds. I arrived at my destination, 33rd street station, within 15 minutes. As I exited the train, I followed the crowd to try to reach the upper level. We were under the Manhattan Mall and they were locking up all the exits. I thought to myself, "of course, they are!" There was no way in Hades that I'm getting stuck down here. Yet, every corner I turned the gates were locked. I kept my outwardly composure while having a tiny internal panic attack. Fortunately, a security guard walked up and I asked about exiting, he provided directions, and I made it to the surface. I laughed all the way back to my hotel…it would not be a Ms. Adventure if I didn't have some sort of train story (#361 why I prefer walking than mass transit, but since I can't walk on water yet…). I stopped by the hotel bar and ordered a glass of wine and went up stairs, watched Friends and worked on the Through Your Eyes blog until I fell asleep.
Saturday – love and power

Love to see you shine in the night like the diamond you are
I'm on the other side, it's alright, just hold me in the dark

Khalid, Better
I woke from a good night of sleep (oh my GOD, it was absolutely delicious). I must of slept so hard because I didn't hear the sounds of the city below as I normally do. Once again, I followed through with my routine: yoga, reading, journaling and setting up the IG posts. However, there was something I WANTED to do before heading out. It was the birthday of someone who has been very important to me throughout my life. Yet, a little over a year ago, I sent him a message of warning about someone. However, it wasn't received as I had intended it to and I hadn't talked to this person about it for over a year…which bothered me quite a bit, but as a pride-filled woman it took me a while to address the void. Until, I thought maybe if I sent birthday greetings and an apology, it would be the best birthday present…for me, that is.
I probably should have taken the time, sooner, to provide clarification, but I didn't. I went on with life, but felt the void throughout. I was no longer willing to have that absence, so I wrote out the email. Read it. Re-read it. Read it once more. I asked for forgiveness, that it wasn't my intention to do anything more than to provide a warning. I added a heartfelt happy birthday with a hope for a reconciliation and hit send. Whether or not it was accepted wasn't the point (well, except in my heart of hearts I hope it was); I wanted make sure this person knew I had no ill will, only love. However, thank the Lord I received a return response…and it was a good one.
Two thousand miles to the Southwest, back in Albuquerque, another kind of power was taking place. For a few weeks, I had been conspiring with Sofi to do a photo shoot around the Friends and Lovers Balloon Rally. Sadly, the weather wasn't playing nice, so the team opted to go downtown. While the fun, light, flowy, colorful shoot didn't happen this time around, I LOVED seeing the images of power and self-love of strong and confident women come through. I can't wait to see the images beyond the behind the scenes.
As I was texting my ideas from afar and sharing instastories of the FAB behind the scenes shots, I was getting ready to head to the East Village for a few Art Hearts Fashion Show. NYFW, here I come, baby!
I arrived and they were just wrapping up the children's shows. This was the first time I had been to this production company's show. I was in awe of the venue, Angel Orensanz Center. I had all the feels. I've talked about my venue "wish list" and I SOOOOOOOOOOOOOOOO want to show in a church (back in NM wouldn't it be cool to see Hopeless + Cause Atelier in the Loretto Chapel in Santa Fe or St. Francis de Neri in Old Town–ok squirrel moment, perdon).
It's funny, patrons at fashion shows don't realize the flurry happening backstage. I'm going to be honest here, from personal experience, it's a shit show. Many times I'm sewing models into their outfits last minute…some shows I'm finding out who my models are, minutes before they hit the runway. You can't be shy or reserved backstage. You just go with the flow. I wasn't surprised when the 5pm scheduled show didn't start until 6:15pm. And, I didn't mind except I was standing in 4 inch heels on concrete. I tried to take my mind off of the pain by standing back watching "influncers" take selfies or pose for the photographers. It's fun to see people really get into it. The show I attended was all about emerging designers: students. INIFD & London School of Trends presented a collection from students in India. From the press release:
The India based Inter-National Institute of Fashion Design (INIFD) in association with The London School of Trends (LST) will
return for a 3 rd season to New York Fashion Week powered by the Art Heart's Fashion platform with their show
A Portrait of India (Vibrant India)
This seasons runway to retail collection will consist of specially curated garments designed by the leading talented students
across INIFD's vast network of centres across India.
I love watching emerging designers because they are so willing to color and create outside the lines and they get a pass because they're students!
The collection was more representative of a Spring/Summer collection than an Autumn/Winter one because of the bright colors, light flowy materials and whimsical designs. It was fun to see. And I absolutely loved this dress, but opted to pull the photo from Getty Images because I couldn't get all the detail. It was vibrant and dainty…I wanted spring!
I debated about staying for a second show, but then I didn't want to wait around for another hour and a half until it started so I called a Lyft and made my way back into lower midtown. I chatted with a friendly and talkative driver. At one point, he offered to let me drive in which I kindly declined, knowing I'd either have a heart attack with the craziness of NYC drivers or kill us.
Earlier in the day, the "all telling Instagram" informed me that my friend and model, Noelle, was walking again for The Society Fashion Week show and encouraged me to pop by and say, "Hello" and get a hug. I had planned to but this show ended up being a longer than expected. I also tried to work the team to get a press pass, but no such luck, so I told her if she didn't have set plans maybe we could grab a drink or go to the industry party that I was secretly dreading. Remember, this designer is an introvert. I like designing, I put my work on the stage. I like writing, I put my efforts out there for you to read. I like small intimate conversations vs. "Hi my name is such and such and I do such and such and we should do such and such" to person after person….THIS shortens my breath and makes my stomach hurt just thinking about it.
However, going with someone to these types of events makes me a little less anxious. We decided to play it by ear, but by the time I got back to my hotel I decided to stay in (a shared Lyft ride means tour of the city, thus 10 min drive = 30 min adventure and it's cool when you've got time to kill) . The only thing I was considering was walking to Shake Shack for a double cheeseburger with a lettuce bun, or walking across the intersection to a little market and get snack-y foods. I opted for the later because it was cold, getting windy and my dogs were barking. So I grabbed a Greek salad, an avocado and a bottle of wine (decided to get an $8 bottle in lieu of the $8 glass back at the hotel–not a smart investment after all, threw out $8 bottle of wine instead of drinking $8 glass of wine). I sketched, wrote and crashed.
Sunday – fun, flow and a reminder of worthiness
Nothin' feels better than this
Nothin' feels better
Nothin' feels better than this
Nothin' feels better, no, no

Khalid, Better
I once again slept SO WELL it was unbelievable, but it's my story, so believe it! I woke and did yoga (I'm on this 30 day journey with Adrienne, can't let her down), read, journaled, and figured out how many blocks I'd be walking in the cold to get to St. Patrick's Cathedral. I bribed myself saying if I braved the cold and walked, then I'd burn enough calories to justify Shake Shack before NYFW (3 mi walk for an approx 900 cal burger?!?). Easy, deal!
I decided to attend the noon Mass, well because I didn't drag my butt out of bed earlier and because there was a choir for this Mass. It was February 10th and another very special birthday (there was a LOT of summer love in my family). After I sent my birthday greetings, I headed north to one of my absolute favorite architectural and spiritual creations. I arrived just as Mass started and took my seat. The readings, gospel had me Godsmacked. I try not to be overly religious in my writing, but when something speaks to me, I feel the need to share it.
The first reading was from the Prophet Isaiah and spoke to the fact that while we might not be in the "right" place, it might be the right place for us to do what we were meant to, and that little nudge pushes us to do what we are destined to. The next reading was from St. Paul to the Corinthians. Paul was a prosecutor of the Christians and church. So many times when we make mistakes or really just fuck up, we question how can we be representative of what is good or needed, yet in that is exactly what is needed…not perfection but imperfection. Finally, the gospel was from Luke and it was about Peter and his doubt. Yet, still through that doubt he was shown he was worthy to serve. Today was about worthiness. While we may not feel that we are worthy of the life we are meant to lead, it's God's check to say, "Ummm…no excuses, you are!" This was the first powerful message and it reminded me of one of the inspirational quotes (featured above) from the Through Your Eyes project.
The second was within this Irish-based Manhattan church, the Spanish song, "Pescador de Hombres" was sung accompanied by the haunting sound of the choir loft organ. In that moment, I knew my great grandmother, Ermelina, was wishing Lisa a Happy Birthday and my heart was full.
I left church praying to St. Jude, patron saint of hopeless causes and feeling spiritually fed and ready to enjoy the day ahead of me. I walked through Rockefeller Center, to Avenue of the Americas, over to Broadway and down to 36th. It was cold. It was windy. I was fine. I entered Shake Shack, ordered and waited somewhat patiently, but totally willing to bite off the arm of anyone that tried to grab my bag. After exchanging my vibrating buzzer for my burger, I headed south 7 blocks to the comfort of my hotel room before the flurry of the afternoon.
As soon as I finished licking my fingers, I jumped into the shower and started getting ready for the Vancouver Fashion Week show. This time the look was a bodycon, high turtle neck, charcoal gray dress with my gram's squash blossom necklace in turquoise and silver. I added chunky stacked suede gray boots and navy tights and an empire waist charcoal gray peacoat to finish the look. I grabbed another Lyft and headed west toward the High Line and Chelsea Pier. Pier 59 was the location for this show…Vancouver Fashion Week was courting me to show with them so I was excited to see the production. We stopped and picked up another two riders at the FIT and made our trek westward. Upon arrival, we knew we were in the right place because the crowds emerged.
The first line was to check in. Then, I headed up a flight of stairs for the waiting area…let me restate, then I SLOWLY ascended up the flight of stairs in my 4 in boots praying that my generally uncoordinated self wouldn't trip and fall (bonus: I didn't). The venue was great. You could wait in line until the seating opened or grab wine from the hosted bar and go outside to see the Hudson River view. Again, I stood back and observed all that I could take in (starting to feel a little like a National Geographic photographer, blending into the landscape and not interacting with the natives, lol). I did, actually, strike up a few conversations along the way. The wait time was less than 5 minutes and we took our seats.
The shows were incredible. The venue was triple star and as I scrolled through Instagram afterwards…I saw the below post and it sealed the deal. Not only were the shows incredible, but the legit press hand me asking, "where do I sign?"
After the show, I grabbed a glass of wine and took a seat outside to sketch, solidify the evening's plans, and people watch. As much as I wanted to stay for the second show, it was getting too crowded so I flagged down a cab to head back to get ready for the evening. On the drive back, I came across Eduardo Kobra's tribute to Mother Teresa and Gandhi. We drove by it so fast I only got a blurred photo that didn't do it justice, so I reverted to my Through Your Eyes photo.
I returned to the hotel, changed and ran down to the gym. I was meeting Lucas at 8pm at one of the restaurants in his portfolio, Momofuku Nishi, and I was told to come hungry so I figured, I probably should give my metabolism a little help.
I started on my way and because I dress like Johnny Cash, I opted for black jeggings, a black sweater and black booties and you guessed it…a black faux fur jacket. I did however wear my Louis Vuitton Denim Pleaty on a cross body chain as a statement piece. I only tell you this because after I started my trek to the restaurant, it peeped out of my jacket, and I wasn't sure if that was the attention I wanted. For this trip I stayed in Chelsea, because it was close to the shows I was attending. Even though the hotel I stay at is great, the area surrounding is probably a little grittier or dodgier especially based on what corner you turn, so immediately after my first turn, I experienced some uncomfortable comments made my way, but I picked up my pace and walked like I owned the place. I had Google maps in my ears directing my route and it was really a hop, skip and a jump to the restaurant. However, at one point I heard incorrectly and I turned down 22nd instead of heading south on 8th. I was in a residential neighborhood, paused to find my way, and shot Lucas a text asking if there was a secret entrance. I figured out what I did wrong and reached the restaurant seeing a familiar face in the window which made me smile.
We took our seats at the table. Lucas introduced me to the team. We were given menus and I was asked if I wanted a drink. I pushed my menu forward and said, "this is your area of expertise, I'm leaving all the ordering up to you tonight." So he ordered me a Negroni and the first appetizer came out. I swear I had died and went to foodie heaven.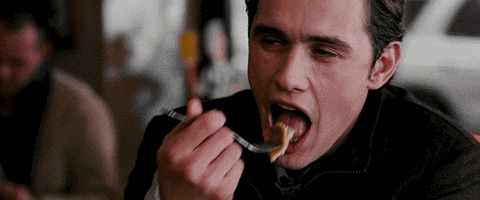 After two rounds of appetizers, Lucas suggested the pasta tasting and wine pairing. Italian is my absolute favorite and to play with fusion in the dishes, perfection. In that moment, I was grateful for exercise and jeggings.
The first round made its way in front of us as the meal and wine was explained. Before we started, we talked about his cousin and one of my childhood friends. I mentioned that she wanted us to Facetime her at dinner. He jumped on it and I made a face. I am not a fan of talking on the phone and even more so, video chatting (I know I make faces when I talk. I just don't like be conscious of them, and I am when I can see them on the screen), but we did and I survived (barely, but I did).
As we were indulging, I asked what I had been asking him for almost a year about his nomad lifestyle (I was ghosted the first time…in which he apologized). I wanted to know his "why" and "how". We grew up just down the road from each other. I was fascinated by his move from Albuquerque to Las Vegas to Singapore to NYC, and visiting all over the world in between. I sat back and soaked up every word. I am so in awe of and admire people who chase and hustle to achieve their goals. As the next round came, we talked about future plans and what we are currently working on.
The third round stopped me in my tracks. The risotto melted on my tongue with its richness, but even more so I fell in lust with the wine (if you can lust an inanimate object). The aroma was so delicate, floral and honestly, seductive. I kind of wanted to dip my finger in it and rub it behind my ear, but I refrained. As I sipped the wine, it was buttery, crisp and delicious. The vine came from Sonoma, but had roots in Italy. I constantly brought the wine glass up to my nose just to inhale its aroma. We continued the evening talking, laughing and learning about the food and wine presented to us. I told him I needed to walk after and asked if he had time to go get a drink. Before we left, he gifted a bottle of the Arbe Garbe.
As we stepped out, we walked past a Dallas BBQ. Every time I see that neon sign in NYC, I am reminded of the woman with the same name who stopped me in my tracks in 2013 to tell me what she saw about my life; the changes that were going to occur and again when I called her 2015, she shared more of my life's journey. Have I told you about her? When I see these omens or signs, I wonder if I should reach out to her again, but then I wonder, what else can she tell me and this time, do I want to know? I shared the story with him. We continued talking and walking. Getting lost in the conversation, we ended up off course near Penn Station, so we made a turn and started heading east. I had a perfect view of the Empire State Building, so I started taking photos.
We were planning to check out the igloos at 230 5th, but as we walked by the Nomad Hotel, and the fact that he was sick for the past two weeks, we decided it might be better to go into the hotel bar. We continued to talk about family and life and lipstick. Lipstick led to conversations of Marilyn Monroe and a signature Manhattan drink with a cherry lip mark on it (that should be credited to a certain designer, named Dara Sophia…I'm just saying). The conversation led talking about Jennifer and how I used the kiss mark to honor her in a British Vogue and in my last Albuquerque show.
If I was smooth and quick to think of things, I would have offered to leave a blue print for him to work off of on his cheek, but as friends, I didn't want it to get awkward. We continued the conversation around what to do in NYC and some activities, like riding bicycles in Central Park, I still want to do when the weather gets warmer. The bar was closing so we gathered our things and started heading out. My hotel was a only a few blocks away, but he offered to walk me back. As we arrived, a cab drove up and we said our good-byes. I love evenings when you feel completely yourself, smiling, laughing, no awkward pauses and time is a blur. I was blessed to have two within the weekend with dear friends.
Monday – pull it together, work it
I woke knowing it was my last day. It was getting colder and windier. A storm was making it's way to NYC, but today was my work day. I had mapped out all the textiles and accessory shops I wanted to hit before catching a ride back to the airport. Luckily, they were all within 6-8 block radius. I purchased embellishments and fabric. I took pics of fabric for customers and gathered business cards, so I could order if and when the design was approved.
I asked and received a late check out. I got back to the hotel and stuffed everything I could in my suitcase and luckily had purchased another carry-on for my overfill. I headed downstairs and called a ride to the airport. I went through security and found a spot. I finished the Through Your Eyes blog. I then when back through my photos from the trip and found a blurred version of the Empire State Building. Instantly, I new what I would create. My own printed fabric, paired with sequins and a sunny yellow flowy halter.
I pulled out my sketch book and started reviewing the photos I had been receiving over the past month. Here is a hint of my inspiration:
I don't want to give it all away…so stay tuned…Hopeless + Cause Atelier is going back to Cali for Los Angeles Fashion Week on March 9th. The designs will be hitting that runway.
Until then…with light and love!
Dara Sophia