A couple of weeks ago, I went out to do my daily task of watering my patio garden, when I stopped at my tomato plant. Just the day before, it was green, full of leaves and branches stretching out to the sun. It now had stumped branches and most of the leaves were missing, as I bent down to get a closer look I found a perfectly camouflaged green caterpillar had made it its meal. I picked off the caterpillar and put it in the grassy courtyard, I told The Very Hungry Caterpillar to go find a piece of cake.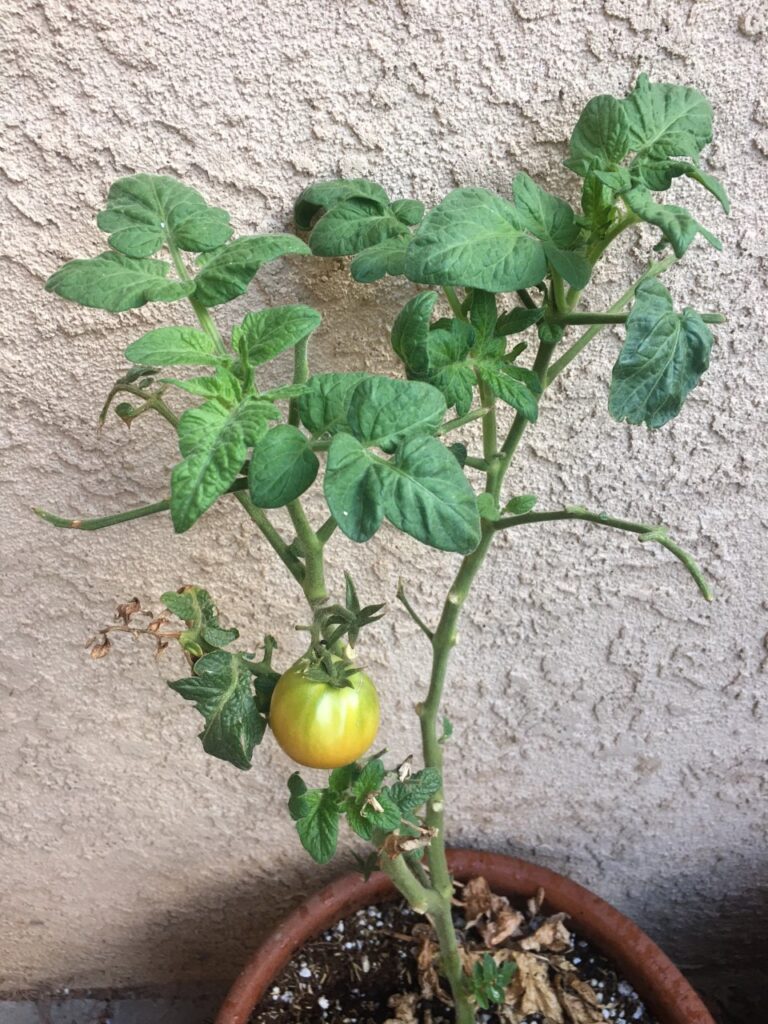 I wasn't sure if the plant would recover, but amazingly enough with water, sun and care it has returned, not completely same as before but its thriving today and bearing fruit. And I realized it was a spot-on metaphor for resilience.
On July 29, 2021, I completed 30 daily treatments of radiation therapy. After much thoughtful consideration, I opted to not to do chemotherapy. In my gut, I didn't feel like it was the best option for me. However, based on the advice from the two oncologists I saw, I decided to do radiation therapy. I knew the 6 weeks of treatment was going to consume my summer, yet I didn't know how much it would impact my body, which gave me some anxiety, but I thought that this treatment would be another level of protection and prevention.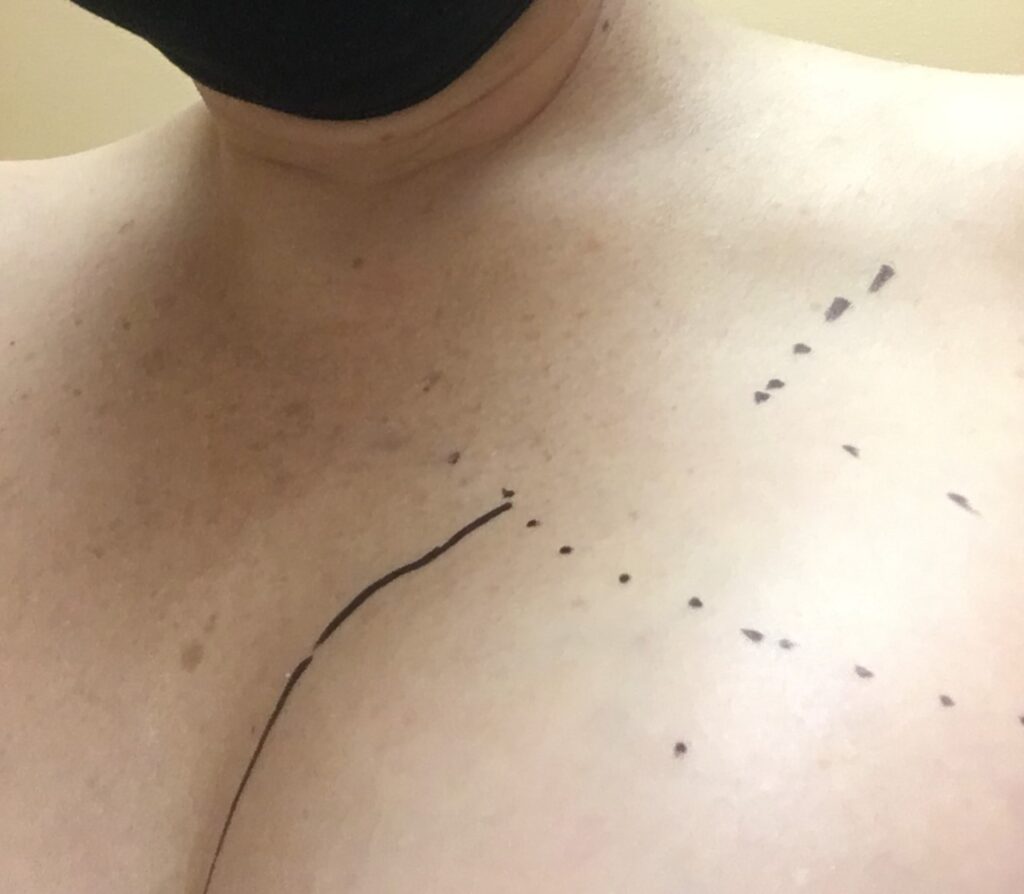 I showed up for my radiation oncologist appointment on June 15th. After the consultation with my doc, the nurses came in and shared all the "fine print"…that is the side effects, while uncommon, I may develop another form of cancer from this treatment. This blew my mind because everything I have found to combat breast cancer: Tamoxifin, chemotherapy, and radiation have the possible side effect of developing a different form of cancer. They gave me instructions on how to care for my skin during and post treatment. The nurses told me about other side effects such as fatigue, radiation burn which would cause redness to the skin and the possibility of blisters, shedding and/or cracked skin. They mentioned the potential of esophageal issues like sore throat, heartburn or lumps developing. YAY (what the what)!! After I signed the forms, I was taken to the holding area, a small, homey room just for the women receiving treatment that included a changing area. This was the place I would report to daily over the next 6 weeks.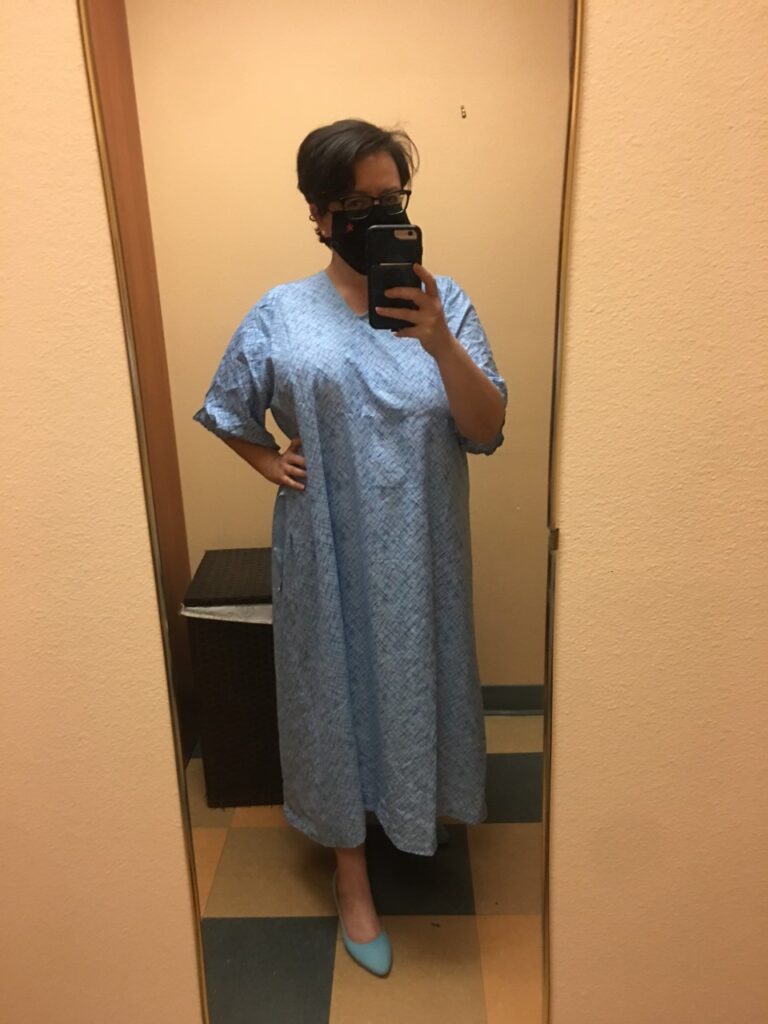 I took my obligatory #medicalgownselfie and realized that I'd be wearing the same style gown for entire period and taking daily photos would be NO FUN, so instead I challenged myself. Don't judge, but I have a closet filled with shoes, honestly, a ridiculous amount. I figured I could easily pick 30 pairs of shoes and viola here's how I could continue the fashion component of my journey. I waited patiently for the radiation therapist to take me back to who knows where for the next steps in creating my plan.
I was met by Rebecca, who was friendly and had the duty of explaining to me what was going to happen: first body scans, body contortion and alignment, tattooed points, a cast of my breast (later lovingly and jokingly called my boob armor), and before I left the doctor would come in and take a final look at all of this. All this for the purpose of providing the most precise course of treatment. She took me into the radiation cave, and I met Elise another bubbly and super caring, therapist. We got to work. I stated my name and date of birth as I would do every day as a safety check to ensure my profile on the screens would match me, the patient. With gown down to my waist, I climbed on the hard molded plastic, reminiscent of an amusement park ride chair with a raised bump that I need to firmly rest my booty on. I laid down horizontally on this bench. They slid a pillow under my knees and asked me to raise arms over my head and grasp the handlebars. I was asked to turn my head slightly to the right on the super uncomfortable headrest. There were sheets under me for the purpose moving my body slightly up, down, to the right and to the left by the therapists. My body was dotted with marker as I was moved and readjusted for the exact path. Then came out the ink and needle and in an instant I had three new tattoos added to my collection, my own "blue freckles" (only two took, so now I have four tattoos total). My doc came in reviewed every thing and the therapists when on to create my molded armor for the purpose of more direct treatment. As they applied Vaseline to my body, they explained the process of the warmed material (I think some form of plastic) would be placed on my left side over my breast and would take shape. They would use this extra armor every other day through most of the course of my treatment. I explained to them that I grew up in the home of an artist, so I was familiar with the process of creating a mold and was super thankful that this time, it didn't include Vaseline on my face and straws up my nose.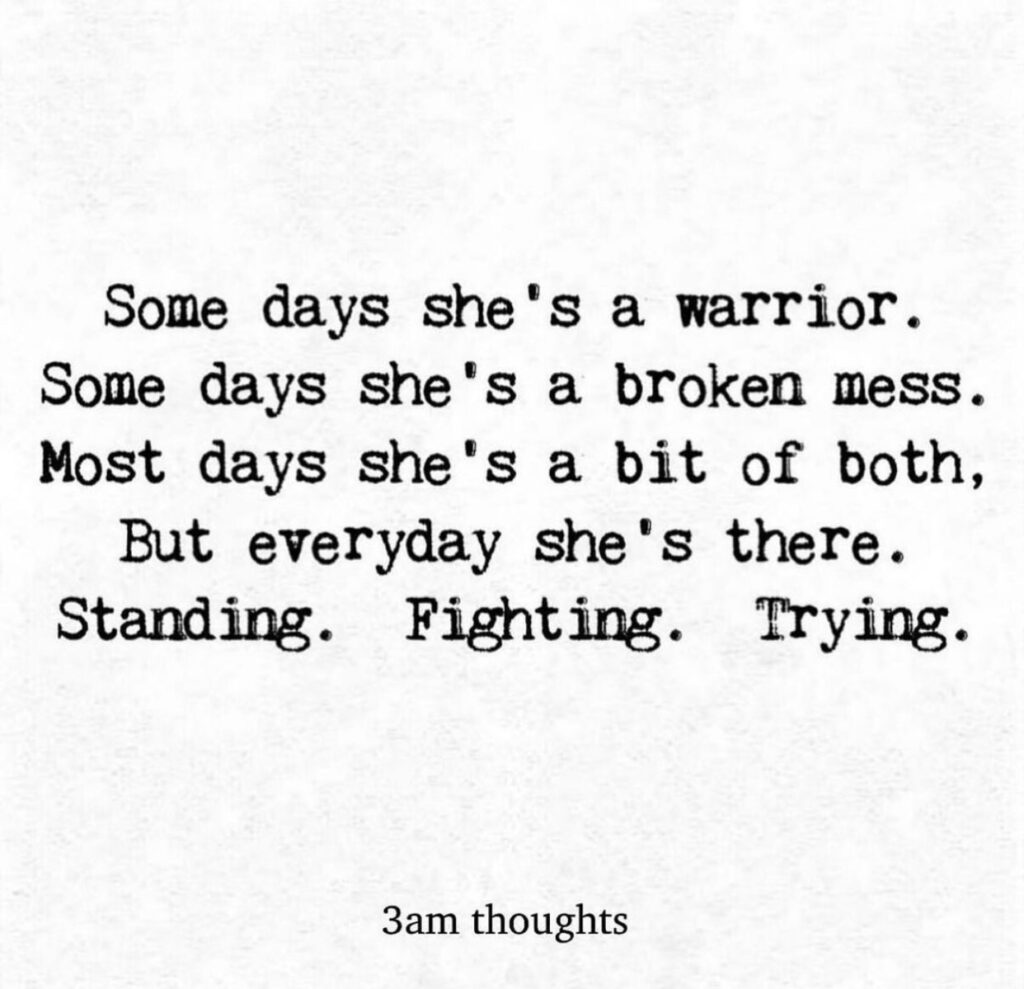 After that step was completed, the therapists said it would probably take a couple of weeks to create my schedule and walked me back to the waiting area so I could change and be on my way. Not even 48 hours later, I received the call and started my treatment. The first two weeks I didn't feel any real side effects beyond a little tightness in my breast. I continued to work and my aunt, Lisa, was still coming over daily to walk Coco and I had enough energy to join them. Almost immediately, my routine started to feel like the movie, Ground Hog Day. I would wake, watch morning mass, go for a walk, go to work, multiple times throughout the day, apply excessive amounts of skin creams and oils, come home, eat, and fall asleep, and wake to do the same thing the next day.
I started to feel myself slip down the rabbit hole. It was hot…beyond hot summer weather. While I love my Jeep, the heat was getting to me with no air conditioning. I was told to stay out of the sun and that's hard to do in a Jeep. The seat belt was starting to irritate me to the point that I didn't want to wear it. Mentally, the fact that I couldn't travel, and was starting to feel too fatigued to really do much beyond work, annoyed me. Luckily, I had friends that would get me out even if it was just for a light dinner. Yet, what I could and couldn't wear was starting to weigh heavily. I wholeheartedly believe that what we wear has an impact on how we feel and carry ourselves. It plays into our psyche and into our mood. Weeks into treatment, I could no longer wear a sports bra and as a 40 something woman who had breast fed two children, there are some definite differences in my breasts right now. I also wasn't running or doing yoga as I had been before this journey and I started feeling it.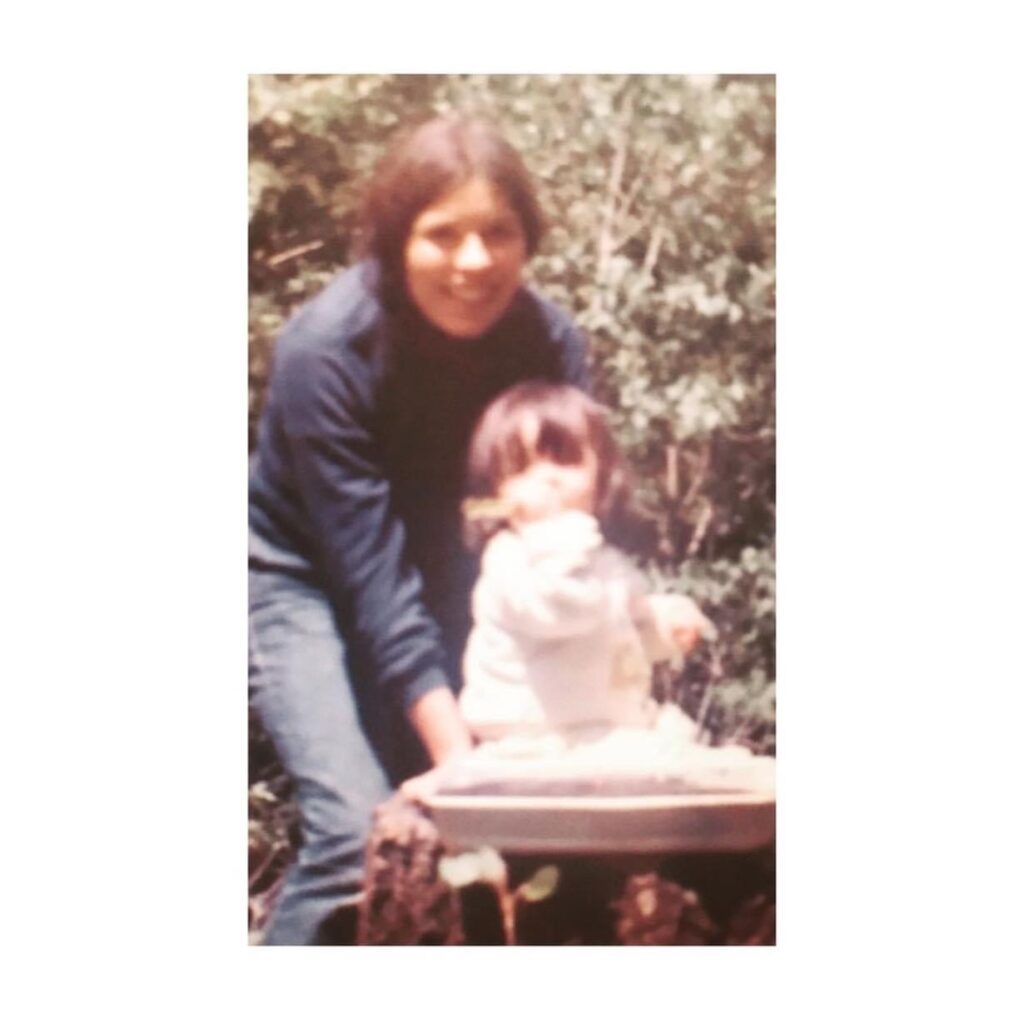 My birthday was coming up. Don't get me wrong. I LOVE celebrating my birthday. I believe birthdays are a blessing and the more around me to celebrate the merrier. It's me and I know I'm a weirdo, but I don't believe in telling people it's my birthday, so over the years I just invite people to join me for either a cocktail or a meal but not telling them that it's my birthday. There are several reasons why I have done this, 1: it's the day after a major holiday that includes high consumption of alcohol so I don't want people to feel like they obligated to join me if they need to recover, and B: it's also the peak of summer time travel, and tres: I feel like people who want to celebrate my birthday know when it is, and I shouldn't have to remind them. I know….weirdo!!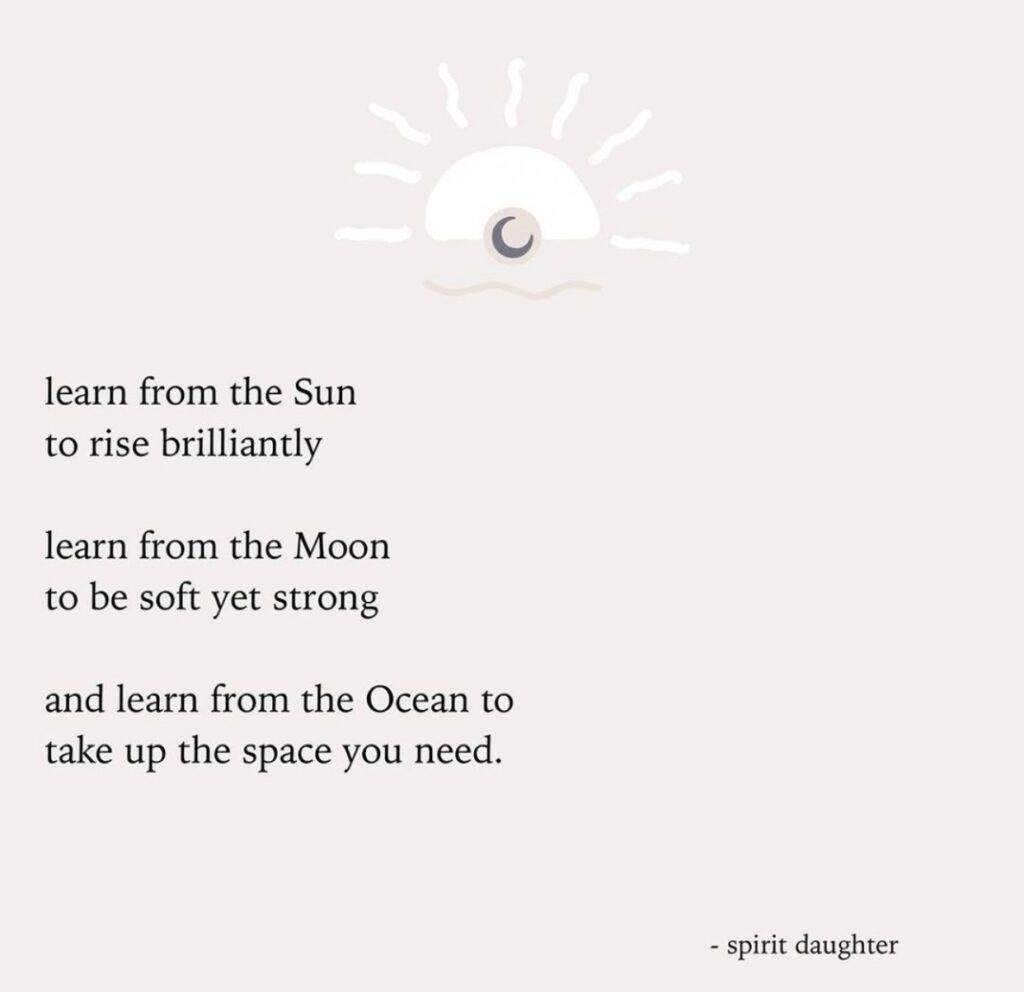 I woke up in a funk. I didn't sleep well the night before because my neighborhood had decided to compete with the golf course on how could have the louder, more impactful fireworks display into the wee hours of the night and my poor Coco was so traumatized so when she couldn't sleep neither could I. I should have woke up with excitement…it was my day, but I didn't. My mini, KK, my aunt, Lisa, and my SIL, Yvette came to the rescue. I expressed my feelings of not being me to my KK. She validated them and said it was okay to feel the way I did. That was helpful. We picked up Yvette and tried to get pedicures. Unfortunately the shop was understaffed so we then decided to go to lunch. Place after place was an average hour wait. The other thing about having a birthday the day after a national holiday is when said holiday falls on Sunday, the observed holiday is the next day. So after driving all over, we landed it at El Pinto. I was grateful that they did this for me. And, I was excited for later in the day. I had invited friends and family, whom had been my support system, to join me for an after work social. Really, I wanted to celebrate them and with them. We finished lunch.The plan was to take a nap but our roaming around town trying to find something to do ruled that out. Instead I took the girls to their respective homes and hurried home to get ready.
My other mini picked me up and poor Isaiah and Brianna had to deal with my mood on the way to Revel. I just wanted someone to tell me that I'm pretty and to buy me something. I looked at myself deep into my hazel green eyes and told myself, "You are pretty". I then went on to buy myself something. It worked, but not as good as arriving to my summer soiree and seeing so many incredible people who have been woven into my life.
Tears hit my eyes in gratitude and love and I was reminded to snap out of it!! I smiled all night as I spoke to each of these important people. Normally this day, I go around the room and talk about each person, how we met and their impact on my. The number was too great to do in one evening so I suggested that they get out of their comfort zone and meet each each other because they were all amazing to me.
Being able to see, hug and enjoy the company of some absolutely incredible humans, I was reminded how completely blessed I am. I shared four gifts:1. Sunflowers
which are my favorite, but flowers in general remind me that when we're feeling overwhelmed—that we're not buried, but instead we've been planted to root and grow and bloom. Sunflowers reach to the sun, provide shade for others and once they've reached their peak, shed seeds of beauty for future generations. 2. Sparklers
to remind us to be a light for others and to celebrate everyday….always…life is too short to not do it! 3. Bubbles to remind us to never loose sight of our childlike tendencies like wonder and having fun. 4. Spa face masks
to remind us of self-care especially throughout the craziness of life. You're no good to anyone if your not taking care of yourself first.
This is the joy injection I needed. I continued through the rest of July seeing friends as often as I had the energy to. I was still living that wonderful Ground Hog Day scenario, but my radiation therapists and doctor were telling me how good I was doing. That was uplifting! I continually had friends checking in and that was completely uplifting! I had decided early on to do a Instastory countdown which included the music I would hear each morning at the therapy. There was a moment when I truly thought my therapists were trying to kill me…that occurred when then the radio was stuck on a country station for three days. At one point, I wanted to ask if they could play the songs backwards so I could get my health back, my jeep would start, and my Chibi and Kiki would come back to life, but fortunately they put it back on a pop/rock station. Hallelujah!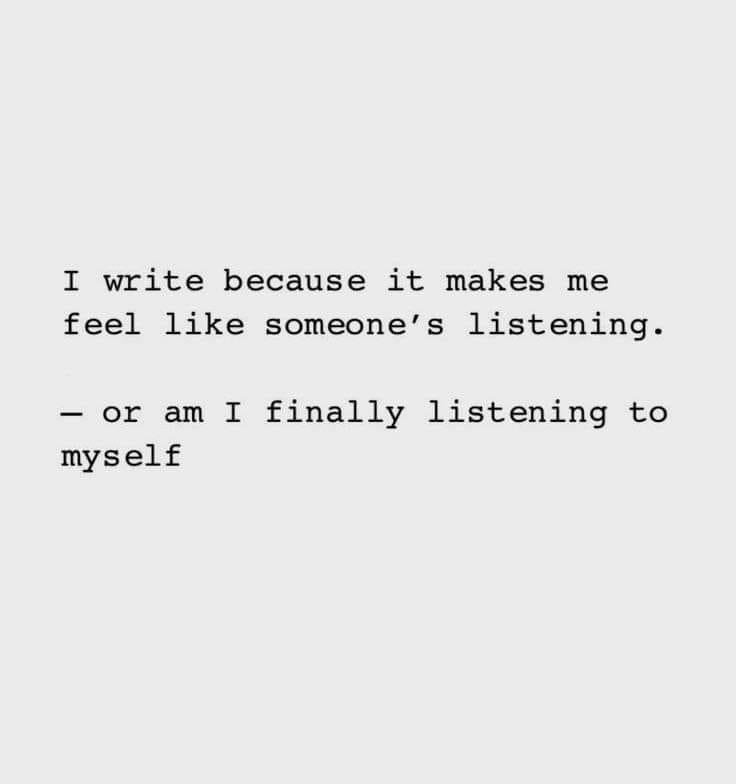 As I think back on this experience, I don't remember all the details (which is funny because as I was experiencing it I thought I'd never forget what I was going through). However, I have chosen to write about my journey, so that one day (and I know that day will be soon) I will be able to look a back and say I had this difficult time in life, but I conquered that mountain, and maybe someone else will read this, and as Brene Brown stated, "it will be their survival guide".
It was my last week of radiation and because I have come to believe I am a self-sadist, I also had my second COVID vaccination scheduled (when I was my most fatigued and charred). I chose to get vaccinated at the advice of my doctor, the number of rising Delta Variant cases and because I had bought a plane ticket to NYC for fashion week….this was the carrot dangling and inspiring me to get through this treatment. Daily, I had Kristen and Ang checking on me….and honestly, so MANY checking in and sending good energy. THIS meant the world that they were cheering me on and genuinely concerned. Kristen asked if I was up for celebrating. I had a bottle of bubbly Rose waiting for my last day, a celebratory gift from my friend Eilene. After all I had been through, I was I definitely was up to seeing friends and even being a little extra. We opted for dinner at Scalo, my go to for so many important celebrations in my life (my mom used to take me there for my birthdays years ago and friends had planned my 40th there just a couple of years ago…it's a special place for me).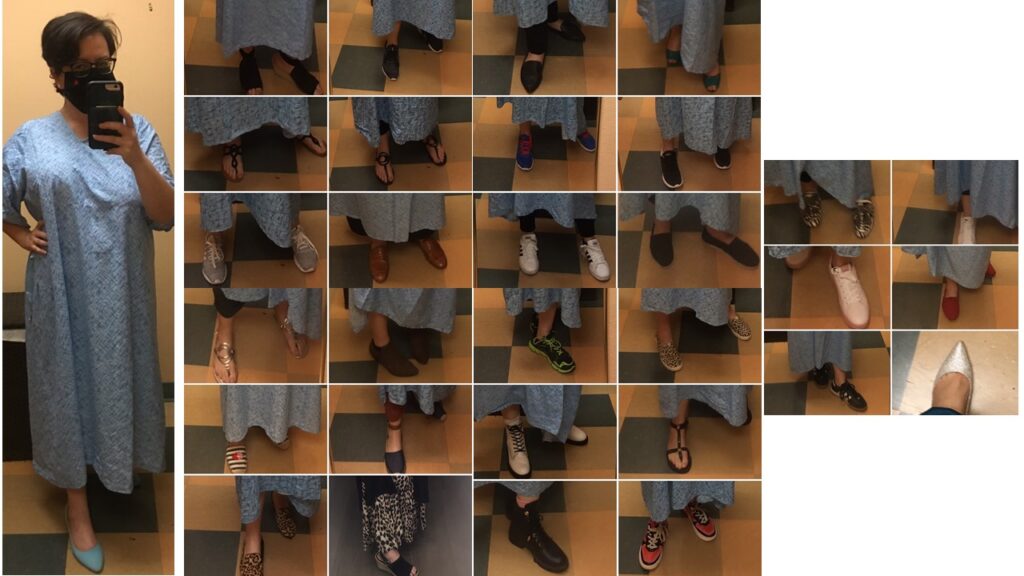 My last day of radiation treatment was Thursday, July 29th. I arrived at NM cancer center with a large gift bag filled with the same gifts I gave a my summer soiree sans the sunflowers. I wanted the radiation team to know I much I appreciated them and the care they gave to me. I also donned my sparkliest kitten heel Badley Mischka pumps. I thought that would be the most appropriate pair to celebrate the end of my radiation. Ashley, who was one of my therapists cheered me on after the end of my last treatment and presented me with a certificate of appreciation. It stated, "I survived radiation and all I got was this certificate". LOL–it didn't–I was just checking to see if you are still reading?!? During those six weeks, I saw women of all ages come through the curtain into the waiting room. We talked about our experiences and cheered each other on. It was that camaraderie, like soldiers going into battle, that reminded me I am not alone in this experience. I now understand why people are dubbed cancer warriors. Cancer not only fucks with your body, but also your mind and spirit, yet you show up each day to battle.
A year before, almost to the date of my last radiation treatment I wrote about finally being comfortable with my body. Little did I know what the following year would hold.
This body has changed shape and size.
This body has been made to feel self hatred.
This body has indulged and starved itself.
This body has felt immense pain, complete ecstasy, and everything in between.
This body has created two humans.
This body nourished them.
This body endured the pain, loss and the difficult cleanse of a miscarriage.
This body has lines around its smile and dimples in its cheeks and will one day stretch and sag.
This body hasn't had any surgical enhancements, lifts or fills and only broke a bone once, in the act of play.
This body I try to persuade to like to run but it really likes to stretch through yoga and move through dance.
This body enjoys wine, dinner with loved ones, and dark chocolate.
This body comes alive with the right touch or embrace.
This body has scars.
This body is not perfect yet I catch eyes staring at it.
This body is a work in progress.
This body feels young like the summer sun except after long days on its retail legs.
This body has art on it.
This body is a work of art.
This body is mine.
And, I am grateful.
I've learned to love my outer shell…it's been a work in progress throughout the years but I wouldn't exchange it for anyone else's. And lately, I had been feeling like Sally from Nightmare Before Christmas. I know all that had been done was to save me from the cancer spreading but I still hadn't felt like me. So on this night of celebration I decided I needed a to be a little extra.
We had dinner plans for Saturday, July 31st. The last day of my birthday month and a big ass celebration for overcoming this obstacle on my path. Ang picked me up. The night was typical monsoon weather in Albuquerque. The heavens had opened up just hours before and was reduced to a constant drizzle. Dinner reservations were at 6:30pm followed by a cocktail at Copper Lounge the place were the journey began.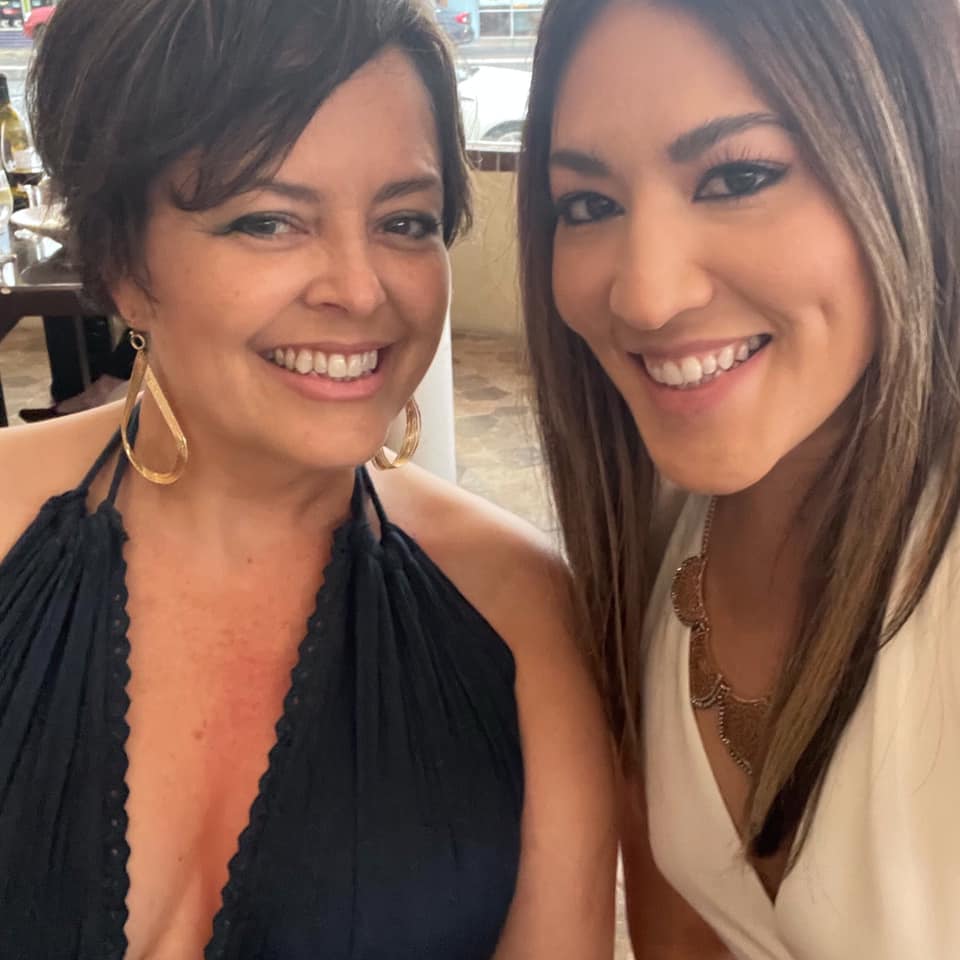 I decided to go all out in my extra-ness. I tracked down this incredibly revealing and beautiful blue dress (actually swim cover up) with the help of my colleague and friend in Cali and had saved it specifically for this evening. I did my make up (I know shocking) and hair (knew it would be a puff ball by the end of the night because of the humidity). One might ask, "why I would wear something revealing." I wanted to display my battle scar. I am more than my treatment and to be honest looked amazing (not being conceited just being honest…I deserved to feel beautiful again). Ang picked me up just after 6:00pm. Arrived shortly after. I was joined by Kristen, Evelyn, Denise, Lee and Lalaine. Our table included a beautiful bouquet of flowers from Evelyn, and a bottle of champagne from the house. Kristen had alerted them of our celebration and our waiter, Arnaldo, shared his own personal story with breast cancer as his own mother was a 14 year thriver. He was the perfect person to help us celebrate the evening.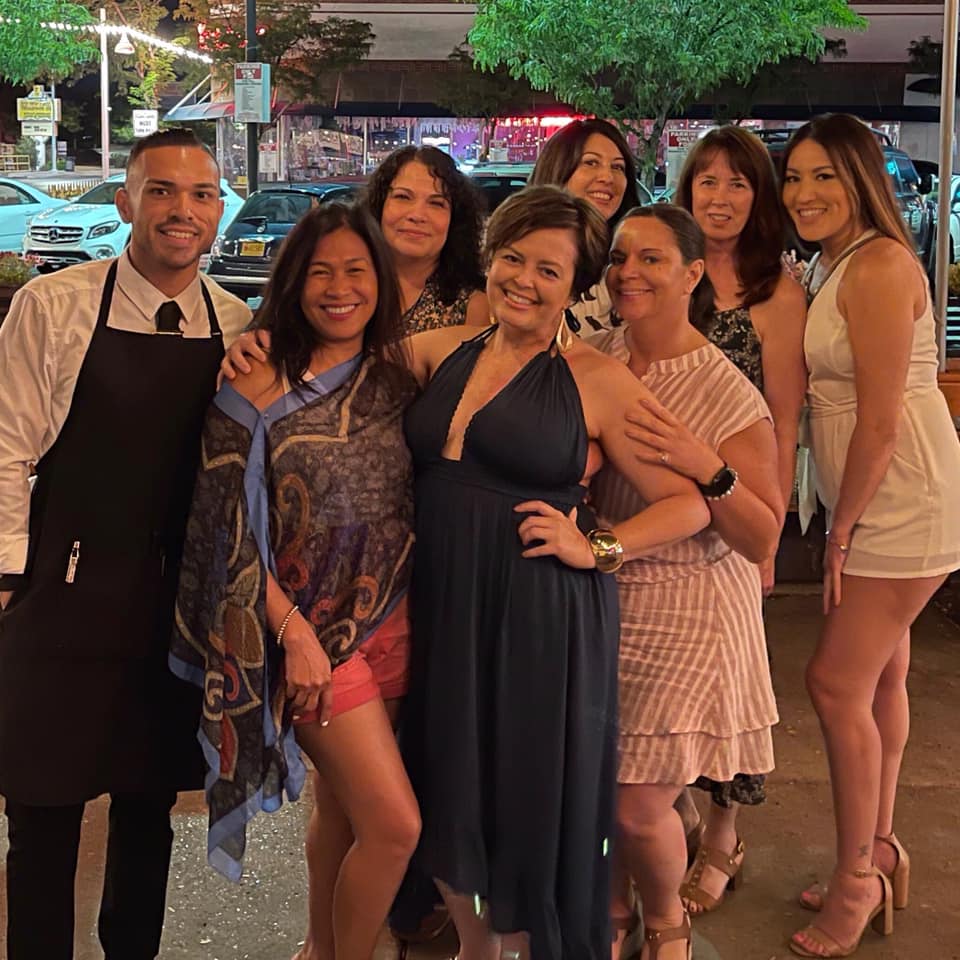 It was great to catch up with everyone. I hadn't seen everyone all together for weeks. We laughed, drank bubbly, ate tasty food and thoroughly enjoyed ourselves. They wouldn't let me pay my share and that annoyed me but I had become a little afraid of Kristen and her sternness of ensuring this evening was about me.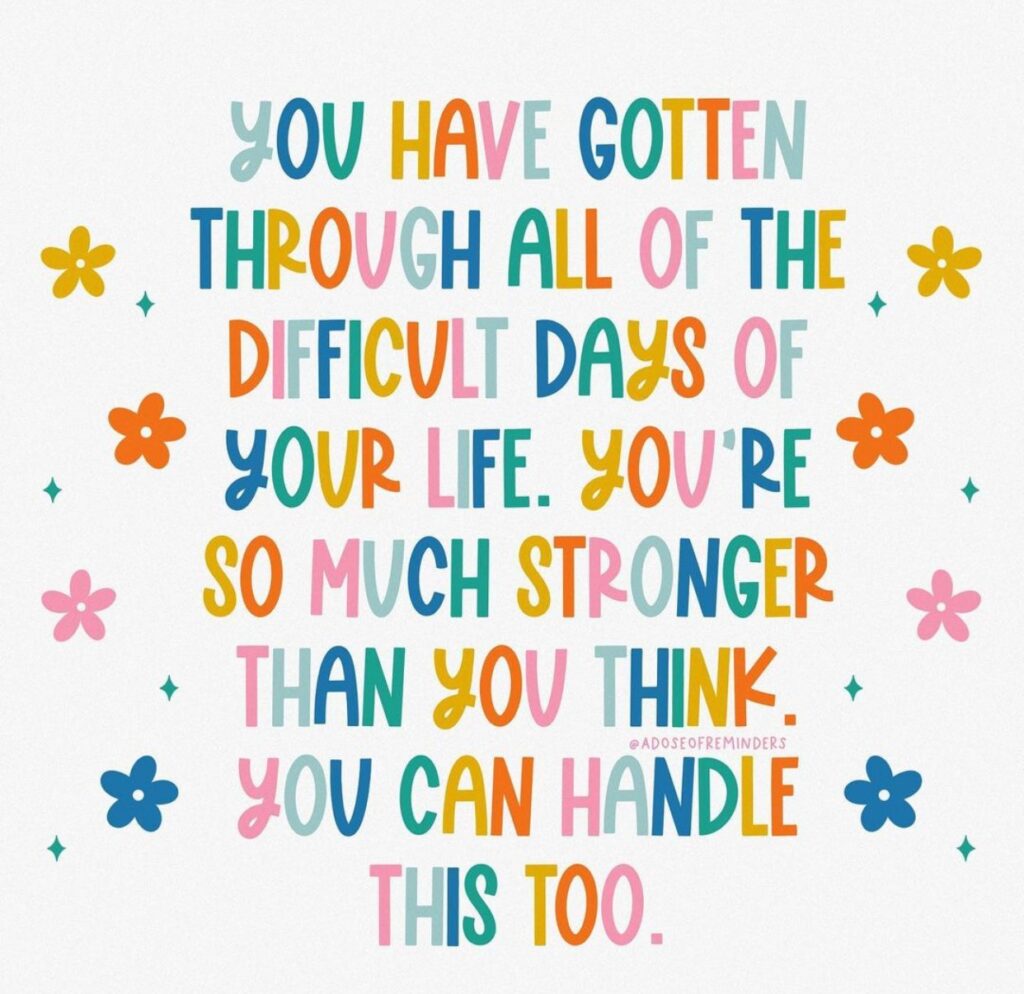 The evening went on into the wee hours and it was absolutely perfect. It has been a couple of weeks and I have slowly moved back into some normalcy (well, as much as I can in a pandemic). I can't wait to travel to NYC and Portland next month. I can't wait for the day when the only answer to the question, "so what's the next steps in your treatment", is "to live a happy and healthy life", but for now, I will be receiving monthly shots as part of my hormone therapy and then back on the table for reconstruction. I haven't reached that mountain peak, but at least I can see it. I am still in pain, but it's manageable. I have my body insecurities, but I remind myself who I am. And I remind myself on the daily how after every I am truly blessed.
Through this journey, I have learned how resilient I am. Sometimes resilience is knowing the day in front of you is a difficult one, but still moving forward, sometimes it's resting, and sometimes it comes from your support team. I found this post on FB, while relating to the current pandemic, I thought it was the perfect ending to this blog and our own resiliency:
′′This moment humanity is experiencing can be seen as a door or a hole. The decision to fall in the hole or walk through the door is up to you. If you consume the news 24 hours a day, with negative energy, constantly nervous, with pessimism, you will fall into this hole.

But if you take the opportunity to look at yourself, to rethink life and death, to take care of yourself and others, then you will walk through the portal.

Take care of your home, take care of your body. Connect with your spiritual home. When you take care of yourself, you take care of everyone at the same time.

Do not underestimate the spiritual dimension of this crisis. Take the perspective of an eagle that sees everything from above with a broader view. There is a social question in this crisis, but also a spiritual question. The two go hand in hand.

Without the social dimension we fall into fanaticism. Without the spiritual dimension, we fall into pessimism and futility.

Are you ready to face this crisis. Grab your toolbox and use all the tools at your disposal.

Learn resistance from the example of Indian and African peoples: we have been and are exterminated. But we never stopped singing, dancing, lighting a fire and rejoicing.

Don't feel guilty for feeling blessed in these troubled times. Being sad or angry doesn't help at all. Resistance is resistance through joy!

You have the right to be strong and positive. And there's no other way to do it than to maintain a beautiful, happy, bright posture.

Has nothing to do with alienation (ignorance of the world). It's a resistance strategy.

When we cross the threshold, we have a new worldview because we faced our fears and difficulties. This is all you can do now:

– Serenity in the storm

– Keep calm, pray everyday

– Make a habit of meeting the sacred everyday.

Show resistance through art, joy, trust and love."

Hopi Indian Chief White Eagle, July 9, 2021
With light and love,
Dara Sophia Romero