It's December 26, 2023 and I hope you are taking some time to breathe and just be. It has been incredibly busy in my world and even with the bah humbugs I have to reflect on how wonderful life has been in the past month.
It was kind of a blur since I returned from Austin Fashion Week. However I intended to continue my tradition of a 36 hour trip to NYC for a holiday recharge. It had been a year since I was last there and I wasn't going to let 2022 go by without visiting my soul place, but there was so much to do before I could escape (and because I'm unable to take PTO in December, it really is 36 hours).
If you've ever worked retail during the holidays, you'll completely understand the craziness of goals and shopping trends but going into this season I had myself organized to meet them to the best of my ability while making sure I had built in self-care and enjoying the season too.
My role at Macy's is a Personal Stylist (aka personal shopper). It is a specialized selling position (and I loathe the sales component but it's the necessary evil that I achieve to get to do the things that I love). Every year I sign a contact. I have two goals: meet a minimum sales goal and have a percentage of that in return sales (FY22: $500K and 15% return client sales). It is not taken into consideration if you are out on medical leave, as I was for 6 weeks when I broke my ankle. Going into the Black Friday sales event I was $150K off my annual goal, however I had over 50% of sales coming from return clients. I didn't focus on it knowing it would be what it would be and focused instead on the customers in front of me, marketing and planning internal and external community events, which are the best parts of my job!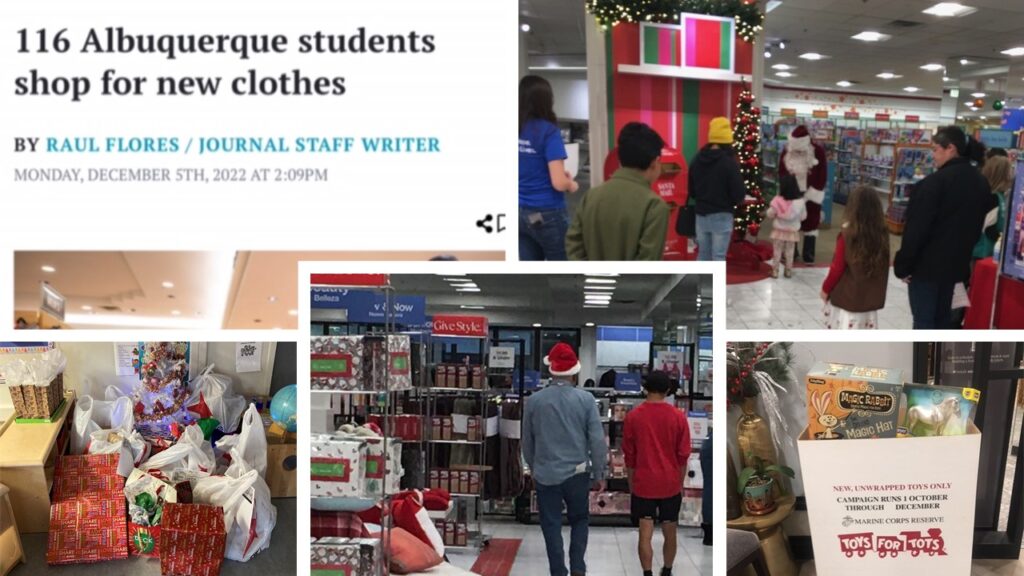 It was our last year partnership with Make-A-Wish letter writing campaign with Santa so I wanted to make sure it was truly successful. I organized for our customers to donate to Toys for Tots. I asked for another grant for Locker #505's shopping event that was met with a match from the local ice hockey team, the Ice Wolves, Western Skies Community Health and the extremely generous owner operators, Steve and Patricia Aragon. We almost doubled the number of kids outfitted from last year and I am so fortunate to have such wonderful family and friends (about two dozen showed up to be personal shoppers for an early Sunday morning shopping event). Macy's has a new partnership with Big Brothers Big Sisters, so I asked for a grant to support their Holidazzle party. The funds provided covered the gingerbread houses (activity for the Bigs and Littles to do together), decor, prizes and other needs. My friends Carla and Allen sponsored outfits again for the kids at the Ranches and I got to personally style many of them. Our last project was to internally sponsor preschool kids from a Youth Development Inc headstart project. The community relations component isn't officially part of my job, but something I intentionally seek out. Our store doesn't have a large budget so most of the projects we support are based on sweat equity. I don't think I've ever worked in a role that I've had a large marketing or philanthropic budget, but instead learned ways to make impact from whatever I've been dealt…I always think of Mark 12:41 when I think of my approach to community giving and engagement. I always ask, knowing the answer will possibly be, "no", but incredibly grateful for the "yesses" and giving all I've got.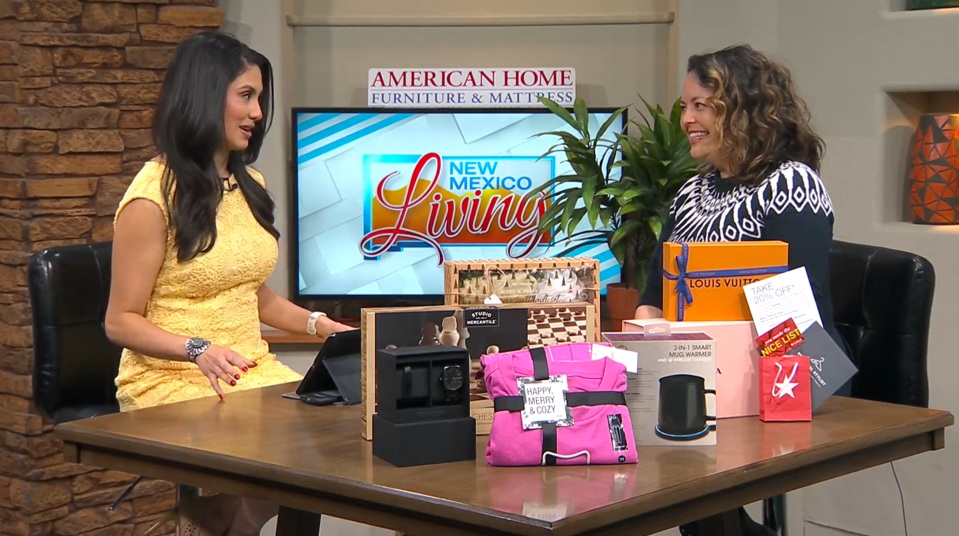 I kicked off the season with my annual Swanky Sweater Soiree. I focused on an Italian holiday with entertaining, fashion and gift ideas. I was fortunate to pitch segment ideas to the KRQE team and was on twice a month in November and December talking about everything from fashion trends to last minute gift ideas and a client and friend invited me to her radio program to talk about holiday trends. Since the week before Thanksgiving through Christmas week, I was working an average of 50 hours. I was feeling it–from my "new" ankle to my muscles to my mindset, but I made the conscious decision to schedule time and make memories with friends and family and I was going to enjoy NYC to the fullest and get recharged (and really test my ankle with all the walking).
Unfortunately, Jet Blue suspended their non-stop redeye flight from late October through mid-March so there was not quick flight, so I'd be flying out early Sunday morning, meeting my friend, Leola, once again for our quick holiday adventure. We'd have Sunday night, all day Monday and Monday night and fly back early Tuesday so I could make it to work Tuesday afternoon.
The plan (and prayer there were no delays) was to make it to mass at 5:30pm (my flight was scheduled to arrive at 4:05pm, then head over to the Louis Vuitton trunk show that I had got us tickets to a month prior then head over to Serendipty for dinner that evening.
The next day I would go in to see the Louis Vuitton team (hopefully drum up some orders), do some shopping at Macy's, head over to Bryant Park and take a photo of the tree and find The Truffleist (for my Christmas meal ingredients), go to Rockefeller Center to see that other tree and shop the Nintendo store (because that is a request of my son everytime I go-lol!). We had reservations for another one of my favorite restaurants, Dante. And then we'd stroll around to see all the fabulous holiday windows.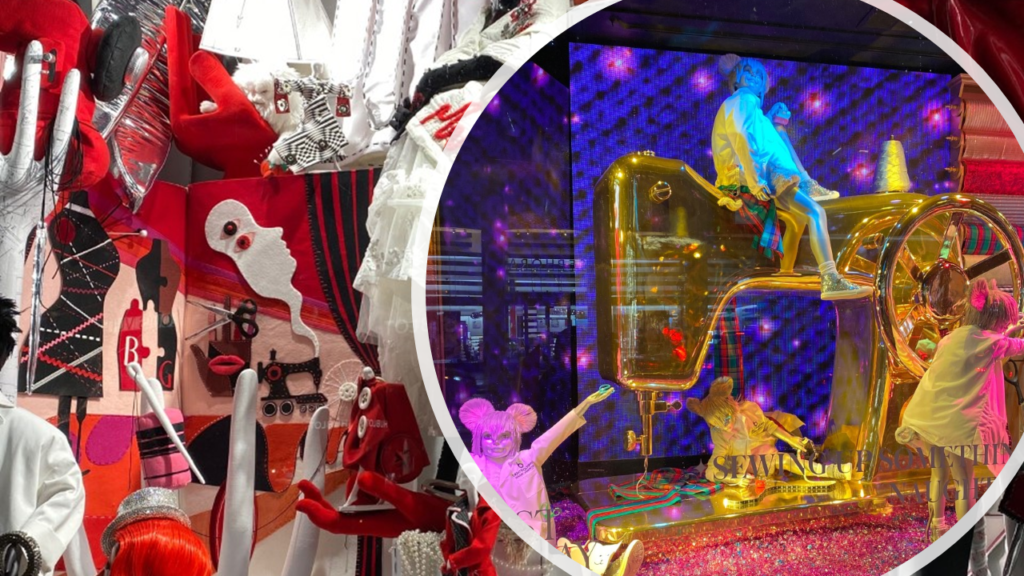 What I really loved is that I had "thread" on my mind and the universe conspired to show me the beauty of that word. I really wanted to make it to Dyker Heights, but that will have to be another trip where I can enjoy the city for more than a day and a half. I'm really like Ralphie at the Higby's window in "A Christmas Story" when it comes to the holiday windows at Macy's, Saks, Bloomingdales and Bergdorf Goodman.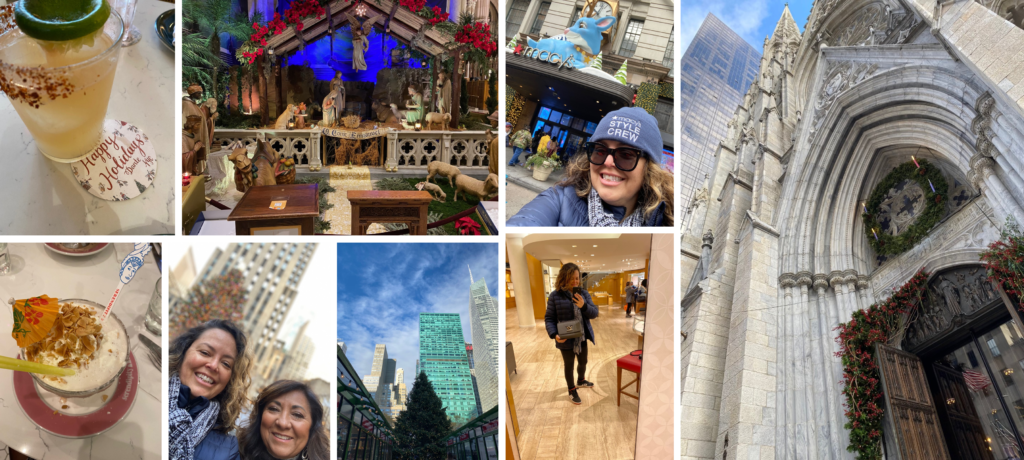 We did all that I wanted to accomplish and more and I made it to work by 12:30pm that Tuesday. I know it sounds exhausting, but I really do get recharged. People ask me about my crazy trips all the time, and how going to NYC during the busiest time of the year recharges me when I work retail, but I try to explain that it's a different type of crowds and energy…it's just vibing in all the right ways. But I also try to have that vibe back here at home.
I attended Nob Hill Shop and Stroll with Ang and Lee (it was good to see the crowds out again).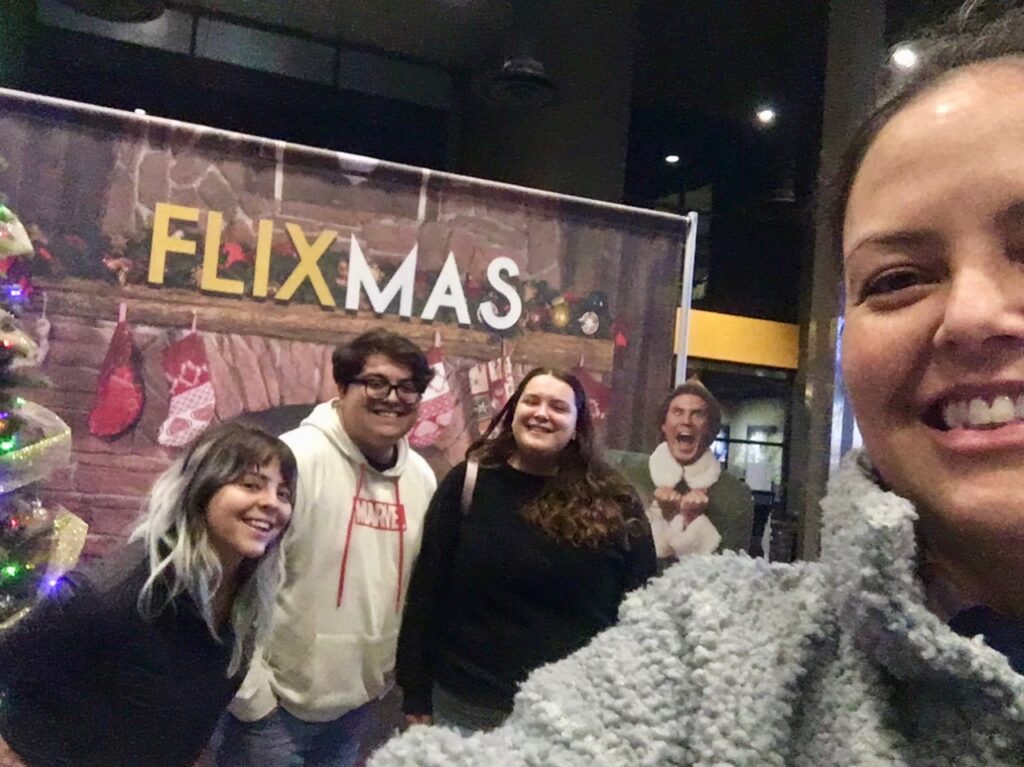 I went to the movies to see holiday classics, "Elf" and "Love Actually" with my minis and watched other new releases, "The Chosen" and "Ticket to Paradise" with Cathy and Ang, respectively. I focused on an Advent meditation to start my days through the Hallow App (check it out, it's pretty awesome) and did lots of yoga to aid in my physical state of mind.
I invited my brother, his family and my kids to join me for a train ride to Santa Fe for dinner at Tomasitas for what would have been my mom's 70th birthday. I invited friends for a couple of occasions for dinner, conversation and laughter. I planned Christmas Eve dinner this year inviting Ang and her husband to join us (making it a new tradition) with all my mini's favorites, challenged my niece with our holiday joy shenanigans photo and spent time enjoying some family at my grams on Christmas night.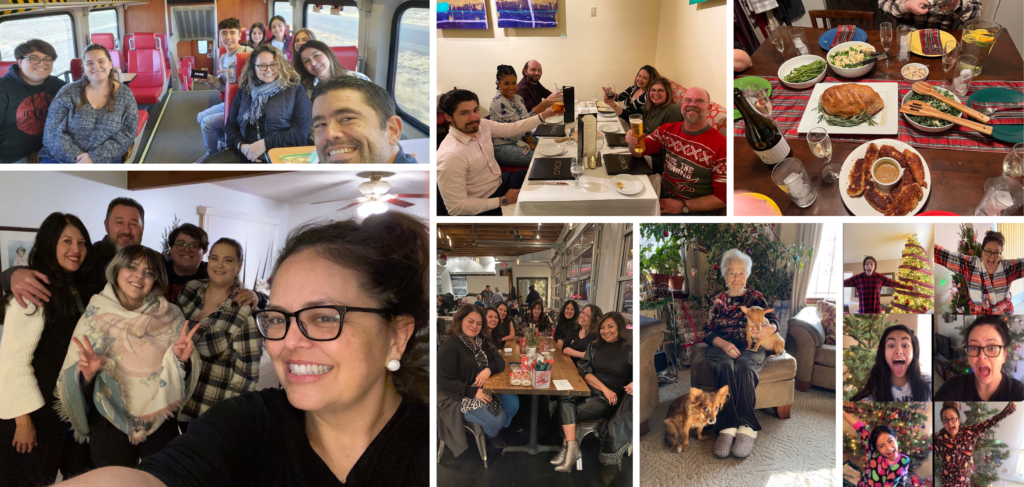 I am off today (well except to go in to do the final counts to raise money for Make-A-Wish) and just reliving the season's memories as I write this blog and watch Christmas movies. That I hope I have explained why you received a 2-for-1 blog this month. Well because of all the flurry and because I didn't get the photos from Austin Fashion Week until the begining of December. I share these Ms. Adventures, not to brag, and maybe you're thinking I document and post too much, but I love sharing moments and experiences with those I love. I know this time of year isn't always jolly and good for everyone. AND, I know I can be annoyingly optimistic. It's not because I haven't had hardships or been handed adversity, but instead because I choose to look for the good in everything I experience. Years from now I can reflect that It's REALLY A Wonderful Life. I hope can find a nugget of truth in that. I also hope you are having a wonderful holiday season and enjoying it to the fullest whether near or far.
With light and love and a wonderful New Year,
Dara