Love is just a tool
To remind us who we are
And that we are not alone
When we're walking in the dark
About a year ago, I had a conversation with one of my best friends, Angela. She asked me if I ever planned to remarry. I sat in thought for a bit. In my mind, I knew if I answered, "never", I'd someday eat those words so instead I said, "If I were to answer today, I'd say 'I don't think so, but I don't know what the future brings or my thoughts on marriage will change.'" I went through what I thought was going to be an amicable and respectful divorce and it ended up being anything but. I really thought about the concept of marriage and why it was important in the societal sense. You make a commitment or vow to love one another, trust one another, be there in sickness and in health, in good times and in bad times, etc. The concept is wonderful but when tested it's not always true. I am not against it, I just, at the time, did not fully believe there needed to be a legally binding agreement to someone in order to know that someone will choose to be part of your life for the rest of your days.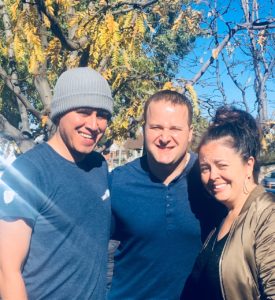 And that took me to years before, when at my birthday celebration in 2015 we were talking about the supreme court ruling of the Obergefell v. Hodges case. The court's decision was that the fundamental right to marry is guaranteed to same-sex couples. Talking with Roby, he shared growing up knowing who he was, and the fact that when he became an adult he might never legally marry who he chose to in the United States. That hit me, really my heart, like a ton of bricks. And, I realized how sheltered I was. As the tears streamed down my face, I admitted how naïve I was and yet, I was so happy too that this ruling came to pass–that men and women could marry whom they loved and it would be legally acceptable. And yet as Pride Month comes to an end, this week a retirement announcement by Justice Kennedy has those that support same sex marriage wondering if the court's ruling can be challenged. This makes me both sad and angry.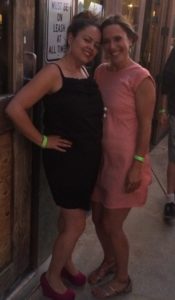 Towards the end of 2017, I received a message from another dear friend, Erica, announcing her engagement. Don't get it twisted. I was ELATED for her and for her fiancé. They had been dating for quite some time and slowly progressed to building their lives together, step-by-step, with bumps along the way but really figuring out what kind of life they wanted to create together. And after the announcement, she asked me if I would create her wedding dress. I was scared. Typically, wedding dresses are worn one time and that's that…over the top and sometimes just too gaudy. In the past three years, I've received 6 wedding dresses to do what I please with them. It's hard to tear someone's creation apart, how would I create something with my heart and soul to possibly have my creation face the same demise?!? And this is where she hooked me, Erica told me she didn't want to have the traditional dress. She wanted something she could wear again and again and would love to tell people about it. I signed up on the spot.
Erica and I met a few years before when she "won me" in a "celebrity" lunch auction. LOL—I should have paid her. As part of her winning donation that supported the local non-profit supporting homeless children, CLN Kids, she won a styling session with moi. I LOVED the session. I sent her the pre-work styling sheet and her response, in regards to what she loved to wear, was "BLACK". As a woman who loves black, myself, I was going to push her boundaries. She came in and I had the fitting room set up for her. I the front of the selection were black options. Then, based on her coloring and body type I choose other options. I had her try on the black outfits, come out and I photographed her. I paid close attention to her reaction to the "other" selections, all earth tones. She started to say, "I don't wear…" I stopped her mid-sentence and replied, stating, "I know. I read your stylist sheet, but since you're already here, why don't you just try them on (I felt like Flor in Spanglish).
And as she came out of the fitting room, I saw that smile grow from ear to ear. She knew how incredible she looked. Our friendship grew from that moment because I pushed her out of her comfort zone, and as a strong woman to strong woman I asked her to think differently. A few months later she came in describing an event she was attending without giving away details, until I busted her when I attended that same event. That was the first time I met the love of her life. I knew in creating her wedding dress, it could be anything but the norm….how could you go for white when you are CHAMPAGNE. I scoured the right embellishments and fabrics from NYC to LA and got to work. She commissioned me to create her dress and the dress of her soon to be, beautiful step daughter.
Feeling my way through the darkness guided by a beating heart. I can't tell where the journey will end but I know where to start. All this time I was finding myself and I didn't know I was lost.
The weeks leading to the wedding were filled with fittings and last-minute alterations conversations and ways to help each other professionally and in life. Everything about the wedding was connected to their community: a local clothing designer, local jewelry designers, local bar to host the event, local musicians, gifts designated to a small, local non-profit, and family and friends filling in the rest.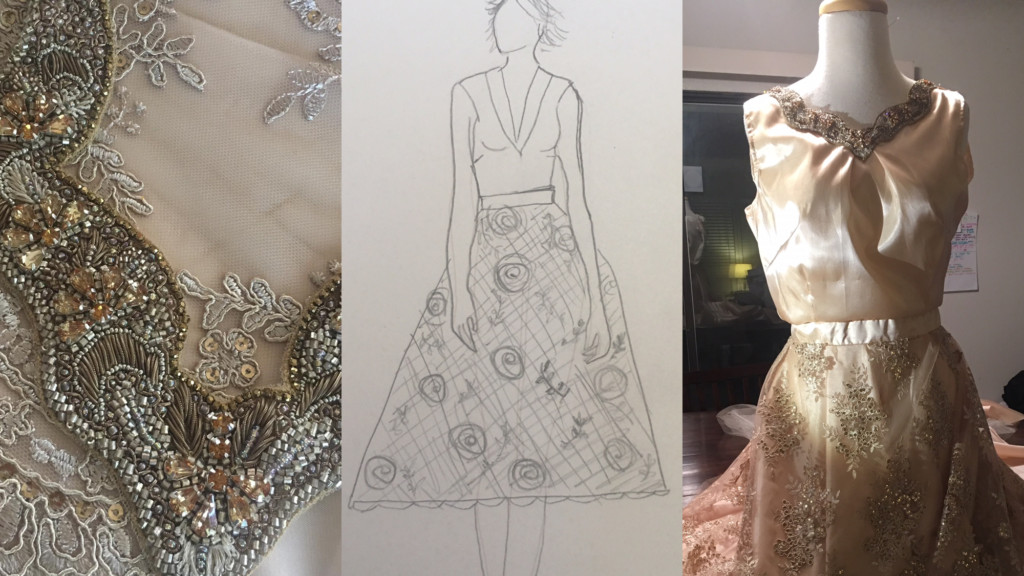 I arrived to the wedding and like the predictable, unpredictable NM weather, there was a torrential downpour, so friends and family moved the décor and other items into the bar from the rooftop. As New Mexicans do, we waited it out 15 minutes and the weather cleared up beautifully. The wedding party headed upstairs and the ceremony began. The judge officiating was a friend of theirs.
They wrote their vows focused on "I love you because" and "I promise". What stood out the most to me was when Erica proclaimed (and I am paraphrasing) when she was at her lowest, she loved Alf because "he didn't try to fix her, he just stayed at her side." I also smiled when she said she promised to love his "new favorite song of the week". When Alf spoke, he talked about loving her because she was sexy (and mentioned that several times through out his vows), but he also spoke of loving her because she was always right. It was a perfect way to celebrate a union.
I tried carrying the weight of the world
But I only have two hands
I hope I get the chance to travel the world
And I don't have any plans
I wish that I could stay forever this young
Not afraid to close my eyes
Life's a game made for everyone
And love is a prize
I still don't know about remarrying. I know life is short and I'm living it to the fullest, but I also don't believe in rushing anything. I am exploring (DARA the explorer), finding myself and what brings me mind blowing experiences and happiness. I don't feel like I need a ring on my finger to identify myself as another's…I will connect with my soul mate through adventure, respect, communication, trust, celebration, intimacy and trials.
Hope life is beautiful
You were the light for me to find my truth
I just wanna say, thank you
My hope is that you find what makes you whole; that you commit to that soul that completes you and brings the best out of you. I will be cheering on the sidelines….and hey, if you need a non-traditional dress, then I'm the girl for you.
With light and love—finding the beauty in the unknown,
Dara Sophia
These Days, Performed by: Rudimental (feat: Jess Glynne, Macklemore & Dan Caplen) 
Spanglish (2004), Director: James L. Brooks
Wake Me Up, Performed by: Avcii (feat: Aloe Blacc)