Warning: this blog is about booty, boobs and lady parts….beautiful bodies, a sense of self and humor, and phenomenal women.
July 26, 2018 <entry> – I stopped by the post office on my way home today to check my PO Box to see if the item I had been coveting since I was told it was hitting the newsstand (20 days ago to be specific–I have no patience) had arrived. It did. As I ripped open the plastic shipping cover, I stood over the waste station and slowly opened the August issue of British Vogue, scanning the pages for my small but poignant feature. I stood there screaming on the inside because I knew I'd freak people out if I started screaming like a yahoo in the post office. I shook as I took a video opening the magazine. This was it, fo'shizzle!! I could open the glossy pages of "the fashion Bible" finally right there in front of me. Even though, I had seen the digital photos of the cover and layout, it didn't hit me until I able to put my hands on it (what a doubting Thomas, right?!?).
I went home and absorbed it page by page. I now know what Carrie Bradshaw meant when she said, "When I first moved to New York and I was totally broke, sometimes I would buy Vogue instead of dinner. I felt it fed me more." Like a little kid looking at a Christmas catalog, I kept my finger between pages 176 and 177, and would flip back and forth as I scanned through the other pages. I know this is going to sound unbelievable for me, but my eyes filled with tears. Here it was right in front of me! And in that moment, it took me back to a text message I had received the day after the Ethics in Business dinner a few months ago. The text said this: "I have to tell you I really respect Jennifer for sticking by you. You deserve it." And boy, did she–so this is how I could honor her! Seeing my first creation on my first customer and model reminded me how far I had come. Having the confidence to say, "YES" to British Vogue and to show I've worked hard and I deserve this! What made it even sweeter, seeing such a powerful woman on the cover and Oprah Winfrey's interview. It was even more empowering. Even though, she was abused as a child and a teenage mother, she didn't grow up thinking, "why me". She didn't consider race and being a brown skinned girl as an impairment. She didn't let sexism or misogyny muddy her thoughts. According to Oprah, she knew that she was a child of God and that her lifelong belief was that success was part of God's plan. Understanding your power to overcome difficulties and being comfortable in your own skin–there is nothing more beautiful!
…Confidence
A few years ago, I was pursuing the men's sock collection at Urban Outfitters. Funky and fun socks were all the rage and I was looking for the right pair to wear to a kickball tournament (that year I was on an uber competitive team and should have looked for a pair that had human growth hormone sewn into them), when I stumbled upon a pair of bright pink ones with a design of a woman hanging off a pole. I know there are some of you reading this thinking how disgraceful or how detrimental that is to women. As a woman, I pulled them off the rack and bought them immediately.
"I don't think you ready for this
'Cause my body too bootylicious for yo babe" – Destiny's Child, Bootylicious
Since I was 12 years old and started down the path to the curvaceous goddess that I am today (a year before I had short hair and a family friend asked my brother who his friend was), I've dealt with body image issues as many young girls have. I remember returning to school that year and a classmate made a comment about my butt. At the time, I wanted to die and throughout the rest of my school years, even though I loved fashion, I often tried to minimize my "assets". There were times that I dabbled in bulimia and over exercise to try to get that "perfect" body. Yet, I'd always get unwelcome attention as I walked by. Once walking through the mall, I had a gaggle of boys behind me and the comment of "baby got back" was sung out in my presence. I immediately popped into a store. As an adult woman, I've dealt with having to correct men who weren't looking at me in the eyes as they talked to me or felt that they enjoyed my derriere so much that they had to reach out and touch it. These weren't the "cat callers" on the streets or strangers in a crowded place. These were men I knew. Was it a sense of entitlement or power? I had the confidence to call them out on it. I also finally realized how I could dress to feel comfortable, confident and beautiful and stop hiding behind my clothing.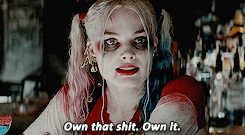 So why then did I purchase those socks? They had a more profound meaning to me. Have you ever watched a pole dancer? They own their sh*t. I've watched in awe because they are extremely fit, very coordinated (I know being Miss Congeniality myself, I'd land on my head) and they own their body and the room. I wear the socks anytime I have an important event and remind myself of that…speaking to a room of 2,000+ people, stepping out onto the runway or going into an important interview. They are the perfect reminder to go out there and kick some heinie and own who you are.
"I
I feel good
I walk alone
But then I trip over myself and I fall, I
I stand up
And then I'm OK
But then you print some shit that makes me want to scream" – Lady Gaga, Do What U Want
I thought…why as women can't we own our body and our sexuality? Shouldn't we embrace our curves or lack of, love our skin, hair and eye color and be happy with who we are?
"Never insecure until I met you
Now I'm bein' stupid
I used to be so cute to me
Just a little bit skinny
Why do I look to all these things
To keep you happy
Maybe get rid of you and then I'll get back to me (hey)" – TLC, Unpretty
<It's incredible, and sad, how many women sing about body image> I then recalled two recent events that really drove this home. I'll start with the one that was in the headlines…one that was targeted retaliation for a woman who stood up to the man who tried to silence his infidelity and position of power.
I really try not to watch or listen to the news. However on my way to work last week, the morning radio show talked about the headline related to Stormy Daniels and it caught my attention. For those unfamiliar with Stormy Daniels (legal name Stephanie Clifford), she is the woman that allegedly had an affair with Trump and is currently suing him. She was appearing at an Ohio strip club and was arrested that evening because "Under an Ohio law passed in 2007, an employee who regularly appears nude or seminude at a sexually oriented business is prohibited from touching patrons, except for family members." This, according to the CNN report. What I found to be interesting is that there just happened to be undercover cops the same evening that she was performing and according to her attorney, it was the same performance she had been doing all over the country. A woman who wouldn't stand down with trumped up charges, things that make you go hmm…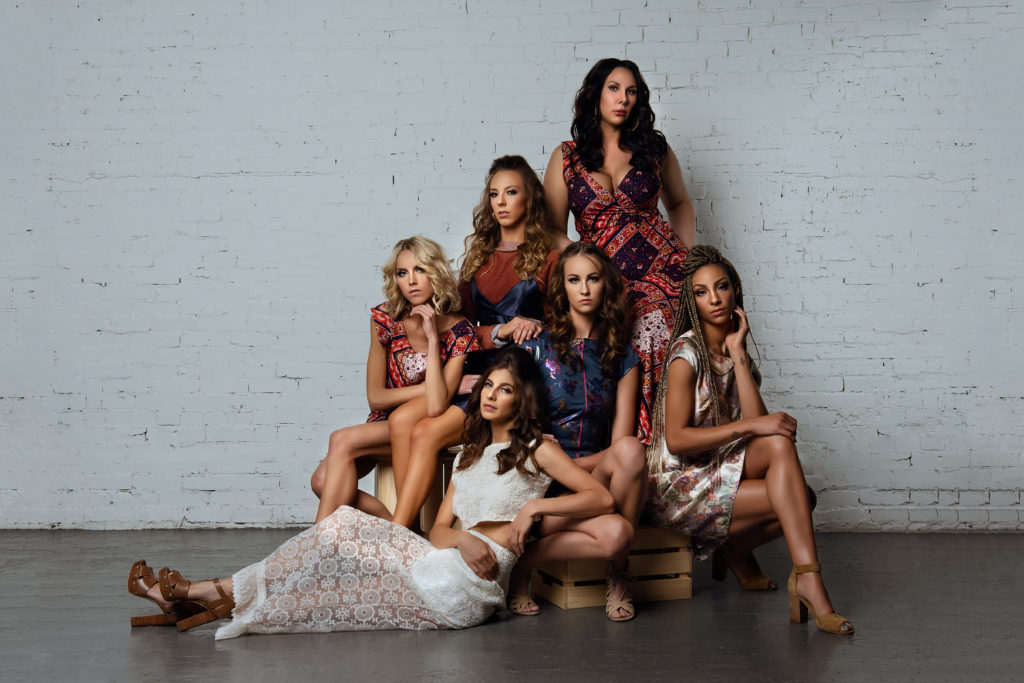 When I started designing, I wanted to create for women of all sizes and thank God, my customers are. Yet, the first show for FWLA (Fashion Week Los Angeles), I was given the universal measurements of their models to design for: 5'8" and 32" x 25" x 34". I came back to New Mexico thinking, "I can find those body measurements, but they will be on a 5'2" model. When I went back to LA, a few of the models I had met the day before the show were turned away because they were shorter than 5'8″ even though they were incredibly beautiful and "met" all the other measurements. WTF, right?!?
My shows locally utilized models of different shapes, sizes and ages, but it wasn't until I showed in the fashion center of the world, NYC during NYFW, that I was able highlight all the beautiful variations of women. Some of them include: Jamie, who has been my fashion week partner-in-fashion since 2014, New Mexico's go to for lifestyle, fashion and beauty advice, AND is the It Girl, who happens to be in her early fifties (AND by the way, killing it). Jimmie, who has put MS in remission through fitness and is not only an engineer, but also an actor, fitness model, local magazine correspondent and runway model. Shelby, one of my youngest models at 5'6" (not "traditionally" tall enough to walk the runway in NYFW), who is also so incredibly thoughtful and wrote me before each show telling me how grateful she was to be able to walk the runway (PS her cards are on my inspiration wall. I adore her. She is one of the most humble, hardworking and grateful women in the industry that I've had the pleasure of working with). Because of the graciousness and professionalism of the KC MOD SQUAD and the fact that they've paid for their expenses to walk for me in NYC (sometimes twice), I asked if I could feature them in my British Vogue feature in October. After shoot, I received a DM from Amber, another gorgeous model. She said:
Thank you again for asking us KC girls to be part of your British Vogue publication! It means so much to me that you were willing to trust us with your vision! Also, as a plus model "we", seem less attractive and less high fashion, rarely get these opportunities it makes it even more sweet. Adore you and everything you stand for. Thank you Dara ❤
She's got the ferocity and the look that I love. Amber's got curves, thighs and boobs, so it was fun to create a plunging neck line, a body-hugging fit and a sky-high slit to show off those sky high legs in my AW18 collection. The only noticeable difference to me, than the other models, was that she had to get down to her knees when I helped her put on her dress, because this 5' nothing designer couldn't reach over her 6'1" stature.
And these moments of owning who you are brought me back to when I first completely comfortable in my own skin.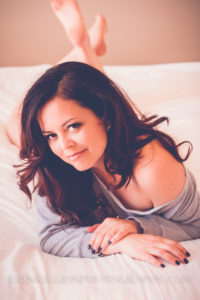 I had turned 40. I wasn't skinny, but I loved the way I looked even with my wobbly bits! My friend Erin, who is a phenomenal photographer, was hosting a boudoir shoot invited me to participate. I'm not going to lie, it was little intimidating at first. However, I was so empowered and felt so beautiful after the shoot (#beautiful). It was something I did for ME and I was proud of the photos.
"This is not about a man's approval. This <nude> photo is just for me, so when I'm old and my tits are in my shoes I can look at it and say, 'Damn, I was hot.'" Samantha, Sex and the City
So, when you get up today, look at yourself in the mirror and remember you too are a Phenomenal Woman.
Phenomenal Woman
BY MAYA ANGELOU
Pretty women wonder where my secret lies.
I'm not cute or built to suit a fashion model's size
But when I start to tell them,
They think I'm telling lies.
I say,
It's in the reach of my arms,
The span of my hips,
The stride of my step,
The curl of my lips.
I'm a woman
Phenomenally.
Phenomenal woman,
That's me.
I walk into a room
Just as cool as you please,
And to a man,
The fellows stand or
Fall down on their knees.
Then they swarm around me,
A hive of honey bees.
I say,
It's the fire in my eyes,
And the flash of my teeth,
The swing in my waist,
And the joy in my feet.
I'm a woman
Phenomenally.
Phenomenal woman,
That's me.
Men themselves have wondered
What they see in me.
They try so much
But they can't touch
My inner mystery.
When I try to show them,
They say they still can't see.
I say,
It's in the arch of my back,
The sun of my smile,
The ride of my breasts,
The grace of my style.
I'm a woman
Phenomenally.
Phenomenal woman,
That's me.
Now you understand
Just why my head's not bowed.
I don't shout or jump about
Or have to talk real loud.
When you see me passing,
It ought to make you proud.
I say,
It's in the click of my heels,
The bend of my hair,
the palm of my hand,
The need for my care.
'Cause I'm a woman
Phenomenally.
Phenomenal woman,
That's me.
With light and love,
Dara Sophia