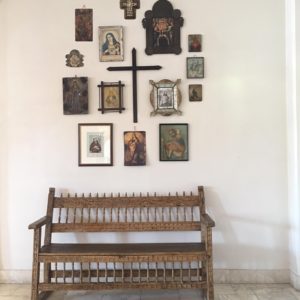 Saturday was the first day in my life that I've lived longer without the physical presence of my mom. I knew it was going to be rough and while I had commitments that morning, the rest of the day was unknown. I had a few friends reach out and ask how I was doing. I had S:D time which was wonderful reprieve, seeing my Smitha for a few hours, but after being home for the remainder of afternoon and early evening, I decided I was going to go to my favorite rooftop to people watch and listen to my beats while I write. I had started a different blog, Beauty of the Unknown and thought I would get the right inspiration being a fly on the wall. On my way to Hotel Andaluz, I got stuck in bottle necked traffic as I-25 was rerouted to the Pan American side road. It was 102 degrees, 7pm and annoying. However, 25 minutes later I got back on to the freeway. As I started to accelerate, re-entering I-25 from Montano, I felt a surge and then the car started to slow down.
I pulled over to the shoulder and of course thought <EAR MUFFS>, "What the fuck!". I sat for half a second and plotted out what I was going to do. I had my laptop with me. I had my AAA card. However, I left my mobile phone at home, purposely, because I wanted to disconnect and focus on my writing. I was at the Comanche exit. Traffic was light. I thought about sitting on the side of the road to wait for the Department of Transportation Help Vehicle to come by. It was 7:45pm and sun was lower on the horizon. If I had to walk, I knew there was no place nearby that I'd be able to walk to for a phone. So, I said a little prayer and got off on the Comanche exit and decided to head back north toward my brother and sister-in-law's home. Hoping they would be there, I drove to each light on Pan American, turning off the car while I sat for the green light, and driving with my hazard lights on. I laughed and thought, "Of course, my plans are always derailed." I arrived at their home about 20 minutes later. Surprised to see someone arrive so late and unexpected, my brother and niece came out first. Then my sister-in-law and nephew came out. My brother took a look at the vehicle, and the culprit, lack of oil.
He added what he had. Then ran to the store for more. Yvette opened a bottle of wine and we sat down and talked, and laughed, and talked. Jeremy returned and added the oil. By that time, it was close to 10:00pm and my brother offered to follow me home. He urged me to take it for an oil change first thing in the morning. As I drove home, it hit me. I wasn't meant to be alone writing on this day. I was meant to be with family even as chaotic as it was. I made it home safely. As the tears streamed down my face, I knew it was divine intervention. I wiped my eyes and went inside. I sent a text to my brother and sister-in-law thanking them for their time.
This wasn't the first time someone has intervened in my life and recently, it was professionally. On the one-month anniversary of Jennifer's death, I woke to an email, titled, British Vogue's Designer Profile. Of course, that got my attention at 5:00am, so I opened it to read this:

Good afternoon,

I wanted to get in touch as I came across you online and I think you would be perfect to showcase on an upcoming Designer Profile page I am creating for British Vogue.

I am currently putting together our exciting 'Designer Profile' page in our Autumn issues, starting with the August issue and following a campaign running across September and October. These are key issues in 2018 and are regarded as unmissable sources of inspiration across the Autumn fashion weeks, with the September edition being one the biggest, bumper fashion issues of the year previewing SS19 international collections. After reviewing your online presence I feel that you would make a really unique addition to the page, and appeal greatly to Vogue's affluent readership.  
The email continued on… I was trying to determine if I was dreaming, if it was a phishing email, or if it was indeed real. I read it again. I googled the address listed and when I found it was legit, I responded. Hopeless + Cause will have a small feature in August, September and October. In August, H+CA will celebrate it's 3rd birthday (mark your calendars for August 25th) and I couldn't think of a better way to honor, Jennifer, my friend, my first customer, and my muse in fashion forward design, than featuring her. She is still pushing me to follow my passion and that nudge is now crossing borders.
Have you read Elizabeth Gilbert's book, Big Magic? I've talked about the book and movie that made her famous, Eat. Pray. Love., and how one line and the support of my friend propelled me to continue to design. That line inspired me to create the brand name, Hopeless + Cause Atelier:
Ruin is a gift. Ruin is the road to transformation.
However, I must admit my favorite Elizabeth Gilbert book is Big Magic and its honest approach to "creative living beyond fear". Every page is a turner. The first time I read it, I was gasping for more…like it was my breath of life. Gilbert talked specifically about inspiration and sometimes creatives, when in the right element, were a vessel to the divine. When so moved by creativity, you, as a creative, need to go with that flow. I have felt that way, it is like a renaissance or an epiphany, and in a way a religious manifestation through the work I am creating. I loaned the book to my friend, Annie, when after a wonderfully deep conversation, she mentioned being in a crossroad in her life. She was heading on a family trip to Mexico. It was the perfect opportunity to dig a little deeper in what she was feeling and how she wanted to move forward. As I do with all my beloved books, I loaned it to her. I told her to read it and to feel free to highlight or underline themes that spoke to her. I asked her to share her wisdom in the margins, but when she was done to return it to me (my library of books is sacred to me…I only keep the ones that speak to my mind and soul). She returned it with a personal note stating that it already added value to her life…and I "too" can't wait until we catch up over wine.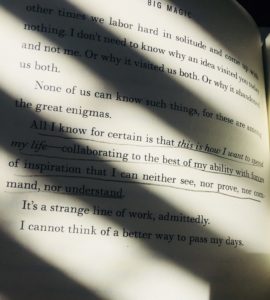 I fully believe intervention comes to us in many ways: in words, in actions, in creativity, in someone physically telling you, "you are at a crossroad in your life and here is what I see." It's even in that asshole that tries to pigeonhole you in your self-actualization. There is some divinity in that, but only when you see and move beyond. As Gilbert honestly states, "let them have their opinion, let them be in love their opinion…but never delude yourself to believe that you require someone else's blessing." It is up to you to be open like a vessel for the next big thing, to engage in it so it can come to fruition, or to deny it and continue as is. It is your free will. I know my mom is no longer physically with me, but every so often she has her subtle and not so subtle ways of telling me she is along for the ride and sometimes even guides me there.
With light and love,
Dara Sophia
Vogue U.K. aka British Vogue is a fashion and lifestyle brand of Conde Nast International with a readership of 1.3M.
Big Magic, Elizabeth Gilbert, Riverhead Books