As I prepare the Hopeless + Cause Atelier autumn/winter 2018 collection for New York Fashion Week, I've been reviewing past shows and photos from the runway. It used to bother me SO incredibly much when there was an empty seat in the front row. As a designer, you want the photography to come across as a full house, sold out show. After the first show, I made sure to provide explicit directions to my production team to get those seats filled with volunteers or move someone up to the front row. And no matter what, I'd get the photographers beautiful shots and there'd be this blaring emptiness that would come through (I'd be backstage or so in the moment, I'd never notice during the event). Then last week, I looked at this photo and it hit me; I learned the importance of an empty seat.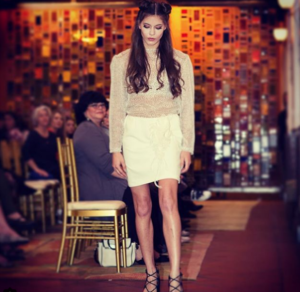 I had one of those crazy full moon nights that turned into a horrific week. We all do. However, have you had one of those weeks where you've felt something in your gut for a long time, but you didn't want to believe to be true? Sadly, it was and worse. The following few days were a distraction to focus, yet I knew that in the end not focusing would only impact me and my goals for New York.
"love does not look like a person
love is our actions
love is giving all we can
even if it's just the bigger slice of cake
love is understanding
we have the power to hurt one another
but we are going to do everything in our power
to make sure we don't
love is figuring out all the kind sweetness we deserve
and when someone shows up
saying they will provide it as you do
but their actions seem to break you rather than build you
love is knowing whom to choose"
From What Does Love Look Like, The Sun and Her Flowers, Rupi Kaur
I reached out to my dearest loved ones and they provided incredible support, yet there was someone I wish I could have talked to. It will be 22 years on June 22 since my mom died and there are days where I think maybe I shouldn't be still so sad and feeling so much loss after all these years and I should be over it because it's a natural part of life. I opened up the next advice column from Dear Sugar in Tiny Beautiful Things. The writer spoke about his soon-to-be wife and the absence in her life without her mom. He asked for advice because while "she's normally joy on wheels; her mother's death is always lurking" and he didn't know how to support her. He asked Sugar, since she lost her mother at a young age, for advice to best support his finance. As I read Sugar's response, my tear drops stained the pages. She talked about her experience after her mother died and finding a jar of rocks her mom collected and recalling memories as a child with her siblings collecting them for her. She wondered what she did with those rocks and now with her mother gone, she wondered what she'd do with them. Were they her connection to her mother? She went on describing how, in the months after her mother died, she tried to "crack the code", how she could move on with her life knowing it's okay without her.
My mother died two weeks before my 23rd birthday and I remember wishing I had been gifted one last letter or birthday card. But how could she, her body taken over by cancer, she was so sick and in so much pain. A few years later, the movie, P.S. I Love You, was released and I was obsessed, I so wished that my mom had left me a trail of letters letting me know I was going to be okay and it was going to be okay without her. I think I watched that movie at least 6 times while it was in the theaters. My mother's death forever changed how I approached life. I've chosen to live my life without regrets. Something you truly want is worth the risk and whether you are better off or totally destroyed by it, you will learn from it. I have chosen to not be afraid to share how I feel. A few years ago, I took the Love Languages quiz and I wasn't surprised to learn that I desire love in the form of service…actions are stronger than words. I tend to share my feelings, good, bad and the ugly (my daughter calls me an emotional cancer—the astrological sign not the disease). I believe people should know how you feel. I want the people who I love to know exactly where I stand and those who are trying to hurt me, or anyone in my heart, I want them to know this type of behavior is not okay. I tend to ensure my actions are in line with my words. I decided for my kiddos birthdays I would give them several gifts. It's not what you think, they were small but important things I wanted to present them to remind them that they are found in every day life. In my last blog, I spoke of giving my son the gift of following your passion. The first gift he received was the gift of time.
Time is finite. If I am overwhelmingly blessed, I will share the next 60 years with you, but I will live and love you like today is my last. My love, it is important to me that I raise you to know how much you are loved, how much you are valued and how much I believe in you. I will die hoping that I instilled the following values—that when difficulties came, instead of running like a coward you faced them head on; you always spoke your truth while being kind; that you loved more that you ever thought you could; and lived your life to the fullest. Today, is God's gift to me, so I hope every time you look at this gift you will remember that.
I believe in the power of writing love notes. I've never believed in the commercialized holiday to share your love with overpriced flowers, candy and stuffed animals. Not getting a reservation at your favorite restaurant because men and women are trying to impress someone else by being out and being seen on this day. Why do you need someone else to tell you what day to love someone? A few gifts of love, that have been my all-time favorite to receive are the deep conversations I've had where I've really learned about the other person and they've really heard me. On a few occasions, they lasted until the sun came up. I remember dancing so close, I felt my heart beat becoming one with my dance partner. Another wonderful gift is taking walks or hikes in the mountains and stopping to pick a wildflower or breathing in the awe and wonder of the world. These have come from romantic love and love grown out of my heart.
That last kiss
I'll cherish
Until we meet again
And time makes

It harder
I wish I could remember
But I keep
Your memory

You visit me in my sleep
That empty seat at my shows maybe is meant to be there. Maybe it's to remind me that while there might be someone missing in my life, it's open for someone to come and fill it, or maybe it will never be filled and it shouldn't be. 
My darling
Who knew
With light and love,
P.S. Here is the link for The Black Arc of It. I highly recommend this read, but you will need tissue. Who Knew written and performed by P!nk