Preface: I am a novelist at heart. I freeform blog and don't have an editor. Many times, there are several iterations before the final post, but each posted blog contains my feelings at the time that I feel them. I am grateful for those of you that read all the way through and I hope it makes you feel too…and maybe today, a little joy.
I woke this morning to the sound of the birds chirping in the nearby trees around my casita. It's quite a lovely way to ease into the morning. I much prefer that sound than to the "BAAAH-BAAAH-BAAAH" screaming of my alarm clock jolting me from my sleep. With this sweet melody, I tend to slowly rise from my slumber. While lying there, I pondered what they are talking to each other about, so of course when I got up and grabbed my cup of coffee, I took to the Google to find what insights I might learn. As much as I want to believe, I know they aren't just serenading me like a Disney movie.
According what I found on Wired.com (yes, the technology publication), "Birds can sing at any time of day, but during the dawn chorus their songs are often louder, livelier, and more frequent. It's mostly made up of male birds, attempting to attract mates and warn other males away from their territories." I read this, snickered and thought, of course that's the explanation. However, my thought is that the birds are singing at the promise of a new day and the joy it can bring.
I've been blessed and cursed with a couple of free weeks to really ponder this question. About a year and a half ago, I wrote a humorous ode to my jeep and again, I got to thinking about this question of what brings me joy (and if Go Daddy didn't hold my blog posts hostage, I'd share the link). I'll provide a brief recap if you didn't get the opportunity to read it or if you've slept since then. Since I was in high school, I've wanted a jeep. A few years ago, I obtained one. I love it most during the warm weather with the bikini top on, the windows out and my earbuds in my head with my music playing. Whenever I walk up to it, I immediately grin from ear to ear…and not because it is the best thing on the earth (I am well aware that it is an inanimate object). It has it's down sides: it is a gas guzzler (especially with gas prices nearing $3 per gallon); it's not the best vehicle to drive in the wind and/or in the rain; it's an older model so in the past year I've had to do a number of repairs (especially in the past couple of weeks); and by the end of the summer–I will have half my body tanned, my hair windblown beyond recognition and moments when I do my Flashdance back arch because of the puddles that pool on top of the roof (again, I'll share the graphics for your memory or if this is the first time you are reading this blog):

I could have a car that was more efficient and reliable or even has air conditioner and solid paneling. And especially after the past couple of weeks of it overheating and the battery dying, it would have been very easy for me to fall in the trap of "why do I keep it?!?" Yet, I don't believe I would experience the same joy as I do when I'm in it—that's what the heart of joy comes from. It is the times that we purposefully look beyond adversity to find joy. Sometimes we make it too complicated, putting the responsibility of finding joy on someone else or only allowing ourselves believe we will have it when we "achieve this or get that". Joy is in front and center, if we want to see it. As a five foot nothing woman, I LOVE climbing into it and feeling that I am observing the world from above.
"I wish I was a little bit taller; I wish I was a baller". Skee-Lo
(And I totally do feel like a baller in it). I love the feeling of the sunshine and the open air. I love music, solitude and dancing…and all those things come together when I drive it. I love that it gives me the independence to get up and go where I need and want to. I love when it's freshly washed that the navy beauty just winks at me…and I smile every time. It brings me joy because it is representative of me: independent, adventurous, classic, airy, bad ass, friendly and fun. Pure joy.
A little over a month ago, I received an email from a friend. The exchange went like this:

We hadn't seen each other in about a year, so in our design consultation we talked about life since then, the wedding and her new leadership role in the community. She shared her style, the wedding color scheme, and the wedding details. She told me about her conversation with her daughter and how her daughter just wanted her to be joyful and comfortable that day. As we sat in her office, I noticed that she was much "lighter" than the year before. Her eyes gleamed with her surroundings. Life had changed since the last time we saw each other, and a renewed spirit was beaming from her. Her office is painted in a vibrant, calming blue and her windows that face north, welcomed the spring light which filled the room. It was the perfect environment for her and something definitely guided me in my creativity. In the hour and a half we spent together, I spent 5, maybe 10, minutes taking measurements, the rest in soul filling conversation.  On her office table, Diane has motivational coins and she asked me to choose one. I chose "inspiration" because in that moment I totally was. I knew the color scheme, fabric and cut I was going to sketch and propose for her. I got to work as soon as I arrived home and within a day, I ordered fabric samples and sent her the sketch.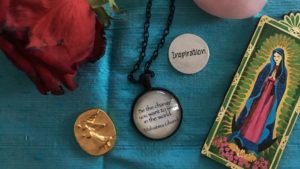 Then a few weeks later, tragedy hit our hearts. Everything was put on hold. I had friends from near and all over the country reach out. I had planned to launch my Wrong Girl campaign and it came to a halt. I couldn't focus. Those that know me, know that I retreat inward and can't talk…I write, so I wrote my from my heart focused on beautiful memories and Jennifer's impact on my life. The community, no I take that back, the world came to Albuquerque. Friends who I hadn't seen in months and years joined to celebrate her, her love, her "sparkle" and her impact. I remember having a conversation with Roby on the way to breakfast the day after her community celebration. He talked how everyone who knew Jennifer felt this loss and how the community will be forever changed without her radiant joy present in everyday life. He wasn't sure what could be done with her absence. I agreed wholeheartedly and the only thing I could think of in that moment as the best way to honor her is:
Be the change you want to see in the world. credited to Mahatma Gandhi
In a time of divisiveness, exclusion, tragedy and hatred, she embodied inclusion, connectiveness and that spark of joy and love. What this horrific loss brought to me (and I know this sounds selfish but she was incredibly good at making feel everyone feel part of her) was meaningful time with loved ones I haven't seen for quite some time, gatherings and deep conversations with new friends.
My friend Laurie invited me to be her guest at the Ethics in Business dinner a week after. I told her I'd be honored to attend if she didn't mind me if I was moved to shed a tear. She told me she'd be right there with me. Again, it was a lovely evening with hugs that filled your entire being with comfort and light from people I hadn't seen in quite some time. There was a beautiful dedication to Jennifer. I remembered the last time I attended the event was in honor of her and I smiled at the thought. It wasn't until the non-profit awardee was announced that the water works began. This year's recipient was Special Olympics of New Mexico…memory lane was in full-effect. This was one of the first organizations we volunteered for at Cardinal Health and on more than one occasion, I asked Randy Mascorella, SONM ED, to speak to our organization events. As sponsors of Summer State Games, I with my colleagues volunteered as athlete escorts. This is one of the first life changing volunteer experiences I encountered. When I first volunteered, I selfishly thought what impact I'd have. I couldn't have been more wrong. The athletes, I had the honor of meeting throughout the years, had a greater impact on me. I've never felt more welcome, seen more support for competitors or seen strength, as I have volunteering at Summer State Games. We would bond with the athletes while taking them from the staging area to their event, run to the finish line while cheering them, take them to the awards area and return to the staging area. The awards area for as long as I can remember has been sponsored by Wells Fargo, so on many occasions I'd take the athletes to be recognized by Jennifer and her team. As Randy and her delegation accepted the award, Laurie and I gave them a standing "O". We cheered loudly and proudly while tears streamed down my face.
"Let me win. But if I cannot win, let me be brave in the attempt." Special Olympics Oath
SONM was the last awardee of the night, so I graciously thanked and hugged Laurie. I told her I needed to leave (I knew I looked a mess, like a 5-year old after the ugly cry). When I returned home that evening, I asked my son if he'd join me again (a few years later) to volunteer for summer games. He generously agreed.
Fast forward a couple weeks…
Today, we volunteered as athlete escorts. We bonded with some beautiful girls who were competing but also so supportive of each other. We talked about where they were from. I asked if they were attending Cliff's for the dance later that day (what I learned, through years of volunteering, was that the DANCE was the real reason they all descended upon Albuquerque for state games). I asked the ones who had traveled into town if they were staying at a hotel with a pool and if so, had they gone swimming yet. We were present in the moment and because there were a TON of UPS volunteers and not any athletes in the staging area, we followed them through the entire course and this time we stayed in awards and cheered them on as the received their well-deserved medals. As we were walking back cheering on the next division of runners. I heard the announcer say, "That is the pure look of joy on his face." I smiled and commented to my son how that resonated with me. Then an athlete sitting in the stands, trying to stay out of the sun, waved at us and we waved back. He drew us in. I saw medal gleaming around his neck and I asked him about it. He told me about his event. I gave him a high five and said, "congratulations!" Before we walked away, he reached out for a hug. I obliged and wished him a wonderful day and good luck on his other events. I'm sure I had the look of pure joy on my face.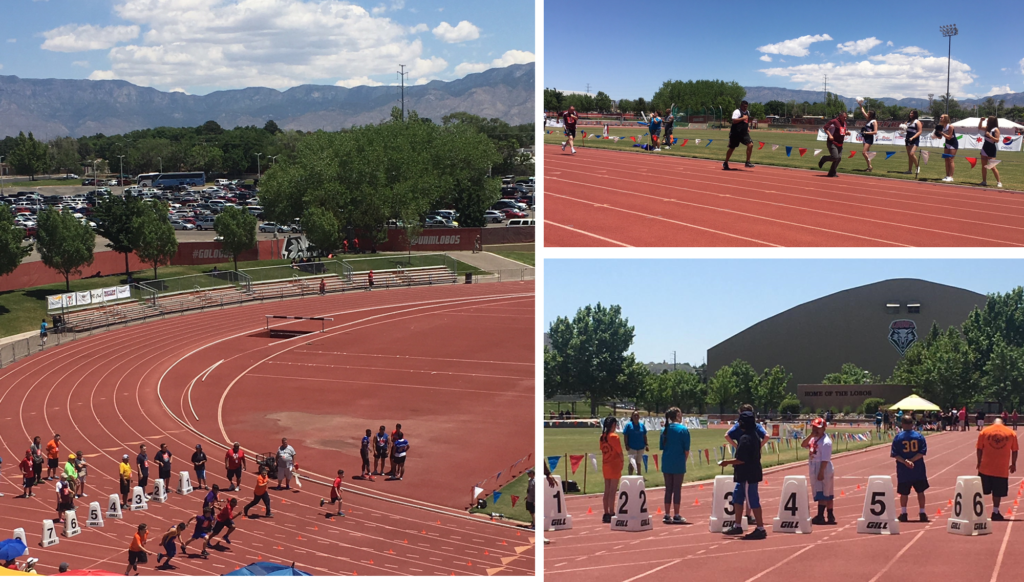 What barriers are you placing on yourself to experience joy? There will always be things vying for the opportunity to prevent you from experiencing it. Don't allow them. I have learned in the past few months what a life lesson this is. Some of my joy is experienced in connecting people to their actualized self, dreams and beauty; in relishing nature (in my own backyard and in adventures to new places); in the awe of what I believe are miracles; seeing my children laugh, especially together; my own laughter and greater understanding of others through authentic conversations; wandering in my jeep; swinging from the local park or school swings; the welcome I get every time I return home; running in Central Park NYC (and believe me, I'm not a fan of running); traveling; creating; writing; serving others; learning and giving.
Funny thing, two hummingbirds are buzzing and dancing outside my back door as I write this blog. Joie de vivre!
With light and love,
Dara Sophia