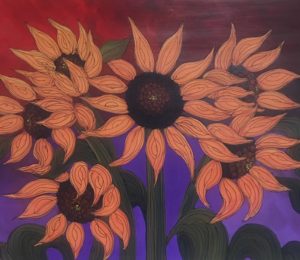 I believe that fashion has taken me to places otherwise impossible. Beyond the potential financial benefits, I have traveled to places I may not have otherwise (physically, mentally, and emotionally). I have met the dreamers and doers working on and achieving their own creative life goals. Design pulls from my right brain and what I create is influenced by what I'm feeling; what statement I want to make in that moment; and how I want to express myself through color, fit, silhouettes, fabric and embellishments. It also provides a way to give back. After the fashion event, I call on my left side brain to help me regurgitate and re-digest what I learned from that creative moment. And in an analytical way, I share that through my writings. I've learned what I create and write can be provocative. It is my hope that each make you think. I hope there is some impact and some action.
Clipped wings, I was a broken thing
Had a voice, had a voice but I could not sing
You would wind me down
I struggled on the ground, oh
So lost, the line had been crossed
Had a voice, had a voice but I could not talk
You held me down
I struggle to fly now, oh
A couple of weeks ago, I received a call from my dear friend, Laura, asking me if I'd be interested in providing or creating a couple of looks the upcoming Do Hair. Do Good. Charity Fashion Show. I've been involved in this Mark Pardo event in various ways over the past 5 years. This year, since I had a little more time, I wanted to  understand the inspiration behind the show and create my looks accordingly. I asked to join the Mark Pardo creative team for one of their weekly planning meetings to get the inside scoop. I learned that this year's theme is Rising from the Ashes…as the mythical, Phoenix. The theme in my mind was completely appropriate since this year's beneficiary is the Family Advocacy Center (a.k.a. FAC or AFAC), located here, in Albuquerque.
Here lieth a Phoenix, by whose death
Another Phoenix life gave breath:
It is to be lamented much
The world at once ne'er knew two such.
Mark Pardo has been hosting Do Hair. Do Good. for a number of years, but the focus for the past 3 years has been on AFAC, which focuses on providing a one-stop center of assistance for survivors of abuse. This is an issue that is close to me. I remember, at the age of 10, fleeing with my mother out the back door as my father, who over the years became more and more abusive to my mom, came in the front door and in days following, sleeping on the couches of my mom's best friends while she tried to navigate the system and tried to find resources to help her, me and my brother. I also have a history of support for the AFAC. It began years ago when, at Cardinal Health, we helped underwrite financial support to establish the center. Then a few years later, I worked with a team to develop volunteer training to support the organization.
According to AFAC, "Research has consistently shown that adult and child victims of family violence who successfully move into healthy living situations need up to 32 different organizations to help them get there. Sadly, many victims return to abuse because the systems which are in place to help them seem too cumbersome to negotiate at a time when they are most vulnerable. The difficulty is compounded by the fact that the systems do not communicate efficiently with one another. For most victims it is difficult to find the courage to move forward after being so seriously diminished for so long. In many cases it is the abuse of the children, not of themselves, that moves the victim to action." After visiting with the FAC Coordinator, Bev McMillan, I also learned that the victim generally returns to her/his abuser on average 7 times before finally leaving…just think about what can happen during any of those times?!? While understanding that the perpetrator is controlling and has diminished the self-esteem of the abused individual, many times the victim will go back because they've not only been made to believe they are not worthy for anything or anyone else, but also because the individual is not financially stable to make it on their own, let alone able to support her/his children, so they return to the dangerous situation.
At the FAC, there are 14 community partners and law enforcement divisions, everything from Sexual Assault Nurse Examiners, Para Los Ninos, to NM Legal Aid, to 2nd Judicial Court Domestic Violence Division. And because many times the victim, leaves with nothing but the clothing they are wearing, there are food and clothing closets. While I was talking with Bev, she shared a story how recently the FAC worked perfectly in the manner it was created. She spoke of a woman that came in and worked with the law enforcement side, then was taken over SANE for an examination. About 45 minutes later, she met with a victim's advocate from the Domestic Resource Center and finally, NM Legal Aid. Within the period of 2 and half hours, she got all the help she needed. She was brought over by a minister from her church and that minister mentioned she had no food, so the center provided her a food box and some basic hygiene necessities. I share information about AFAC to let you know this resource is in our community. And as horrible as this sounds, the number of unduplicated clients is on the rise. Both Bev and I agree is that the occurrence of abuse has always been a pervasive issue throughout the community (with no socio-economic bias), however as awareness grows, individuals and families are reporting and getting the help they need to transform their lives.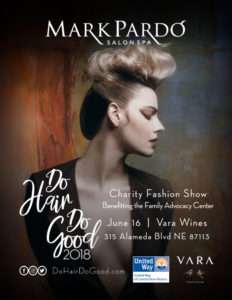 Talking with the Mark Pardo team, the reason they have supported this organization for the past few years is because as an employer, with the majority of their team, women, they want to create an environment that informs the staff about resources and creates a safe space for customers. When was the last time you didn't have a conversation with your hair stylist? It's much like sitting at the bar and talking with a bartender. If they are good, you just open up and share what's happening in your life. If they are empowered, which I know this team is, they can provide information about services like the Family Advocacy Center. Through the charity fashion show, they are going beyond advice and showcasing their talents to generate event revenue which will provide support to the work of AFAC. The FAC empowers the community to change lives.
And I don't care if I sing off key
I find myself in my melodies
I sing for love, I sing for me
I shout it out like a bird set free
No, I don't care if I sing off key
I find myself in my melodies
I sing for love, I sing for me
I'll shout it out like a bird set free
On the daily, stylists and make-up artists are also catalysts for transformation, so again I believe the theme of the phoenix is absolutely perfect. The creative team is showcasing their work in three segments: FIRE, ASH & LIGHT: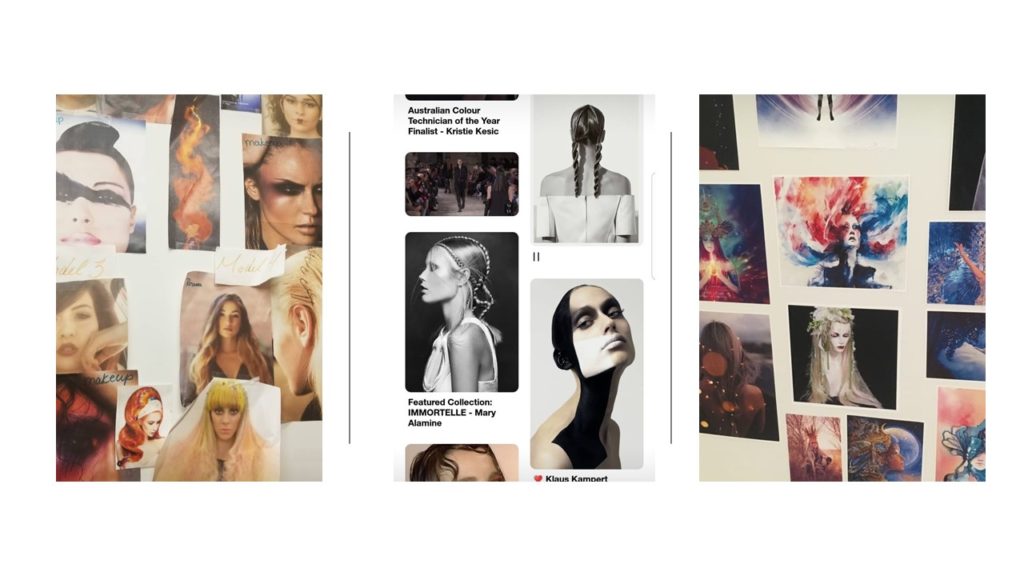 As I think of these concepts, I see a burning desire for change—life CANNOT continue as is—flowing, building, out of control in ways. The next phase is structured, tight, plan to break the bondage of the old to a glorious new light. So, as I went home to sketch, I have the following ideas come to my mind. I think the Debi dress would be the perfect for the fire segment, with the flow and keeping it together on a thread. I then sketched out my ash inspiration, a structured pencil skirt and bodice with "the weight of the world" on the model's shoulders and a tight feather neckline. Finally, my light look is all about freedom, flow and breaking chains.

My mom broke the cycle of abuse when we fled that fall afternoon. She returned to school and received a BA in Fine Arts and continued on to get a Masters in Education, all while working and raising two children. If it wasn't for her community of support, I'd hate to think of the other outcomes. A creative way you can change the outcomes of someone you may never know or who may never repay you, is to purchase your ticket to a phenomenal Do Hair. Do Good. Charity Fashion Show on Saturday, June 16, 6:00pm at Vara Wines Tasting Room (event details can be found here https://markpardo.com/do-hair-do-good/). The money raised will help with the next evolution of the AFAC, helping to build programming for women's self-sufficiency. Remember, it takes a village. And if you know someone that can benefit from the Family Advocacy Center, send them this number (click on the photo to find all the resources available through the center):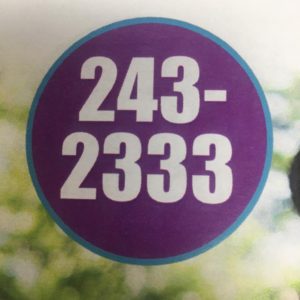 No explanation–just help.
With light and love!
Dara Sophia
Bird Set Free, lyrics and performed by Sia
Phoenix poem is said to have been on the headstone of Jane Seymour
Sunflowers painting by Dee Sanchez and can be found at the AFAC (symbolizes a community of support)