Since getting my jeep back, I've been driving along Rio Grande as my preferred route to work in the mornings and in the evenings back home. After a night of rain, the morning route is filled with the sent of sweet alfalfa and lavender…these are probably the few scents that I actually enjoy in my open air vehicle. It is a serene ride beautifully lush with my ear buds playing my preferred music for the drive and it is less stressful than taking the freeways. The wide-open spaces, sprawling estates, windy roads, wildlife and fields filled with sunflowers and gardens remind me of my family ranch in Northern New Mexico and how my youth summers were spent with my maternal grandparents going back and forth between Northern and Southern New Mexico. We'd spend our time in the mountains exploring, hiking, playing games and helping around the ranch. The 8-hour trips across the state included bits of history New Mexico and our family's, dreaming and asking over and over, "are we there yet?"
"With great power comes great responsibility." Uncle Ben
You've probably heard my original dress story (my O.D. story — did you think I was talking about drug use? Really, wow?!? – well, since I've got your attention…). I'm speaking of my origin story in this crazy world of fashion. We all have them: where we came from, who inspired us or taught us lessons, how we came to love and find meaning in who we are and what we do… Just think of Peter Parker, being bitten by a radio active spider that pivotal moment when he went from a high school student to neighborhood crime fighter. Whether intentional or not these defining moments have impact on the rest of our lives, with great power comes great responsibility. As I've mentioned before it started with my grandmother, Catalina, who taught me how to sew in middle school.
It was more out of necessity than a hobby, but I found I loved it and initially tried to follow the path in fashion but unfortunately, there were some road blocks. That was until I had a conversation with a man who challenged me once again to design over almost 30 years later. That was in May of 2014. I started small just designing for myself and once again returning to my grandma to remind me of the tricks and providing tips to make it work. I was very fortunate that I got to spend a few months that summer under her roof and under her tutelage again. It was a difficult summer losing my home, but it was important lesson in family. I am always reminded how she embodies that.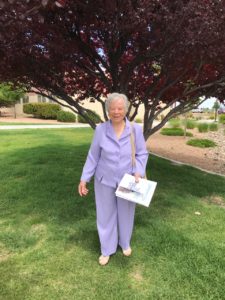 My grandma turns 89 this year. Don't let her small stature in this above photo delude you. When it comes to faith, family and adventure she is bigger than life. I was her first grandchild and I tell every one of my cousins and my brother (oh and my kids), that I'm her favorite which makes her smile (because it's true). I spent so much time with her growing up. Grounded in faith, she raised a family of 5 girls and 1 boy (my poor uncle Sam, who is also the youngest). Many of my childhood memories were in the kitchen where she was making meals. There were always homemade tortillas and I remember clearly that as she rolled them out, she would always hum a tune (it is such a cool trait that my daughter, Catalina, picked up on). Holidays are always family affairs, generation after generation would descend upon her home in Las Cruces and now in Albuquerque. People would always ask, "are you having tamales and posole for the Christmas dinner", in which she would respond, "No, that's an everyday meal. We have the traditional turkey and ham with all the fixings."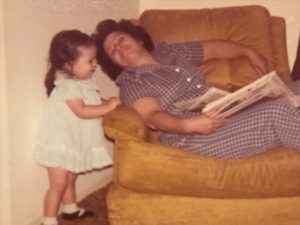 I always saw her as the neck of the household. While the traditional roles always played out in the Romero home, with my grandpo as the head, she could "turn the head anyway she wants".
My grandmother was always my intermediary when my mom and I didn't see eye to eye. Always, preferring a peaceful resolution until she had enough and set everyone straight. Recently doing this at my son's graduation when his dad was disrespectful and a few months later, when a couple of her own adult kids were ill-mannered toward her brothers. When my mom was riddled with cancer, her and my grandpo moved out here temporarily to be at her side and care for her. A year after my mom died, she had to bury her husband of 45 years. A few years later she moved from Las Cruces to Albuquerque with my aunt, Lisa, to be closer to the rest of her kids. And when I'm lucky, I get to see her in the front row of my shows.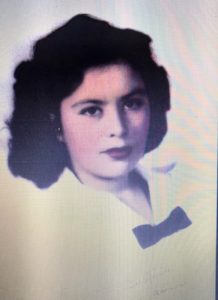 It wasn't until I was older that I learned of her life before creating her own family. I realized that she had dealt with her own adversity growing up. Her father was a farmer and they lived off the land. Also, after centuries of her ancestors living in Northern NM, and a history of growing up speaking Spanish, she was discriminated against because of it. Sadly, because of it, her children didn't learn Spanish in the home. She also was adventurous. I realized I get my sense of travel and adventure from her. My grandmother was a waitress early in her life working primarily in Las Vegas, NM. However, she had a stint as a Harvey Girl. What's that you may ask? They were young, single, intelligent and women of good character that waitress-ed for Fred Harvey Hotels along the railroad lines in the "wild west".
Mr. Harvey wanted travelers to eat well. He is credited with providing good, wholesome food in a hurry. He knew passengers had 30 minutes to get off the train, eat, and get back on the train. He was successful because the railroad workers stayed in touch with the restaurant via the telegraph, so each Harvey House knew if a train was going to be late, and approximately how many hungry people they would have to feed. During World War II, they served troop trains, often filling every nook and cranny with hungry soldiers. Each waitress was trained in the way the Harvey House operated, and signed a six-month contract to work at a particular restaurant along the railroad line. At the end of six months, they could apply to work at a different location or stay at the current one. (from https://recollections.biz/blog/harvey-girls/)
My grandma spoke of working in Las Vegas, NM, Winslow and Grand Canyon, AZ. These women defined hospitality and the customer experience, perfectly appointed in a Victorian style of dress. She wore a crisp white dress with the black western bow tie. When I see her photo, in uniform, I look at it in awe–such a classic look.  And it reminds me that she's always had this style about her, impeccable to this day. She and my great aunt, her older sister, Simmie worked as Harvey Girls for a number of years. My grandma recounted seeing Frank Sinatra and Judy Garland and serving Tony Curtis (although, she wasn't a fan of the later—she said he was a jerk).
You have to reflect on where you've been to understand where you are going.
As I reflect on the past three years under Hopeless + Cause Atelier, I've realized the woman I've become and how it has shaped the brand. It is a brand that understands the beauty in nature and the delicate process of craftswomanship; valuing those around you who have shaped you to who you are today either by being incredible role models or teaching you life's lessons; and understanding that you have to reflect on where you've been to understand where you are going. So, I'll leave you with this, what's your original dress story? What is the spark that inspired you? Maybe it's been doused and needs rekindling? And if you need time to reflect on it, then I highly suggest a drive down Rio Grande, but try not to do it all at once, I don't want the traffic congestion. ?
With light and love,
Dara