It's been four days since the Hopeless + Cause Atelier AW18 collection reveal to Society Fashion Week during New York Fashion Week. I am still reeling from the incredible experience. I was invited to participate as a designer just following my showing in September and after sharing feedback and hearing the ideas for this show, I immediately made the commitment to return and reached out to my incredible team of models and beauty professionals. Some responded just as quickly with their confirmations, others, because of the costs involved, weren't able to make the journey again.  And, I completely understood their response. I am not a full-time designer. I have a wonderful career doing empowering ,but demanding, work. I have two college students that have needs to be met and funding my passion project comes from my bespoke work and what I can put aside after I pay my bills. So, after setting up a payment plan, I got to work.
The inspiration for the next season always comes to me just following or in the midst of the current season. For AW18, Hopeless + Cause Atelier's woman was going to travel down the rabbit hole through her own Ms. Adventures. It was a loose adaptation of the Alice in Wonderland adventures. References describe this phenomena, as entering situations or beginning a journey that is particularly strange, problematic or chaotic especially becoming more difficult as the story unfolds. This lead me to creating possibilities out of impossibilities, living larger than life, and overcoming fears to seek out your personal truths. It translated to fitted demure dresses, fuzzy fabrics, over-sized pants and florals, yes over-sized, over patterned, out of season floral fixation for autumn and winter.
Confusion that never stops
The closing walls and the ticking clocks gonna
Come back and take you home
I could not stop, that you now know, singing

Come out upon my seas
Cursed missed opportunities am I
A part of the cure
Or am I part of the disease, singing - Clocks, Coldplay
I do it all…from design to conception; yes, it's me and my Brothers sewing machine. Because I work a day job, I reserve the evening and weekends for sewing. If you have OCD, or don't completely understand the creative mind, the rest of this blog is going to make you very uncomfortable. It may increase your heart rate, make you sweat, or make you a little nauseous, but for those of you who are brave at heart, keep on reading. I've said this before. I have something similar to what is described as writers block for writers. I have the equivalent for designers. I can only create when I am in the right frame of mind and I do much better under pressure. With that being said, I will preface my work by saying I completed all my fittings with my Albuquerque models the week before I left for New York. However, that represented only half of my model team, so as I packed my bags, they included the fitted pieces as well as the shells or as Laura, my BFF and counterpart this trip, stated, "little squares of fabric". I flew out on the Thursday night red-eye, a great non-stop flight into NYC but not so great when you are sleep deprived. You also have to understand, I not only serve as the designer and seamstress for this line, but I'm also the PR team. This means I'm working with the model and beauty team and trying to work my side to get press and showrooms to the show meaning I am working on my computer in the early and late hours getting emails out, posting on social media and following up with everyone. I had a couple of models who suddenly became MIA in the last month and that instantly meant to me they were no longer able to participate (one, just a week before the show) and I had to fill those slots. I also had a couple of MUAs that I hadn't heard from that I needed to fill in and that task ended up being more difficult to secure than the models.
"I stand on the sacrifices of a million women before me thinking 'what can I do to make this mountain taller so women after me can see farther'. - legacy" Rupi Kaur
I arrived in NYC at 5:51am. I probably slept 1-2 hours on the plane. After waiting for the shuttle and making the route to the hotel. I was dropped off closer to 9am. Thank God Laura arrived the day before, so I was able to go right up to the room and set up shop. My fittings began at 11:30am and continued until 5pm that day. I spent the time between appointments sewing, tailoring and totally redesigning looks. Laura was so gracious to play tourist during the day and left me at the hotel to get to work. She returned about 6pm and around 7pm we stepped out to grab a bite to eat. With finalizing the looks on both our minds, we returned to the hotel and I got back to work. Churning out garment after garment, I think Laura watched me through two lens: awe and anxiety. I was more than half way through when at midnight the sewing machine needle broke in my finger. Thank God it only broke in the fleshy part of my index finger. However, it was a total, "oh fuck" moment as I realized I hadn't packed any additional sewing needles and I had 5 garments to finish. We took a deep breath and pondered where could we get a sewing needle in NYC at midnight. First, we called a 24-hour CVS, the woman we spoke to said they had a sewing section, but she couldn't go back and check because she was the only one that was working the front of the store at that time. We talked about walking over there, but if they didn't have it we would have wasted 15 minutes and then had to go with plan B. Plan B – take a Lyft to a 24-hour Walmart in New Jersey. We jumped into Muhammad's Toyota Camry and took a 25-minute drive into another state, and ran into Walmart. I headed to find the sewing section; Laura to get snacks for this all-nighter. We met in the front. I properly instastoried the event, we paid for our goods and headed back to NYC. Interesting side thought---Buffalo Wild Wings is the happening place in New Jersey at 12:30am—the place was packed. HA, suburbia!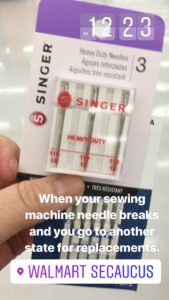 We got back to the hotel room and our $1.97 sewing needle need turned into a $120 adventure, but was well worth it. I got back to work. I think by that time we had burnt through The Hangover and Step Brothers. Pirates of the Caribbean was on when we returned (I need background noise). I wrapped up the last dress at 4:51am and was grateful that security hadn't been called because of the sewing machine noise into the wee hours of night and early morning. I sent a message (I'm sure barely coherent) to the model and beauty team and sent my music and logo to the production team before falling asleep for two hours. At 7:15am, I pulled myself out of bed, threw on a hat and sweats on and proceeded downstairs to greet everyone. The team was there ready to go. I informed the models that we'd focus on hair first and that they may need to do their own make up because I wasn't able to find proper replacements in time for the show. I grabbed a rack and then Laura and I headed upstairs to gather the clothing and steamer. The next 2 ½ hours were spent steaming, fitting, pairing the right jewelry and corralling the team into the line up and providing tips on their walk. At one point, it also included modifying sleeves because they were not working properly. Nothing like cutting and seam ripping to get properly in the mood. LOL! The music I chose for this show was White Rabbit by Jefferson Airplane, Clocks by Coldplay, and another more industrial version of White Rabbit by Emiliana Torrini. It was slower paced and almost had a military beat to create that intense stride for the models to follow.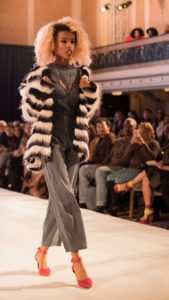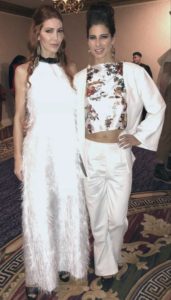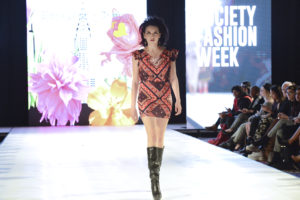 A little after 10am we were asked to proceed to the staging area. What always seems like forever and a day, we waited until our turn to take the stage. The room was warm with all that body heat and layers, but the models finally took the stage one-by-one and then the finale, as a group. I loved that there were so many different models represented this season, every model unique and absolutely beautiful. And like that, the show was over. We headed to the red carpet for photo and media opportunities. I had a moment to relish all the work we put into this show. My grin matched that of the Cheshire Cat as I looked on in awe. This feat was accomplished by so many traveling to NYC from all over the country. There were road trips, last minute model replacements, husbands volunteering their time as photographers and again, one of my best friends serving as my right hand support. Throughout the day, I was receiving messages of love and support, friends and followers were watching along on the Facebook live link with their warm comments. While I wasn't able to respond immediately, I hope "you" know how much they were appreciated. I spent the rest of the afternoon sleeping before we headed out that afternoon. Laura and I talked through the event and I shared my deep gratitude for her help. This was her first time in NYC and she spent so much time jumping in right where I needed her, and her assistance was priceless. The models and photographers grabbed some of the looks and photographed around town because why in the hell not, you are in NYC. We spent the rest of the weekend playing tourist, catching up and I started working on my next commissioned projects getting fabric and trim. I didn't go to any other shows this time around only because I so needed the rest, yet still had a soul filling visit. I've intentionally spent the last 7 months focusing on gratitude. Spending time each morning to say 10 things I'm grateful for. I typically don't share these blessings, but I feel compelled to do so today because my cup of blessings is truly overflowing:
I am grateful that my work takes me to places I love.
I am grateful that I was given another opportunity to show H+CA during New York Fashion Week and that I could add on the talents of Meri Fox-Szauter (hand painted design) and Found in ABQ (jewelry).
I am grateful for Amber, Carmen, Elise, Em, Hunter, Kimia, Kristen, Jamie, Jimmie, Leif, Noelle, Reanna, Shelby, Sofi, Whitney, Justine, Monica, Nichole, Jim and Brad, who traveled to make this show a reality.
I am grateful to Laura, who not only joined me in this adventure, but also helped to keep my sanity in check.
I am grateful for all the prayers and well wishes I received.
I am grateful for my children who, on the daily, inspire me to live my best life.
I am grateful for compliments, especially when you are very beautiful and wise are used in the same sentence.
Believe it or not, I am grateful for 24-hour Walmarts (even though I don't like their employment practices).
I am grateful that St. Patrick's Cathedral is around the corner and I get to start the season of detox and renewal there.
I am grateful for my belief and understanding that this is just the beginning of wonderful things to come.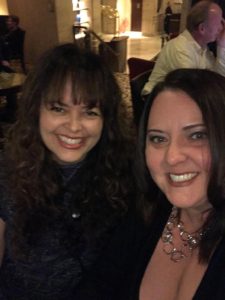 Thank you for joining me in this Ms. Adventure. Next stop London.
Until then,
With light and love!