Did you watch the Golden Globes? I always watch the red carpet to see what everyone is wearing. The other bonus to the Golden Globes is the fact that the event includes alcohol at the table, so I tend to watch it to see what faux pas occur thoughout the evening. Last year, it was announcing, La La Land was the movie of the year when it was actually Moonlight (not sure that alcohol played a role in that mistake, but it definitely was a faux pas). This year it was a little different.
"Women think of all colors except the absence of color. I have said that black has it all…" Coco Chanel
Women and some men dressed in all black in solidarity to make a statement about sexual harassment in the entertainment industry. The black reminded me of my middle school or high school days when I learned about students protesting the Vietnam War by wearing black armbands (another thing you may not have known about this designer, is that she is a history buff as well). As I started to write this blog, I had to Google the background on this event…it's been a few years, okay?!! According to Wikipedia, this protest occurred in 1965 by students between the ages of 8 (yes, EIGHT YEARS OLD) and 16. They were protesting the Vietnam War and supporting the Christmas Truce called for by Robert F. Kennedy. All but the elementary students were disciplined and suspended; they would be allowed to return to school if they complied with the request to remove their armbands. They chose not to and a suit by the Iowa Civil Liberties Union was filed. This suit went all the way to the US Supreme Court where it was to be decided whether to protect the students right to freedom of speech. For those who aren't familiar with this case, it set precedence for schools censoring speech based on perceived disruption in the classroom. This was how children, who are often told to be seen not heard, revolutionized the way we bring about change in the world through a small but bold fashion statement.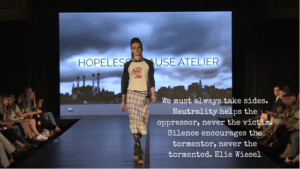 The program was on while I was writing my short story, Wrong Girl. I have been encouraged for a number of years to write about my life, adventures and encounters. I decided 2018 would be the year to focus on that story, even if it's only to start with the past few years. As much as I wanted to share my story, I've had this gnawing doubt and fear that no one would want to read it. As I was incorporating the next section, Cowardly Acts, Oprah Winfrey was called to the stage to be recognized for the Cecil B. DeMille Award. I stopped typing and looked up to give the television my full attention as she spoke. As many described afterwards, she spoke with elegance, she spoke in a presidential manner, and she spoke authentically, as she has done for many years. However, there was one line that I feel she saw me and was speaking directly to me.
"What I know for sure is that speaking your truth is the most powerful tool we all have." Oprah Winfrey
She talked about the Time's Up and the Me Too movements. She talked about people who have felt they didn't have a voice, who have been silenced by the powerful, and gave way to a "New Horizon". In that instant, I realized that whether or not my story is read by just me or 1 million, it is my story and my truth. I went on that evening and completed 27 pages before going to bed. The next day after work, I came home and searched YouTube to find and re-watch her speech. I found something more. I found the backstage press room video where she was able to answer questions from the Hollywood Foreign Press and others. There were great questions from "what is the greatest lesson you've learned through your life and career" to "what humbles you" to "what wisdom can you share with the future generation of entertainers". My favorite was "what advice would you give your seven-year old self". What she shared is that as a 7-year old, she was a sad little girl and that all her real love came from her teachers.
"You have no idea the power of noticing another human being and what it feels like when they have been seen, truly seen, by you." Oprah Winfrey
I remember being "seen" by teachers and mentors and those who truly SAW what, at times, I couldn't even see. A few years ago, I developed an incredible friendship with someone who believed in my power so adamantly that it scared me deeply because I was afraid I wasn't good enough or going to be able to live up to those expectations--the good ol' impostor syndrome. I was reminded often that I shouldn't question myself, even when I was questioned at home which always led me to internal doubt. He challenged me often to think about how I was going to change the world and would send the following quote as a reminder on more than one occasion, "if you realized how beautiful you are you would fall at our own feet." The first time I went out to a social event after the store closed--still feeling like I had really failed, and basically, pulling myself out of bed because of a bout of depression--I was apprehensive to be out and socializing. I didn't really want to be there but I also knew I had to face my fears and anxiety. That evening, when I was left alone while my date and bff went to get me a glass of wine from the bar, I stood there pretending to look at my phone, so I didn't look entirely like a wall flower. I felt this intense weight on me coming from afar. I looked up and across the field, I saw this person, who I hadn't seen in months, but who was encouraging me to still be out there moving forward, was looking at me. We caught eyes and he smiled. In that moment, I felt the full weight of that quote, not because of the outward beauty, but in the internal beauty we all carry. He didn't see my failure; I felt he still saw me. That feeling is addictive and I enjoy sharing that drug…helping others see how beautiful they are.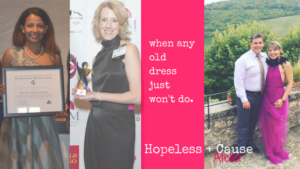 In Oprah's professional career, she made sure that whomever she interviewed, whether famous or infamous, was made to feel that they were seen, and their voice was heard. In this day and age, when information is so readily available through social media, it is so easy to be swayed in one direction or another. We are seeking to create a connection yet failing to understand not only differences, but also failing to create inclusion. What we all bring to the table is a gift not a barrier. When you come from an authentic place, and you work to align that with your passion, that's when you've reached self-actualization, and that is where the real power comes from. The awards event carried heavy undertones and outwardly comments about the abuse in power, but that abuse doesn't come always come from men. I know plenty of men who have supported women, treated them with dignity and respect, and have spoken against others for their inappropriateness. I have known many women who have spoken poorly of, have been passive aggressive toward, and attempted to ruin the reputation of other women. I think a perfect example of this from that evening, is Blanca Blanco, the actress who chose to wear red to the event and was shamed for her choice. While the protest was to wear black, maybe the protest should have been for empowering women to wear what they want without fear of reprisal from men or women. We are so concerned about fitting people into the box of how we think they should act, dress, speak, and live their lives. If they stand out from the mainstream norm, they don't belong. And I was brought back to those in power. We seem to continually forgive leaders who openly speak of disrespecting women, people of color and nations of the of the world, and we don't hold them accountable for these acts because the economy is on the upswing. There is something fundamentally wrong with this. Wasn't this the same divisive rhetoric and blame used by Nazi propaganda to rise in power in Germany?? At least, that is what I recall reading about in high school world history.
"The ultimate measure of a man is not where he stands in moments of comfort and convenience, but where he stands at times of challenge and controversy." - Dr. Martin Luther King Jr.
I started my reading goals this year by ordering The Power of Now, by Eckhart Tolle, The Sun and Her Flowers, by Rupi Kaur, and Tiny Beautiful Things: Advice on Love and Life from Dear Sugar, by Cheryl Strayed. Not originally an avid reader, I have learned to love books; they are at times my escape mechanism or my therapy session. I have made it a goal each year to read twenty minutes every morning before the sun rises. I love bound books more than digital versions. I think I've told you before, I love the smell of them. I love highlighting and underlining the words, and writing in the white spaces. However, after I placed this order, I was given the opportunity to open up the digital copy of the "Dear Sugar" book. I almost couldn't stop reading it all the way through.
"I happen to believe that America is dying of loneliness, that we as a people have bought into the false dream of convenience, and turned away from a deep engagement with our internal lives—those fountains of inconvenient feeling—and toward the frantic enticements of what our friends in the Greed Business call the Free Market. We're hurtling through time and space and information faster and faster, seeking that network connection. But at the same time we're falling away from our families and our neighbors and ourselves. We ego-surf and update our status and brush up on which celebrities are ruining themselves, and how."
Dear Sugar has become so important in this day-in-age because she offers something "almost unheard of in our culture: radical empathy." We have all been there whether we realize it or not. It is life. It is not meant to be fair, it's meant to be lived. There are moments where we feel pain, fear, shame or rage--we are alive in that. And, we are alive when we can take that empty place and build from it. I swear I put something in the universe and like a Facebook algorithm or digital cookies it comes back to me. I am on social media because I am trying to sell something that I believe I can offer, a product that will better the life of my customer, and it's an easier method to reach the masses. I do research and make connections through the innerwebs, but my most powerful interactions don't come from this online presence. I believe in the power of human interaction. A few weeks back, I invited a few girlfriends over for an after work get together. I cleaned up my casita and made a few tapas invited them to bring their favorite food and/or drink. Most of the women who came over that evening had never met each other  before. I concocted a back up plan of playing card games in case the conversation became lacking. The conversation went on for hours we laughed and talked about backgrounds, passions, love and loss. It was such a wonderful evening; my plan is to do it again next month.
And then it came full circle--darn universe cookies!! Today, I took my son to the movies as part of his birthday gifts--this gift was the gift of following your passion. I wanted to take him to see The Greatest Showman. I didn't know much about it except it was a musical (his love), was about PT Barnum (what did I say about history?), it included Hugh Jackman, Michelle Williams, Zach Efron and Zendaya and was up for a number of awards at the Golden Globes. My opinion...it should have won SO many of the nominated categories. I loved the modern choreography and music, but the premise even more. It was about aligning your passion to your life's work, truly SEEING the beauty in people, in their differences and their value, and "rewriting the stars". I plan to see it again and again and again.
Do you see who is in front of you or are you to consumed by what you might be missing? How are you seeing them? Is it from your perspective and bias or with an open heart like a blank canvas? What are you using your voice to do—speaking up or shutting down? We all have the power to really see, however it's really the matter if we want to.
With light and love,
Dara Sophia