When was the last time you screamed?
…from the top of your lungs and with all your might? Didn't it just feel good to just release whatever was bottled up inside? When my kids were smaller, I taught them if they were in pain (for example if the accidentally kicked the corner of a chair) to grab a pillow and scream into it with all their might and let it go. It was such a foreign concept. My daughter grabbed a hold of it and still to this day, follows this act. My son, however, still struggles with the idea of it. While screaming is cathartic for the beholder, others tends to react in a way of being annoyed by this behavior. It is taboo to scream in a crowed place unless the action taking place requires a similar reaction like a futbol game. And we've been so desensitized that most people often look the other way when someone screams in distress. Yet, growing up you may heard the phrase "I scream. You scream. We all scream for ice cream!" So, screaming can't be entirely bad for you, right?!?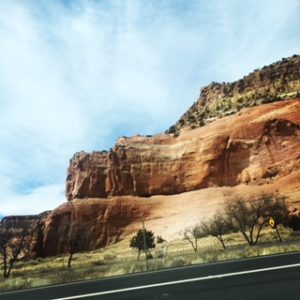 The kids and I recently took a road trip to Los Angeles for their spring break. It was something we had been planning for months and were so excited to head out of town. As my son and I jumped into the car and headed out to pick up my daughter, I sent her a text to be ready since we had 11 hours ahead of us. As we approached her house, she responded that she had just woken up and still needed to pack. I took a deep breath and said we needed to put gas and that we'd be there in 15 minutes. I asked her to be ready when we arrived. She wasn't. We sat in the car waiting. The anticipation of finally getting out of town and knowing the road ahead of us was long, I was also frustrated because she and I had talked the night before about being ready by a specific time. By the time she had got to the car, I was doing my best to not explode. And then because she was as equally tense and frustrated, she made a comment that I don't even remember, but it set me off. I talked about being responsible and being on time. She talked about her long week and sleepless nights. We weren't listening to each other and trying to talk over each and it turned into a full out screaming match. It was a great way to start the trip, trapped in a car with emotions high. At that moment, none of us (especially my son) wanted to be there.  Three hours later, as we approached Gallup, New Mexico, we were us again. We stopped at our traditional road trip pit stop, Blake's Lotaburger, and talked about lunch. We didn't address the issues from before except to apologize and leave what happened in Albuquerque, in Albuquerque. The rest of the trip was great. My son drove, while I danced in the passenger seat (yes, I boogie in my seat…what can I say, I am the life of the party). My daughter slept in the back seat to catch up on what she had missed in the past week due to midterms. We got into town, settled in our room, and talked about plans for the next day.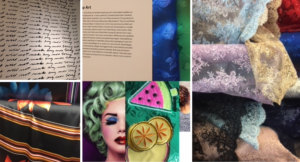 The next day was a rainy California day. It never rains in Southern California, except when my son and I visit. We have decided that we are the cure to the Cali drought. Saturday was all about business. I offered the kids brunch if they went with me to the fabric district and helped me haggle for my needs. We fueled up and hit the store fronts. I loaded up on some exquisite options–I'm working on a wedding dress and the day before solidified plans with creative soulmate for another Albuquerque guerrilla photo shoot. Still not sure of the theme, except high fashion meets street, I found bright pops of color and fun accents. As we walked about my daughter squealed in delight with the scent of the food carts the grilled meats and onions tapped into her senses (even though she complained of a full stomach). After I made my purchases, we headed over to Santee Alley, where China meets Mexico, it's such a meshing of cultures and a market place that could only live in Downtown LA. The rain really started to come down so we opted to go to find respite indoors at the MOCA (Museum of Contemporary Arts). I was excited by the collection of Brassai, Arbus and Goldin on exhibit. My favorite medium is photography and especially the unexpected. As we viewed the exhibits, I stumbled across an artist building her installation, we still here, there. Open for exploration, the exhibit focused on black life in South Central LA. French artists, music and language was also circling about my head. Culturally, I felt like I was all over the world, and then it hit me like a ton of bricks, my inspiration was a modern girl's guide to life through a pop art lens.
Brushes with darkness won't help you create
Your destiny of self but ARTPOP could mean anything, anything
I try to sell myself but I am really laughing
Because I just want the music <fashion>, not the bling
After our adventures we opted to stop by the corner Whole Foods and decided to have an indoor picnic back at the hotel. We got back to the room and we were in such a lighthearted mood, talking about our finds as we noshed on our feast. We talked about plans for the next day. It was supposed be nicer, weather-wise, so I suggested the beach. My daughter suggested more museums. My son said he'd be happy with anything. I secretly knew he was dying to return to Universal Studios, so I tracked down a discount via AAA and I bought the tickets. I could have sworn he was ten years younger. I haven't seen him as happy and childlike as I did in that moment. He wrapped his arms around me and squeezed me so tight, saying, "thank you, momma". I knew in that moment how much he meant it. I wanted to scream in pure delight but instead squeezed him back. The rest of the night it was incredible: sitting back and watching the two of them interact. Again, it felt like it was years before when they were much younger, they were so playful–teasing each other, laughing and just enjoying each other's company. The room was filled with such incredible light energy and it was one of those rare moments that made my heart full.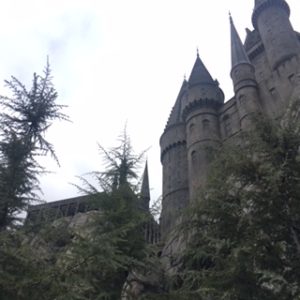 Believe it not, we were up and ready by the time we committed to (I think because we were all like small children excited for the day–my son admitted he didn't sleep well because he was so excited). We got to the park early and headed straight for Harry Potter Land (don't judge). What my son and I realized from our visit the year before was that to bypass the lines we needed to ride as "single riders". The three of us basically walked right to the front of the line and jumped on the ride. It was the first time my daughter had been there since the new attraction. As we talked about the rides, we realized we hadn't been to the park together for almost 10 years. And again, I saw them through a different lens, on the outside they look like young adults, yet they were so youthful that day, like a movie montage where the adult turns back into a child. We hit the other rides in Harry Potter Land then went over to Springfield for the Simpson's ride. Again, we were able to jump right on. I was reminded how much it sucks to get older as I felt like I had vertigo after getting off the ride. We headed down to the lower level and road what I decided was my favorite ride, the Mummy, it was an interactive roller coaster that traveled both forward and backwards. I screamed at the top of my lungs and laughed nervously (and didn't look at the photo capture after the ride because I know I looked a fool). We then went and rode the Transformers ride and to my daughter's displeasure, went on the Jurassic Park ride. She had an adverse experience on the ride when she was much smaller…okay the animatronic T-rex scared the bejezus out of her. She survived and we headed back to the upper level to the Despicable Me ride (bananas!) and totally avoided the Walking Dead attraction. I WISH!!! I think my son likes to make me walk through the attraction because I scream so much it reminds him of this Ellen show.
Remember, I am the life of the party. We rounded out the day with the Back Lot Tour and some Butter Beer. We all talked about how perfect the day was. The weather was ideal (overcast, no rain, lower 70s with a breeze) and we honestly didn't wait for more than 20 minutes for any given ride. I don't recall any time we had gone to any theme park and were able to go on all the rides and hit all the places we wanted to see like we did this day. It was still early so we agreed that we wanted to go see Black Panther. We got our seats and got some popcorn and watched what was a really good super hero movie (I do watch other genres but I'm always down for cheering on someone wanting to save the world). We dropped off my daughter at her friends' house that evening. My son and I drove back to the hotel talking about our day and high points (I have made it a habit to always ask about high points and low points of the day). We both couldn't believe how perfect it was and I grinned from ear to ear. He and I were leaving back to New Mexico the next day so we headed to bed early.
I woke that morning and decided to head out to Redondo Beach before hitting the road. A few blocks from the beach was a church, St. James, so I decided to stop and reflect on my visit. The door was wide-open so I walked in and took a seat at a pew. I silently shared my gratitude and a few prayers for a safe trip home while admiring the stained glass, architecture and sculptures. I felt an immense amount of solace in that moment. A few minutes later, I got back in the car and made my way to public parking. It was still relatively early in the morning and there were only a few people out. It was so incredibly peaceful and serene. I exhaled a deep breath, a scream without the sound behind it. It was such a release of joy and happiness.
We hit the road mid-day and because no travel that I'm involved with can't be without Ms. Adventures moments, we were stopped by New Mexico State Police outside of Grants, NM about 11:15pm (so close to home). Originally, my son was stopped for speeding, but then the officer ran the plates and came back asking for the keys to the car and our driver's license because the car was reported as stolen. I raised my voice and asked, "are you kidding me, it's a rental car and I gave you the contract?" After talking with the rental company and handing over the phone so the officer could talk to the representative. He let us go (which I was reminded by my colleagues that if it were them, they would have had guns drawn—yikes!). My son was completely bummed thinking what bad luck he had. I informed him it wasn't bad luck; it was a story we would laugh about once we got home.
The past few months I've wanted to scream out of frustration, stress and anger, but that weekend I was taken back to when I would scream for excitement and pure enjoyment. When I scream for pain, I'll grab a pillow, but next time I open my lungs it will be for happiness…remembering that saying, "I scream. You scream. We all scream for…" What excites you that you will scream for?
With light and love!