I'm not going to lie, my jaw drops, when I see a man that takes time to put himself together. Sadly, I wish this occurred more often than it does. So, I thought this would be the perfect opportunity to talk about wardrobe essentials and summer trends.
Women look at men <in a fine tailored suit>, like men look at women in lingerie. Steven Keator
The first thing to invest in is a suit
If you can't afford a tailor-made an Italian Suit, your next best option is to have a suit that fits well, tailored to your body. This not just buying a suit jacket, but investing in the complete suit. Where to start?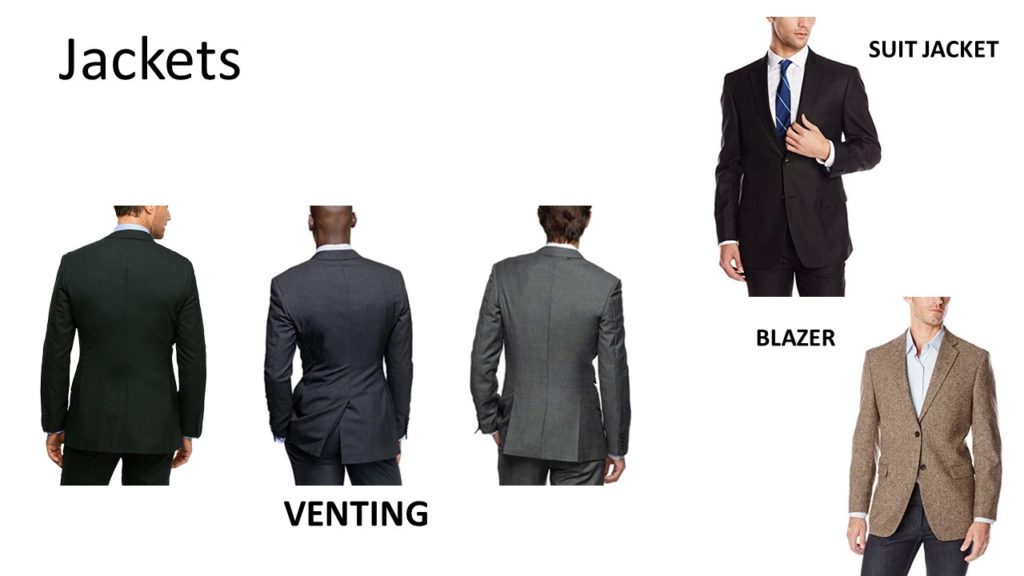 A little background on venting–the back slits in a suit jacket are to give men more room to move. From what I've been told this goes back to the time when men first started wearing jackets while riding horseback. The dual vent is relative to the English style suit, the single vent is American, and no vent is Italian. Now here's the key to your suit, every man should own one (refer to the quote above). Why? It's your go to for special or important occasions, so find one that is classic and can travel with you through graduation, job interviews, weddings, funerals and other events. First step, get fitted. Many men's fine clothing retailers will to this for you with no charge. You will get your suit size as well as your fitted shirt and pant sizes. Next step, try on different styles to see what looks best on you–shawl collars, double breasted fronts, pinstripes, etc. While your in the shop why not have some fun trying options you may not buy but can gleam how they will look on you. Here's what you need to look for as you are checking out your bad self in the mirror.
Q: Where do the shoulder pads end? A: They should end at your shoulders.
Q: Where does the top button of a two-button suit fall? A: It should not fall below your navel (and this is the case for middle button of a 3-button suit).
Q: Where should your suit jacket fall? With your arms at your sides, your knuckles should be in line with end of your suit.
Q: Where should your suit sleeves fall? A: The suit jacket should fall at the base of where your thumb joins your wrist (and should leave approximate a quarter to half inch clearance for your shirt to peek out and say, "Why hello there, I am put together rather well, wouldn't you say?").
As far as the fit for the jacket, when buttoned, you should be able to slide your flat hand into the suit under the lapel. If you make a fist, it should pull on the bottom of your suit indicating tightness. That's how you know it's appropriately caressing your body…you're not swimming in it or it's not too tight.
Now that you've purchased your suit, set it aside and only wear it as a complete set. Don't wear your suit jacket with your jeans or chinos, only the slacks it's married to. Put your money into the suit and tailoring, buy an off the rack sports coat or blazer for your slightly more casual look. These jackets are made to be a little less fitted in order to wear in layers. Suit options–check!!
Clean shirt, new shoes
And I don't know where I am goin' to
Silk suit, black tie,
I don't need a reason why
They come runnin' just as fast as they can
'Cause every girl crazy 'bout a sharp dressed man – ZZ Top
A GUY'S TALE: TAIL IN OR TAIL OUT
Not all guys know their fitted shirt size (go back to the beginning and get professionally fitted and then come back here) or when to wear what style.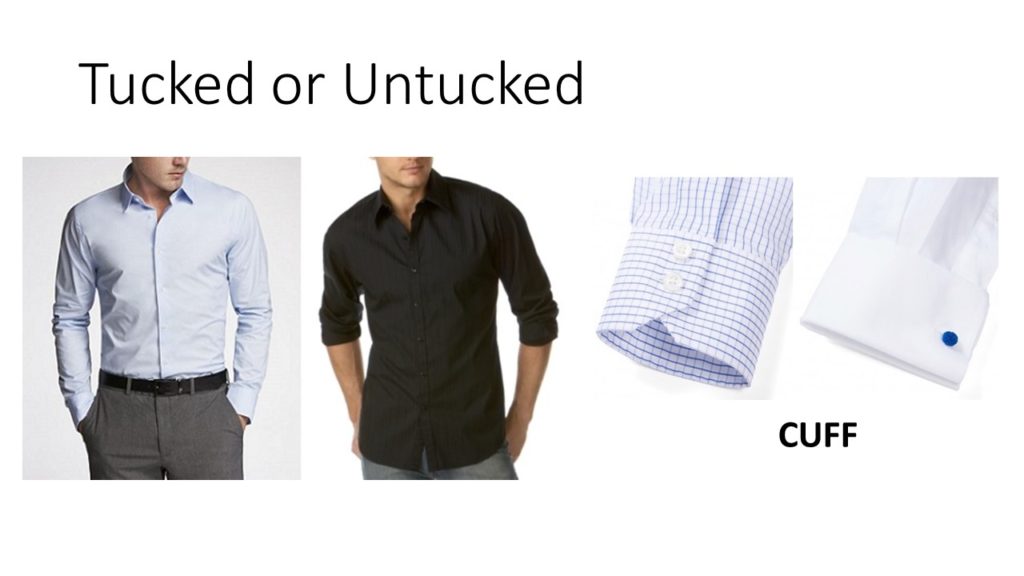 Your fitted shirt can be another way to show your personality. Not only in the material, but the fit, stitching, buttons and cuff. The French Cuff, or Double Cuff, are a more formal option and are typically worn with the suit and generally not on their own (unless you're me and love dabbling in men's fashion inspiration). The more common option is a single cuff with either a single or double button enclosure. When you want that polished or more professional look, I would suggest that you tuck in your shirt. You can tell whether or not a fitted shirt was made to be tucked in or not by the length and the detail on the hem. An untucked style of shirt is typically shorter in length, like that of a polo or t-shirt. Some independent and fun lines have connecting detail (different material) that connects the front tail and back tail, but the AHA moment on whether or not your shirt should be tucked in is if the back tail is hanging out of your suit jacket.
As far as short sleeves or rolled sleeves in the summer… Both are great, but there is something that's a little more fashion forward (and hot) with the a wide rolled long sleeve that falls just below the elbow (and especially when there's a cool tat peeking out). Fitted Shirts—Check!
Boys boys boys
With hairspray and denim
Boys boys boys
We love them! — Lady Gaga
FIND COMFORT IN JEANS
Forever, women have had options on their style of jeans but over the past few years guys only had a few options: regular and wide legged or boot cut. Now there are so many options to fit various body types from the super skinny jegging variety to gansta baggy, drawers showing variety. Here's a graphic of the basic types: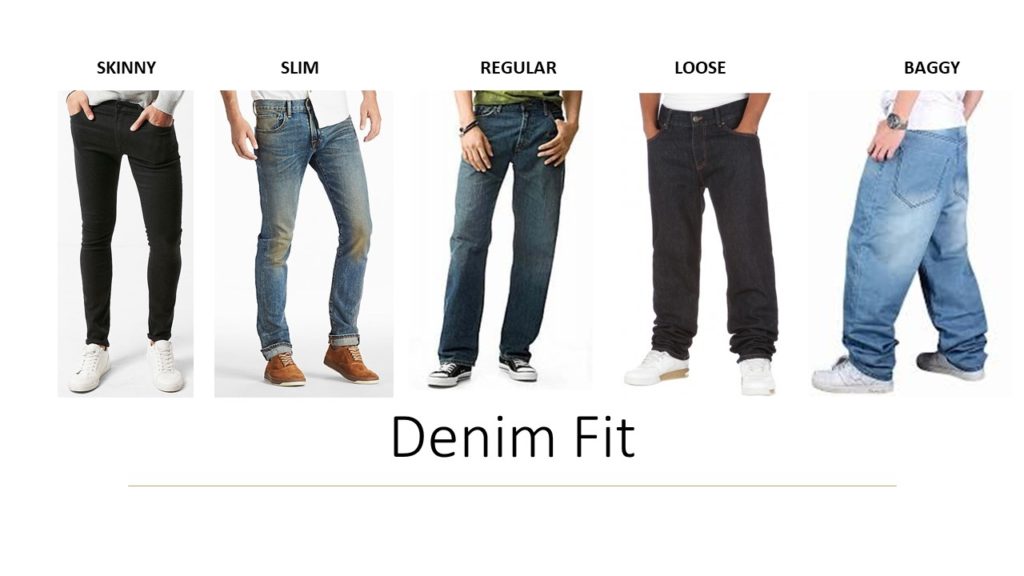 When you find a fit and brand you love and loves you back, make a wardrobe investment.
"I like my money right where I can see it…hanging in my closet." Carrie Bradshaw
So let's talk body type for the right fit…
If you have a thin lean body type (envisage a rectangle or ruler), you want something to stick with a slim or regular fit type of jean. A skinny jean will make you look skinnier and a loose to baggy fit will make you look like you are swimming in your jeans. For those with an athletic build (think hour glass or two mirrored triangles), skinny jeans typically have a bit of stretch in them which will help to actuate your build. The other option that will work best with this body-type because this build typically has muscular thighs is the loose fit…generally, regular fit doesn't work because of the straight leg nature of the pant and the tightness around the thigh. Slim fit doesn't normally work because you look like the hulk busting through your pants. Baggy is an option because of the typical build smaller waist you just have to be careful not to wear an over-sized top or you just look like Kris Kross (and Mac Daddy, you won't make anyone jump, you'll just look like a kid wearing his dad's jeans). For guys that have broad shoulders and/or are more muscular on top (an inverted triangle), the best fit for you is the regular fit or a relaxed fit, this creates more proportion for your body. For guys with wider hips or waist, go for regular, relaxed fit or baggy (but not too baggy…did I say how much I loathe the uber baggy look, really, why wear jeans?!? Put sweats on). Of course these are the basic types, but every body type is in variations so when you find the one that works for you, snatch them up.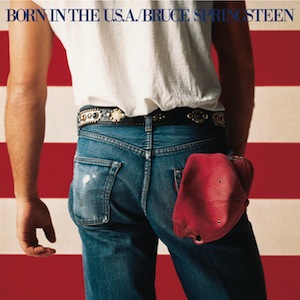 I love the look of a rugged, worn jean. But nothing says high style <to me> than a dark wash denim especially with a woven jacket and a crisp light blue shirt. If you like a good fit that's not too rough, make sure to look for a blended jean—cotton with elastane (stretchy polyester). A premium option is selvedge which is a tight woven stiff denim that includes a clean finished edge and typically doesn't unravel. Another option is raw denim which is untreated and not pre-washed. Now, you've got a lifetime of jean knowledge—check!!
My friends at KRQE asked me to pull it all together just in time for Father's Day so I called on the masterminds in local men's fashion: Rufus at Izzy Martin and Ryan at Toad Road and brought the Andrews together to pull off some fashion forward and classic looks.
I was invited back in the next hour to talk about summer trends, but was unable to get the video, so I'm going to give you the run down on some trends to keep you feeling and looking COOL!
Because men tend to dress in more layers than women. Here are some lightweight fabrics for you.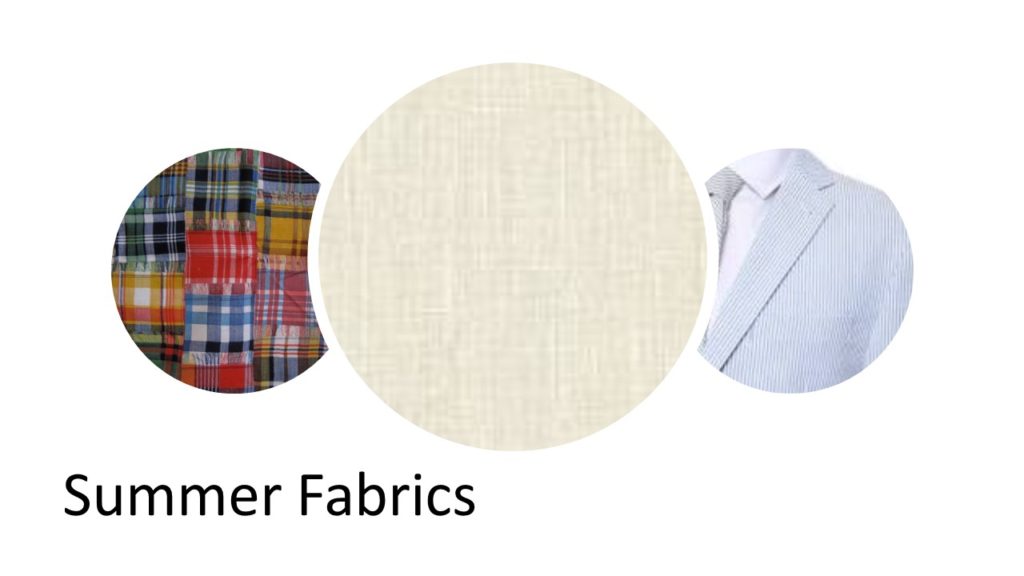 Madras – a strong, fine-textured cotton fabric typically in vibrant color stripes or checks…it takes it's origin from a former city with the same name in India
Linen – a light-weight, often open weave fabric made from flax…easy breezy but typically very wrinkly
Seersucker – I always think of the American south and a southern gentlemen with this fabric, but it has Persian roots. This puckered, cotton fabric, normally patterned in stripes is perfect for summer
Chambray – when I think of chambray, I think of a light weight denim but only recently was properly educated that it's a woven gingham cloth with a linen finish….most commonly in indigo so it gives that denim feel
SO with the scoop on the fabrics, what are some of the trends?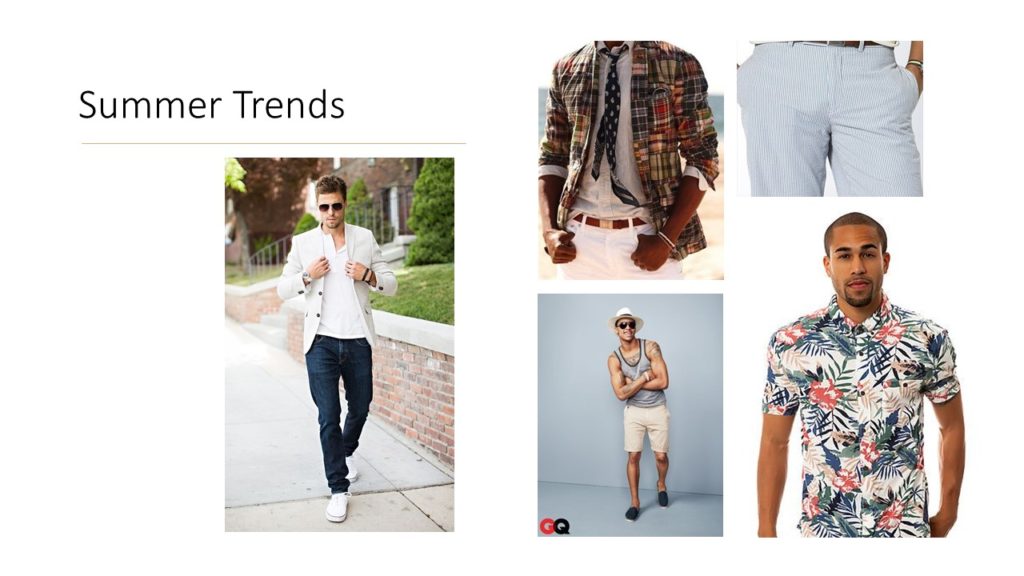 Summer is all about color and having fun with your choices. This is the season to be a little more fashion forward in your choices and just have fun. Feeling confident and comfortable in your look says everything.
If you've read all the way through, you've built your wardrobe essentials and fun summer picks—YOU'RE WELCOME!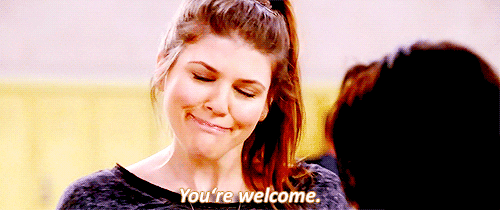 With Light and Love,
Dara Sophia