There is an appointed time for everything,
and a time for every affair under the heavens.
A time to give birth, and a time to die;
a time to plant, and a time to uproot the plant.
A time to kill, and a time to heal;
a time to tear down, and a time to build.
A time to weep, and a time to laugh;
a time to mourn, and a time to dance.
A time to scatter stones, and a time to gather them;
a time to embrace, and a time to be far from embraces.
A time to seek, and a time to lose;
a time to keep, and a time to cast away.
A time to rend, and a time to sew;
a time to be silent, and a time to speak.
A time to love, and a time to hate;
a time of war, and a time of peace. – Ecclesiates 3:1-8
I woke at 2:00am, Sunday morning, and change was on my mind. It was fall break, so I decided to hit the road with my minis. We opted for a trip to Denver for the long weekend. We hit the road on Friday morning, and no, this time no screaming (although the girl did initially forget her bag so we had to go to her house to get it—I've learned to roll with it; it makes for good writing).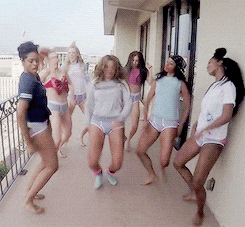 I love me a good road trip. As I've said before, it gives me the chance to really contemplate what's happening in my world, enjoy the beautiful countryside, and dance in my seat (this time I had the whole car dancing with me).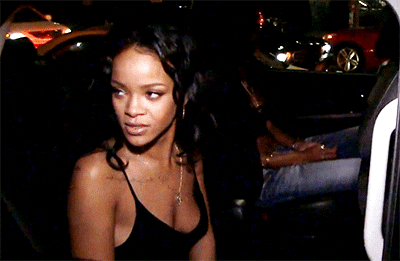 The incredible vistas reminded me of changes.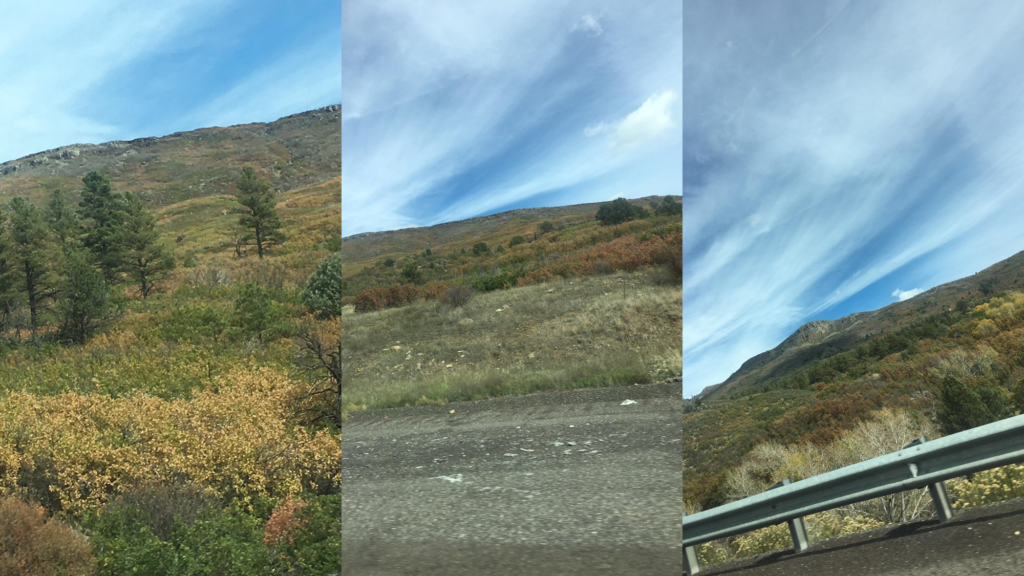 The changes we choose to make… The changes we didn't necessary ask for, but adapt to… The changes that naturally occur, like the changing seasons… The most vibrant reminder, I found along the highway. We arrived in Denver and the immense beauty of fall—the golden, orange and red hues—was a welcoming sight. My plan was to make it to the RiNo district, meet up with a friend or two, and just spend some quality time with my minis.
A few days before we left, Cati mentioned how stressed she was about an upcoming paper. I told her if she needed to stay behind, I'd understand, but I also wanted her to realize that we won't have many more moments like this and I'd really like for her to go. I explained that life changes too quickly, soon she'd be graduating and either going off to grad school or working full-time. Even if she needed to spend one of the days at the hotel researching and writing, I'd still love to see her, but not if she was going to be stressed. She agreed and after our initial hiccup we made it out there.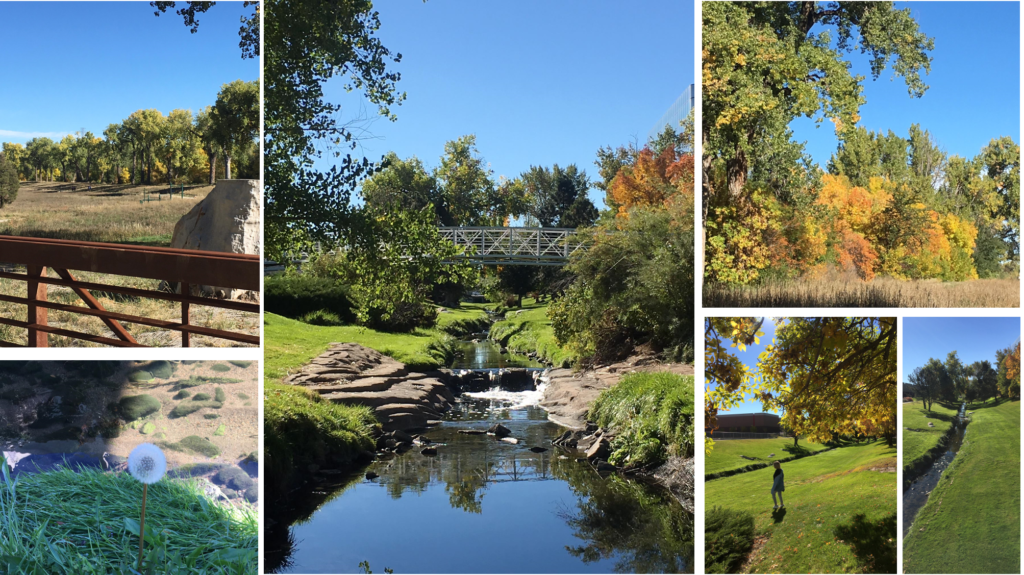 Saturday, we woke up to a beautiful morning; she and I decided to take a walk. Behind our hotel, ran a manicured little creek. I've stayed at this hotel a few times and in the past just reflected at the bridge over it, but being the explorers we are, we decided to follow it further. We stumbled upon a walking path that divided a large park and a quaint neighborhood.
We walked for a few miles in the beautiful fall sun, feeling the breeze and admiring the trees shimmer in the light. Everyone we came across, I said "hello" to. More often than not, it was met with either a grunt or complete silence. Cati questioned why I continued to say, "hello", to people when they didn't respond. All I could think for my response was, "it doesn't reflect poorly on me, it reflects poorly on them." I've always greeted people I meet. I've been scolded at times for being "too friendly". I believe greeting everyone you meet with dignity and respect. There are a few reasons why, 1. because at the core, it is who I am. I say, "Good morning, sunshine" with intentional warmth. AND 2. as a woman, I also do this for my safety and security. I want the person to know that I see them and I am paying attention to all around me. The only person we came across that was as sunny and outgoing as we were, we found, was from Chimayo, NM. Maybe New Mexicans ARE the friendliest people out there. We walked for about 1 hour and a half. It got to a point where Isaiah called because he was worried about us. No need to be, we were just enjoying the autumn sun and each other's company.
Isaiah and I left Cati to her homework and decided to play tourists. It was the perfect day to wander around RiNo – River North District in downtown Denver (or as Cati called it, the gentrified area of Denver). Once made up of industrial buildings and businesses, it is now an incredible arts mecca of the city (at least in my humble opinion) with local boutiques, galleries, $$$-$$$$ eateries and breweries/bars. I wanted to go there to see the street art which I had been ogling for weeks before on-line. It did not disappoint.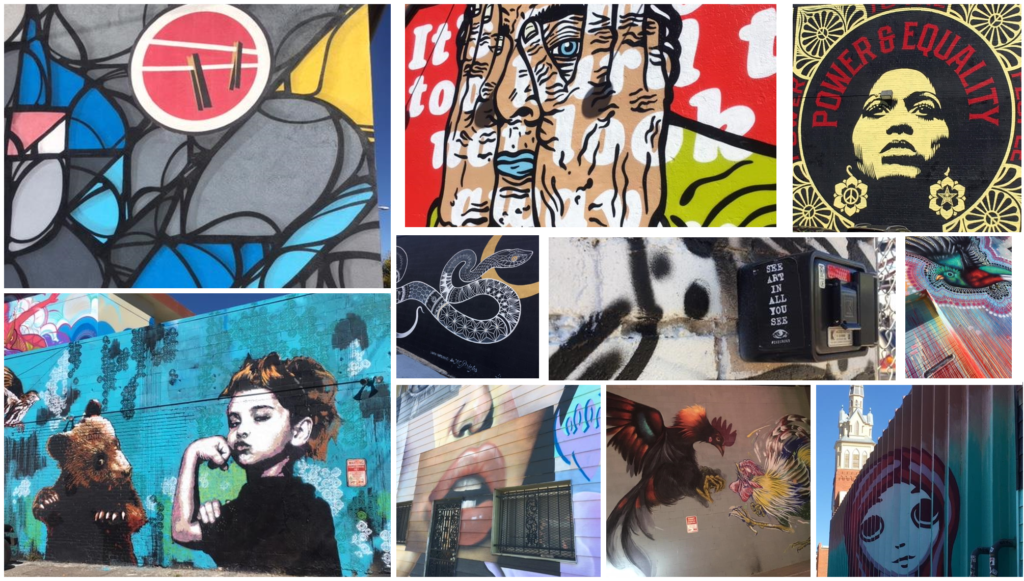 There was one that I REALLY wanted to see that had been calling me when I saw it online. It was stark. It was hard to look at. It was real.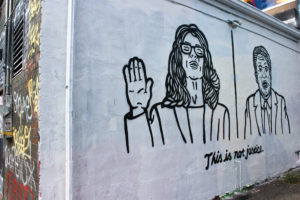 When we arrived, it had already been changed.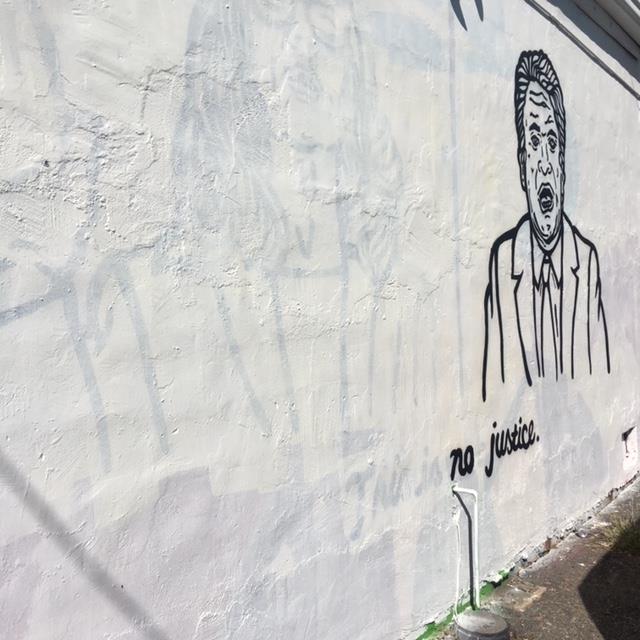 I read that the artist changed it purposefully to take a stand. And again, I thought about the changes we make. Can we really make a difference? Think of that rain drop rippling the steady water. Can changing habits make lasting impact on your life, on your trajectory, and the world around you? Think of Charlie Jabaley. And with that work, are you truly ready for those changes? I know people who jump at the chance for change, but aren't fully prepared, and then are upset that things didn't turn out the way they expected. I also know people who live their life in that comfort zone…fine with everything being "okay", but then complain that life is passing them by.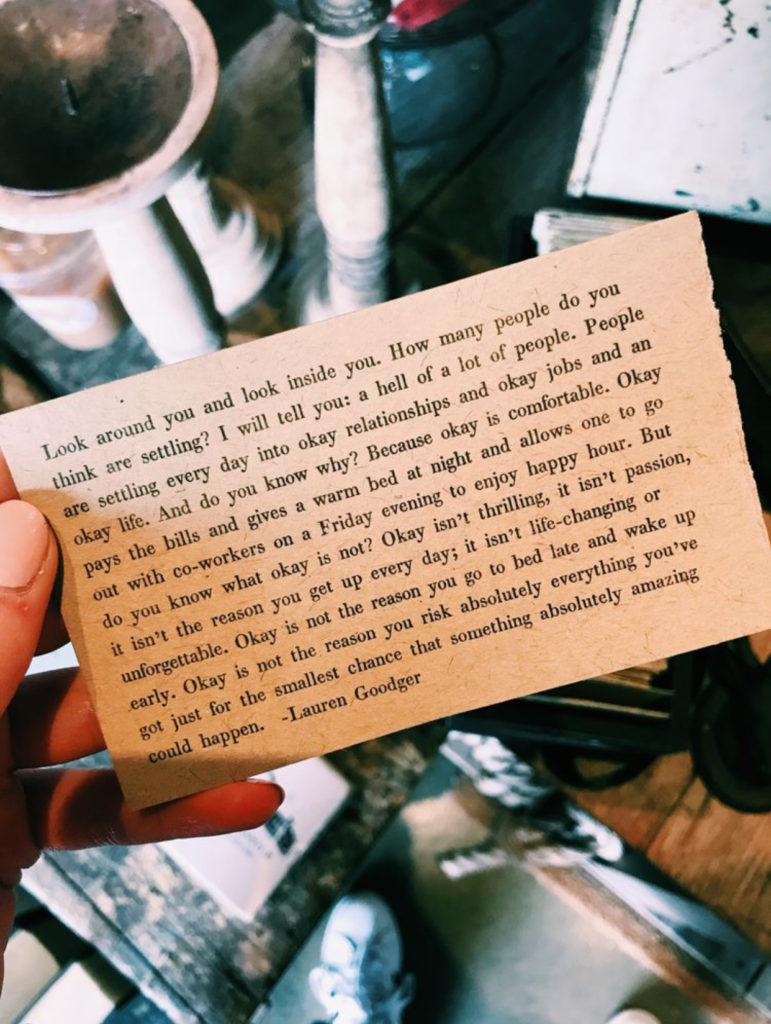 About six months ago, I was having a conversation with a friend. She was talking about moving East because the opportunities were more abound than her current location and wanted a change of scenery. She put her resume out there, but unfortunately nothing was coming to fruition. Then life happened, as it does. She became the primary caregiver for a family member and while she loves the career she has, she wasn't getting the respect and support locally. And just a month ago, a door opened. She was invited to participate in a prestigious role for the next 18 months. It was all she was wanting less than a year ago, yet when the opportunity finally presented itself she wasn't sure it was what she still wanted. I think as women we struggle more when it comes to opportunities and responsibilities than our male counterparts. The only thing I could think of telling her is that maybe it is time for another family member to help out and since this is a limited, INCREDIBLE opportunity, if it called to her she should take it.
Still don't know what I was waitin' for
And my time was runnin' wild
A million dead end streets and
Every time I thought I'd got it made
It seemed the taste was not so sweet
So I turned myself to face me
But I've never caught a glimpse – David Bowie, Changes
I try not to get too political in my writing. I am a moderate "independent". I believe in fiscal responsibility within our government and support services to empower citizens. I also believe we all have a voice, I think it's time to change and FACE the strange. I remember visiting the legislative session a few years ago with community leaders trying to understand as a business owner, how I could lend my voice. One of the individuals I was with suggested I should run for office. I laughed and said, "oh, hell no". I admire those who run for office. However, there is way too much bureaucracy and too many back door deals that happen. I believe in getting shit done. I volunteer for that reason. I vote for that reason and I speak up when those marginalized or traditionally left without a voice are not heard for that reason. If you want to see things change, I urge you to do the same. Use your voice, act and get out there and make change. So, Sunday night, I was restless. The act of creation is change and my focus was on a white wall, where a woman's voice was covered over. I believe we are at the twilight of some big change on the horizon. And the next morning, I awoke to some major change to my surroundings. Overnight, it had snowed 3 inches.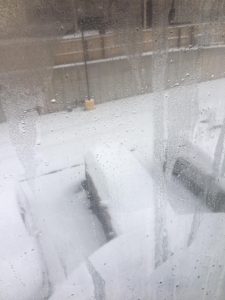 We were prepared and ready to face that change. We packed up, bundled up and hit the road back home, ready for the week ahead. What changes are you making this week? Is it personal, professional, major or subtle changes? Be careful of drastic ones, like hues of Pumpkin Spice Latte, because you do have to live with them.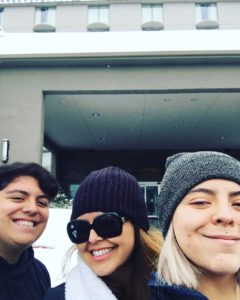 With light and love, from me and my minis!
Dara Sophia