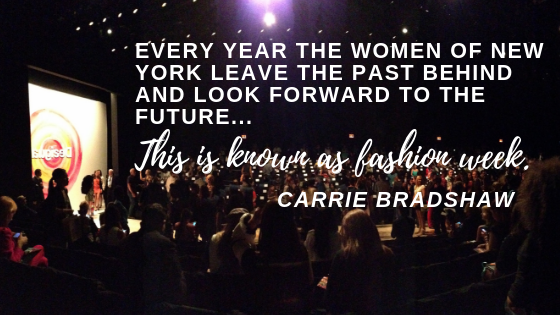 I am dying. Not literally (wait, I guess we all are), but I am in in the fact that Thursday was the end of New York Fashion Week. Throughout that previous week, I had been reminded every day with invitations to show and events (and secretly accepting them: 1. to stay on the list and 2. just in the case that I was able to fly out, I'd have my reason). AND…AND…to top it off, Isaiah got the latest Spiderman game with beautiful graphics of my beloved city. I kept trying to get him to be a tourist and web-sling to my favorite landmarks to really see how true to life the CGI is, but crime prevailed and he had to live up to the friendly neighborhood crime fighter. I know whine, whine, whine….but really it does call to my soul.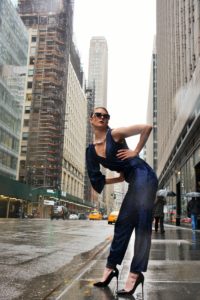 For those who read along consistently, I write about my NYC travels all the time and sometimes only in my dreams. I visited the first time in 2005 and I was hooked. It was Christmas. It was magical. I was constantly being stopped and asked questions because I was mistaken as a local. I had been told over and over that this city is rough, that people are rude, that it's dirty and it stinks, and it's too industrial. It inspires me. It re-energizes me. It reminds me that if you work your arse off you can achieve your goals.
Caught up in the in-crowd, now you're in style
End of the winter gets cold, en vogue, with your skin out – JayZ
I love people watching while walking around Chelsea, or on Bleecker St, or on 5th Avenue. I love running in Central Park and heading over to the Hudson Hotel to work out of the Commons (I guess it's Unami Burger now) or sipping a cocktail on the rooftop (and even though they've taken it off the menu, I still ask for my Pink Slip and they always graciously oblige). The first time I stayed at the Hudson, I went out to the atrium after a morning run and as I sat there with a book and my coffee, I looked over and I found her sitting on a bench. She….is Our Lady of Guadalupe. It was a sign for me, that little bit of home.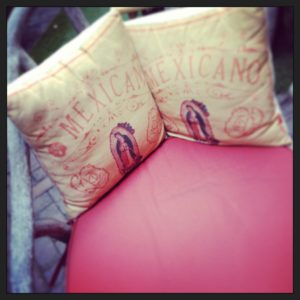 I love praying in St. Patrick's Cathedral and being inspired by the holiday department store windows. I enjoy high end dining as much as I enjoy the food trucks (incredible Halah Bros on Avenue of Americas and 51th) or a Gray's Papayas' hot dog. Every other week, I crave being that fly on the wall or walking in the buzz of people to see the most incredible street fashion especially in the fashion district or turning my head and seeing a celebrity walk into a building. I have been there during blizzards and the heat of the summers. I have found my brownstone on 67th and Avenue of the Americas. I can always travel there on a budget and absolutely enjoy when I can show it to someone else for their first visit.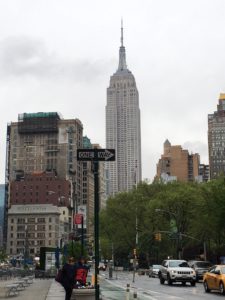 The city is not for everyone, but it is for me. I always wonder if I hadn't received my first invitation to Fashion Week in September 2013 and an encounter with a woman, Dallas, who saw my future, would my life still have taken the same path? I realized that NYC really sings to my soul. There is so much intense energy that it can overwhelm many people. I feed off of it, but I can also see why so many people smoke in this city. The stress of making it there (because you can make it any where if you do) is heavy. So while it has it's place on one end of the spectrum, I realized today that I also enjoy the other end, that of the Southwest.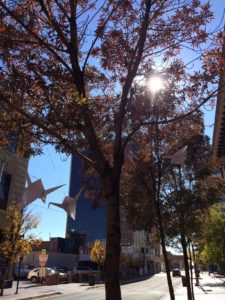 A friend was visiting, and I met him for coffee when he asked if I wanted to walk around downtown. I work downtown, yet I really don't spend a lot of time there. He asked why and I informed him there's not much else besides coffee shops, eateries and bars. As I thought of about it, all my local shows up until this month's show, have all been downtown: the Downtown Contemporary Gallery, the Verge Building, the Banque Rooftops and Hotel Andaluz, so there's obviously a draw for me. I also looked at it differently for the first time. We had exploring different places, vacated locations, historic buildings, kitschy signs, and walking through alleyways (while trying not to breathe the ripe breeze) and again people watching (although the crowds were MUCH smaller than those I encounter in NYC).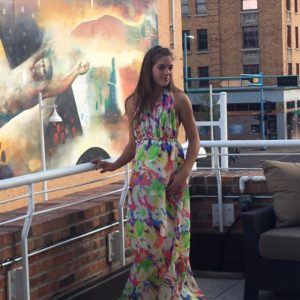 After we toured Downtown ABQ and were glistening from the heat, I decided that he needed to see the vistas from my vantage point, my Jeep, so we headed west on Central. I stopped at a gas station, filled the tank, and then took him down Rio Grande. Jeez, I love that drive. The views are breathtaking, it's so lush and green and it's such a slower pace than the rest of the city. As the scent of roasting green chile filled the air, I teased him that I was going to take him to go pick it (to which after melting on the asphalt and concrete of downtown, he just stared at me…what can I say, I think I'm funny). We continued North to Alameda and I told him I was taking him to my hood. I grew up in the North Valley but more specifically Alameda. We took the road less traveled from Alameda Blvd to 4th Street and eventually ending up on Highway 313 (funny, later I received a text from a friend, Sofi, telling me she saw me in the Jeep, it's kind of unmistakable and I love that…oh that and probably my crazy hair). It was the perfect day for a Sunday cruise.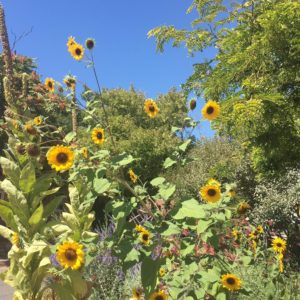 The breeze broke the heat and we talked about a few things, but really spent the time enjoying the views (his probably a little more eye catching than mine). We drove up the main drag in Bernalillo to Rio Rancho then driving back to the city through Corrales. Again, the road winding through the village was slow paced and beautiful and green. The fields were ready for harvest and we drove by several bustling eateries. I hope I convinced him how fun it is to enjoy a ride in an open-air jeep. A few hours after dropping him off, I met another friend to walk the Bosque. Walking the Bosque is so different than walking Central Park, but equally beautiful and just like New York, September in Albuquerque is my favorite time of year. Every day as I drive along Rio Grande and really paying attention to the beauty here, I'm reminded of a blog I wrote for Hotel Andaluz a year and a half ago and all the treasures the city holds. If you are interested in reading more, CLICK HERE.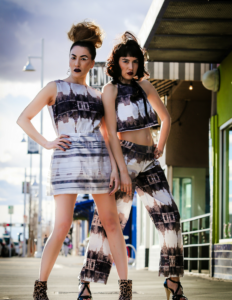 I would love to reach the day I can spend my time equally in both NYC and ABQ, so for now I'll incorporate both into my life, whether it's bringing a little NYC to Nob Hill or taking a team from NM to NYFW. I'll also cherish every fast-paced, high energy, soul feeding trips to NYC and I'll appreciate the slow paced beauty of my own backyard.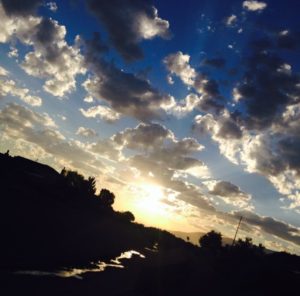 I'm interested, what's your favorite things about ABQ and/or NYC? Feel free to comment below.
With light and love,
Dara Sophia